15 Best Diwali Books for Kids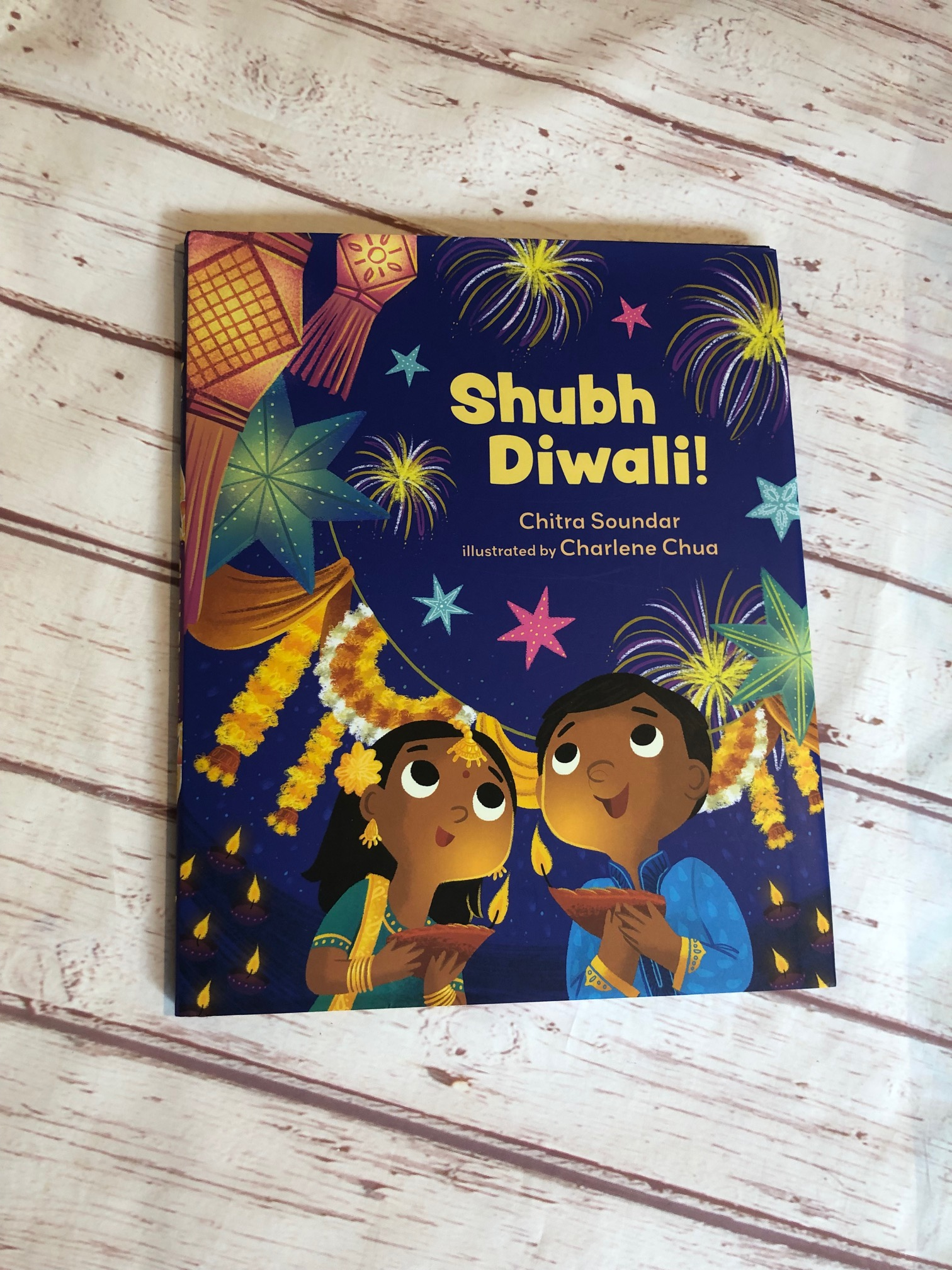 These 15 Best Diwali Books for Kids will enchant you! These picture and storybooks are fun, colorful and filled with cultural values. Diwali or Deepavalli as it is sometimes known is the Festival of Lights.
Here are the 15 Best Diwali Books for Kids! Modern, representative and fun, these picture and story books on Diwali bring multicultural and diverse experiences to the celebration of this beautiful Indian festival. Happy Diwali!
1. Diwali Lights by Rina Singh
Recommended Age 6 months-3 years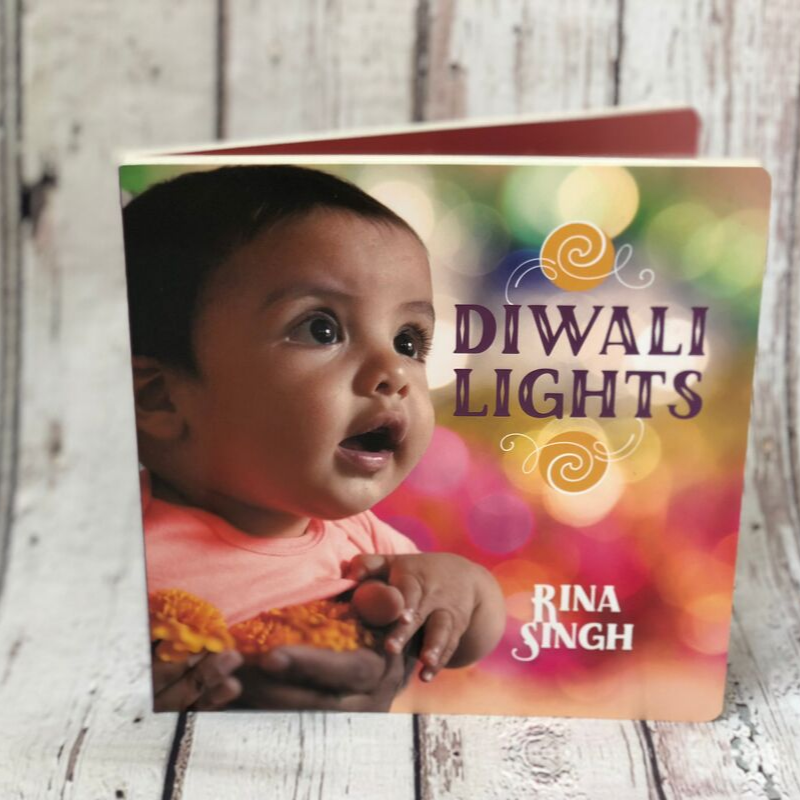 This lovely board book called Diwali Lights is the perfect book on Diwali for babies and toddlers. Each page has heartwarming and powerful lines about Diwali and the joy of experiencing it as a parent-child duo. It is a stunning way to introduce your babies to your culture and festival. "Wear something new, then off to market. There's so much to see, so much to do," the book says, transporting little ones to India through the magical picture book medium. The book has bright, colorful photographs of a mother and child, hugging, kissing, and experiencing the lights, sounds, and festivity of this grand festival that celebrates good over evil and new beginnings.

This board book is our current Toka Peanut pick for the 0 to 2 years age category and it comes with representative Kannamma and Kannappa dolls!

2. Counting to Diwali by SC Baheti, illustrated by Rohan Dahotre
Recommended Age 3+ Years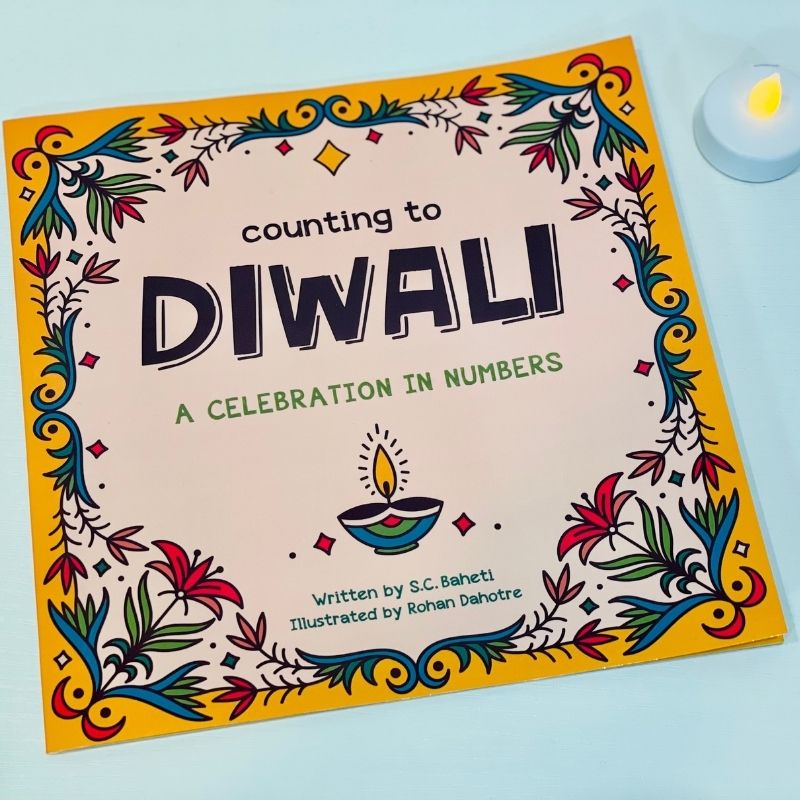 A fun Diwali counting book in Hindi! We count diyas, rangolis, kandils, jhumke and more! The book is an English transliteration of Hindi. A fun way to build vocabulary and spoken language and perfect especially if you are familiar with Hindi pronunciation of the words used here. Happy Diwali!
You can see inside pages in our online shop!
3. Shubh Diwali by Chitra Soundar and Charlene Chua
Recommended Age 4+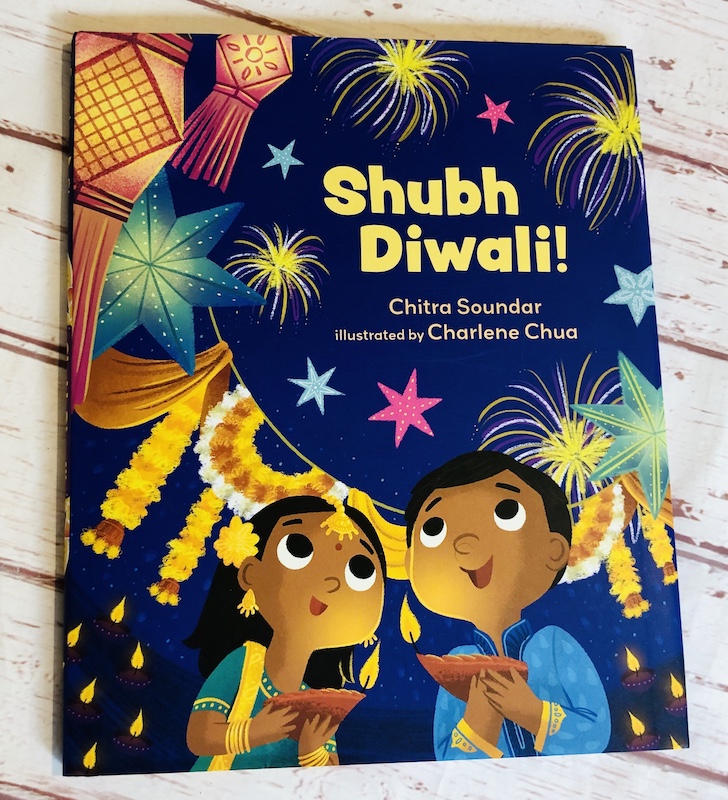 Chitra Soundar is one of our favorite writers. Her book, Farmer Falgu, was featured as part of the UK Summer Reading Challenge in 2019! We also featured her book in our previous boxes. Chitra's latest book, Shubh Diwali, is a must-read for the festival season. Nostalgic the way 'Twas the Night Before Christmas is about Christmas, this beautiful book is written in joyous verse and takes us through a Diwali celebration as experienced by an Indian family outside India. We love the big details, the small details, and how the rhymes fill our hearts with wonder. We love all the scenes of family and friends celebrating Diwali and how they share it with people from other cultures in their neighborhood. Charlene Chua's stunning, thoughtful, and textured artwork will etch these scenes and words onto your child's memory and give them picture book moments that they will always treasure.
4. Diwali In My New Home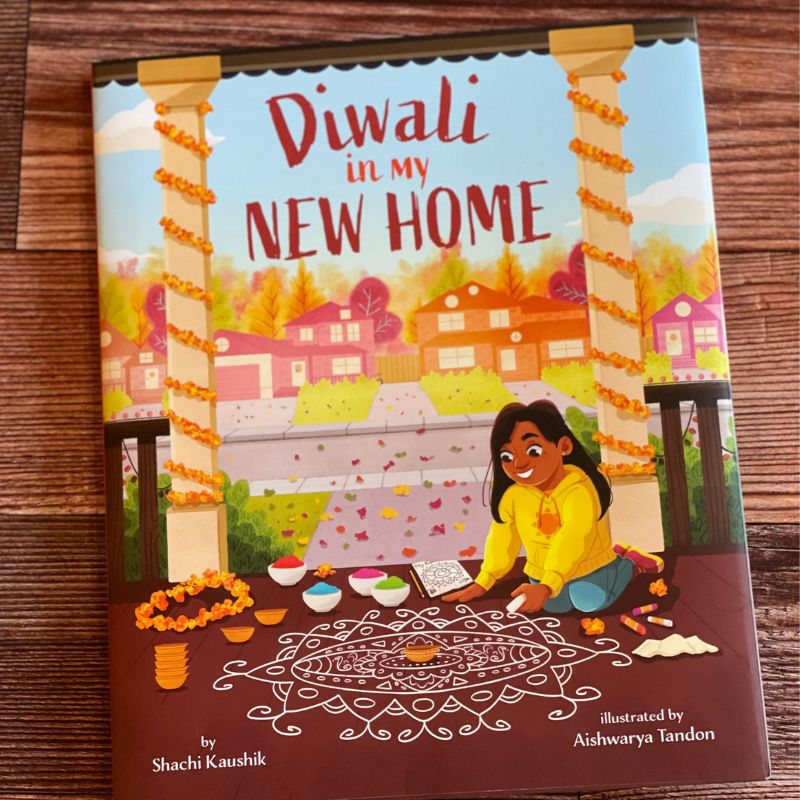 Priya loves being with family and friends to watch fireworks and celebrate Diwali. But this year Priya and her parents are living in a new country, and no one seems to know about the holiday. Written by Shachi Kaushik, an immigrant who understands the experience of starting anew, this is a hopeful story about honoring your heritage and making your own traditions. Young readers who are unfamiliar with Diwali will learn more about it, and immigrant children may recognize some of their own experiences through the character of Priya.

5. Ten Gulab Jamuns
Recommended Age 5+
10 Gulab Jamuns narrates the story of Adu and Idu, who are excited to see their mum. They were expecting guests later that day. Though their table was filled with mouth-watering dishes for the guests, the brothers were particularly allured by Gulab Jamuns. Mamma has asked them to wait till the guests arrive. But can they? You will have to read this sweet book to find out!
The book introduces the kids to the festive atmosphere, hospitality, and a taste of India. It is also a cute story that teaches maths concepts with numbers up to 10. And wait, there's more! There is a yummy Gulab Jamun recipe at the end of the book! This book is sure to bring you smiles as the Illustrations by Vanessa Alexandre bring to life the mischievousness of the siblings Adu and Idu. Free with this book are two Diwali-themed coloring pages in PDF printable format.

This book can be used as a part of your Diwali Montessori shelf/culture shelf! Here is more about the book and the author, Sandhya Acharya!


6. Leela's Diwali Celebration
Recommended Age 3+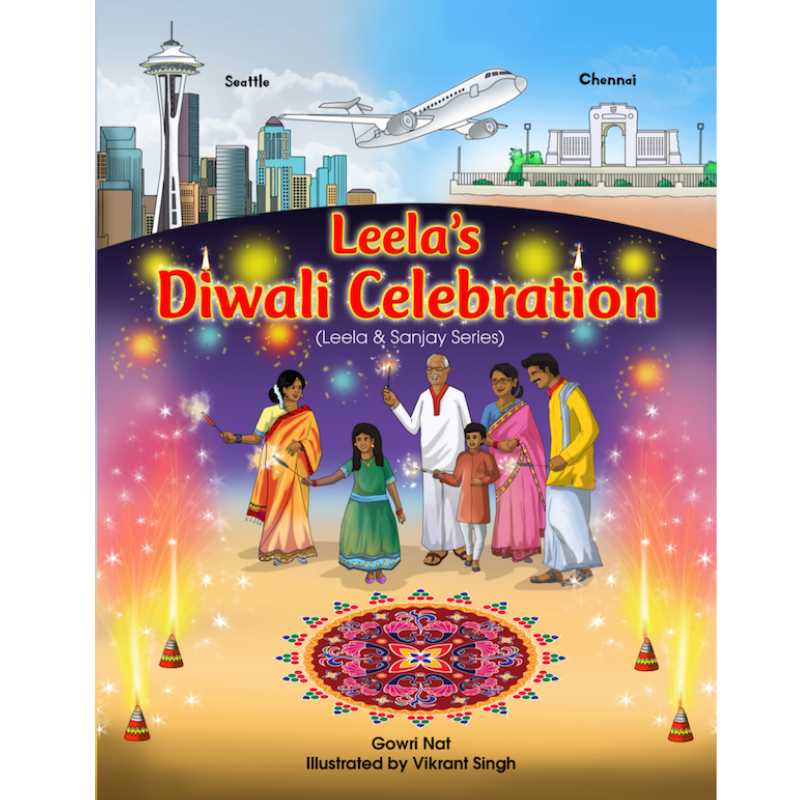 Leela and her family are visiting India to celebrate Diwali with her grandparents. While Leela was thrilled to visit her grandparents, she was also sad about missing her friends in Seattle. This was going to be her first time celebrating Diwali in India. Will she be able to make new friends in India and learn the story behind Diwali? Come, ride along with her as she begins her journey from Seattle to Chennai, immersing herself in India's culture and lifestyle. Join her to celebrate Diwali in India!

Want to read the book with us? Here's a sneak peek!


7. Hurray for Diwali!
Recommended Age 3+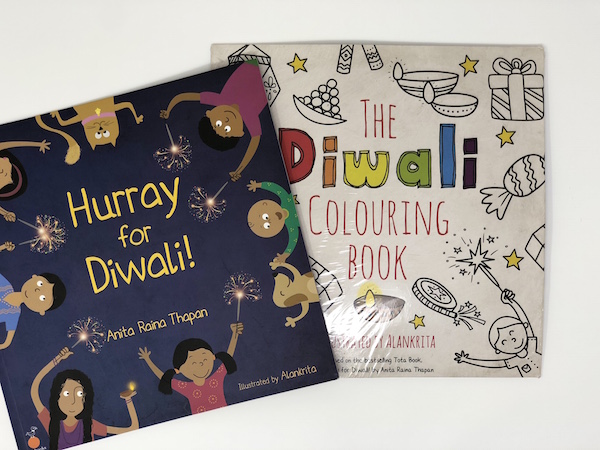 Get this book with a Diwali Coloring Book!
The book gives a peek into Diwali Celebrations around India! Diwali is such a special and happy time. Beautiful lights, crackers, presents and lots of feasting! It is also a time to share, pray and think of others. Join Gittoo and the gang as they learn the magical story behind Diwali - Lord Rama's victory over the demon Ravana and Goddess Lakshmi's visit to earth.
8. Rani Saves Diwali
Recommended Age 3+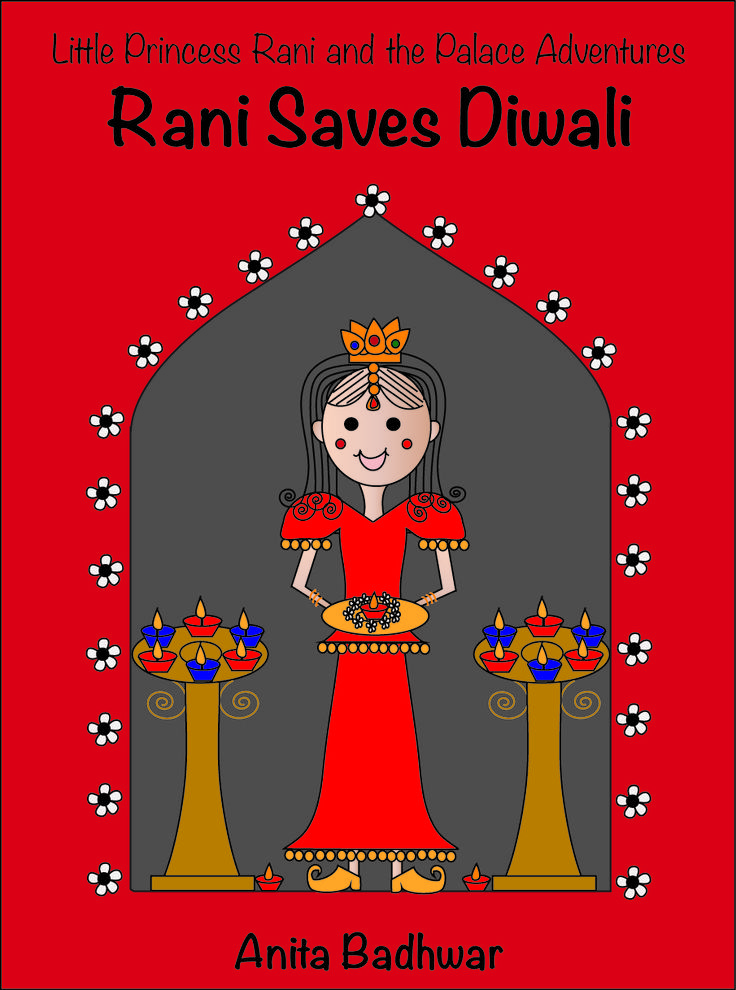 Rani Saves Diwali is a fun book that takes us through Diwali celebrations at the Palace. Written by Anita Badhwar, this is a fun book that takes us through Diwali celebrations at the Palace. The Royal Decorator had an accident and cannot complete the preparations for Diwali! What will Princess Rani do now? Will she be able to complete all the preparations? Can Princess Rani and her friends get all the To Dos done? You need to read the book to find out! This is a modern spin on Indian culture and festivals. The book takes us through how the festival is celebrated.
Growing up here in the US, Indian festivals for my daughter are something we celebrate at home and at a couple of friends' houses. It is not part of the "outside world" or as my daughter says – "Nobody knows Indian things in my school." Representative books where characters that look like our kids and have Indian themes help with giving kids who grow up here a narrative and confidence in their way of life. After all, it is not just them celebrating Diwali, this is how it is done, it says so in a book too!
We love the book's fun Diwali narrative, and its contemporary nature with a lot of Hindi words and cultural references!
Intrigued? Here is a sneak video peek into the book!


9. Sparkles of Joy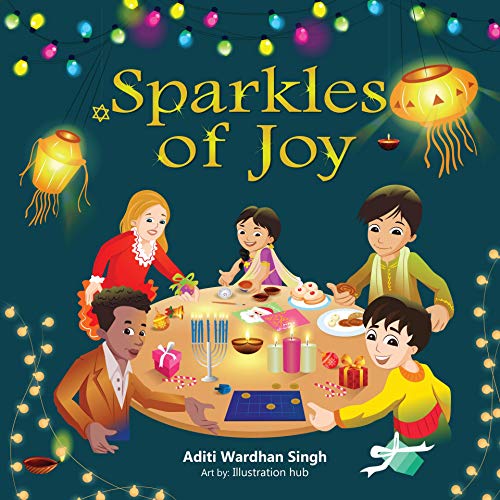 Caleb, a new neighbor joins a festive-themed playdate. Will Riya and her friends be able to make Caleb feel welcome? Diversify your library with a children's book that talks about Diwali, Christmas and Hanukkah and how we can all sparkle with kindness.
10. Junior Kumbhakarna
Recommended Age 4+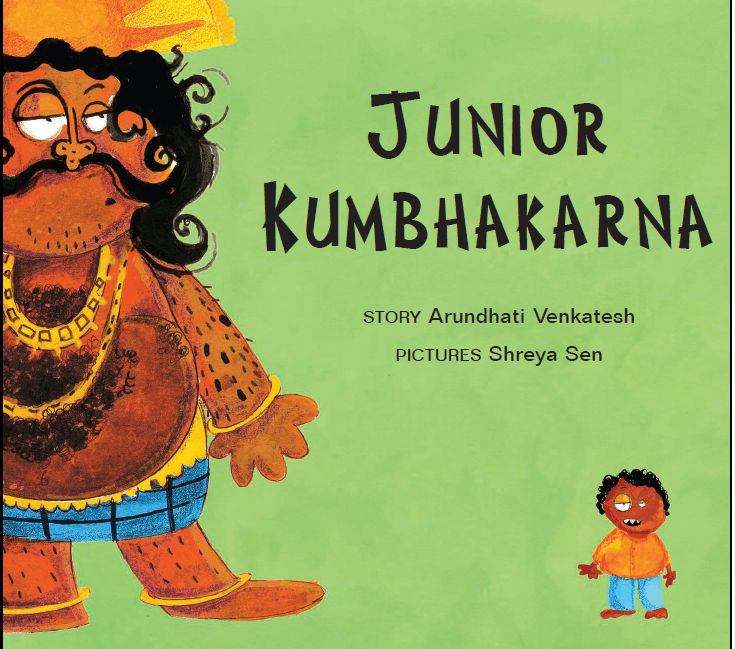 Written by Arundhati Venkatesh and illustrated by Shreya Sen, the book is about a boy named Kukku who wants the story of Kumbhakarna to be narrated again and again and again. This so resonated with me, because my child me to tell her the same stories again and again and again. So Kukku's dad starts telling him the story of the character in Ramayana, who eats and sleeps and only sleeps. When Kumbhakarna is sleeping, waking him up is a big task. All sorts of efforts are put up to wake up the man, donkeys braying, elephants walking on him, and even laddoos being made. Does he wake up? How does the story end?

You should read the book to find out! What we loved about the book is its simple style and beautiful storyline, which hooked us completely. The illustrations are fabulous and they add so much more character to the book. Even if a child can't read, the illustrations are superb enough to tell the story. We also love that it retells a portion of the Ramayana in a humorous and funny manner. The book is perfect for Diwali. Read a detailed review and an interview with Arundhati Venkatesh here!
11. It's Diwali by Kabir Sehgal and Surishtha Sehgal


Count along in celebration of Diwali, the Indian Festival of Lights, in this luminous picture book from bestselling mother-son duo Surishtha and Kabir Sehgal.

Count up to ten and back down again to the tune of "One, Two, Buckle My Shoe" while learning about the traditions that make Diwali a fun-filled festival! Celebrated during autumn harvest, Diwali symbolizes the triumph of good over evil and light over darkness. From sweet treats to intricate henna designs to exciting firework displays, kids will delight in this vibrant glimpse into the Festival of Lights.
12. Let's Celebrate Diwali by Ajanta Chakraborty and Vivek Kumar
Recommended Age 3+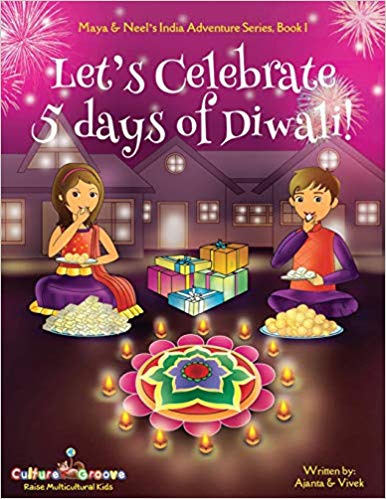 Harini is excited to share her story about Diwali with her school friends. What does she discover?

Meet Harini's multicultural class in this children's book aimed at kids aged 3 and up. Harini is excited to share her Diwali story, but she quickly learns that she's not the only one!

Join Harini as she learns about Hindu, Sikh, Jain and Buddhist Diwali traditions in this colorful, engaging tale from teacher and author Anjali Joshi and illustrator Tim Palin. This diverse children's book from publisher Bharat Babies helps introduce your child to the wonderful festival of Diwali which is celebrated around the world.
13. The Diwali Gift by Shweta Chopra and Shuchi Mehta, Illustrated by Anna Koan
Recommended Age 4+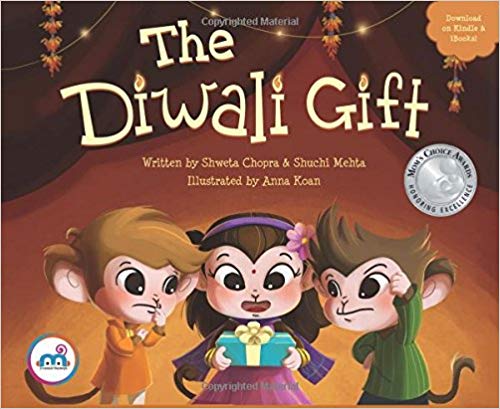 This is a fun and contemporary book to explain Diwali to your child, especially if you are living outside India. The book does a wonderful job of holding a child's attention and making Diwali fun!
Suno, Dekho, and Jaano are three monkey friends and Suno's grandmother sends them a Diwali Gift. She offers some clues – it is round, it is shiny, and brings good luck.

With each clue the three wonder – is it Bangles or Sparklers or Diyas?

You need to read the book to find out what the lovely gift was that grandma sent.
We loved the touch of calling grandma on a video call, which is very much how kids, nowadays, relate to their grandparents. Also, Suno twirls around in her lehenga wearing bangles. Well, the next day, of course, my daughter had to wear a lehenga and all her jewelry! The book offers a fabulous narrative of how everyone celebrates Diwali. This is something we sorely lack in our life here. Everyone knows what to do for Thanksgiving or Christmas. But what are the rituals for Diwali? It is not part of the majority community narrative and this book gives my daughter that.
14. Lights, Camera, Diwali!
Recommended Age 5+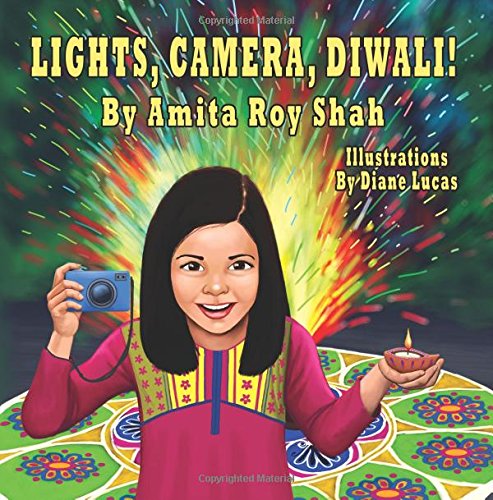 Light, Camera, Diwali! is a great way to tell children about the significance of Diwali, the Indian festival of lights. The story is engaging and also very relatable. It also tells children about Rama and why we celebrate Diwali. It is when Lord Rama returned from 14 years of exile after defeating Ravana!

Dia loves her Diwali gift. It is a camera! She uses it to capture all the wonderful moments in her house on Diwali. She photographs her family eating sweets, rangoli, clay lamps, decorations, and more.

We especially love how the book weaves in a motif of the triumph of good over evil. Don't miss this one! The illustrations are a riot of color, almost like fireworks are set off inside the pages.
15. Ved and Friends Celebrate Dussehra and Diwali
Recommended Age 5+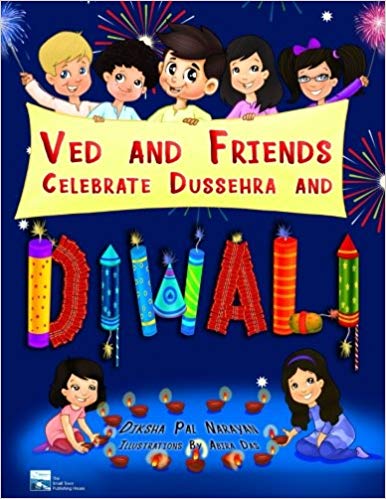 Dussehra has begun and Diwali will be here soon, which is why we are really excited to read this book, Ved and Friends Celebrate Dussehra and Diwali from author Diksha Pal Narayan. The book traces the celebrations and stories of Dussehra and Diwali for kids growing up outside of India.

The author is based in Canada and she tries to make these festivals relevant and relatable for kids whether they are growing up in Canada and USA or anywhere in the world.

The book is divided into 3 parts. Part 1 is about how Dussehra and Diwali are celebrated. Part 2 retells the stories behind the festivals and Part 3 includes activities, printables, and recipes to celebrate the festivals whether at home or with your child's class at school!
The attempt to make the celebrations relatable by creating customs that fit the lifestyle outside of India. For example, the Ravan Dahan using a campfire and barbeque pit is a masterstroke. in Part 3 of the book, on how to make your own little Ravan effigy! The printables, recipes, and activity ideas are at the back of the book. The coloring page at the back of the book can be used to introduce Diwali celebrations in your child's classroom. The illustrations by Abira Das are colorful and fun!
Do you have other books to recommend on Diwali? Do leave your suggestions and comments below!