Our Book Picks This Week!
posted by Shweta Sharan, June 09, 2020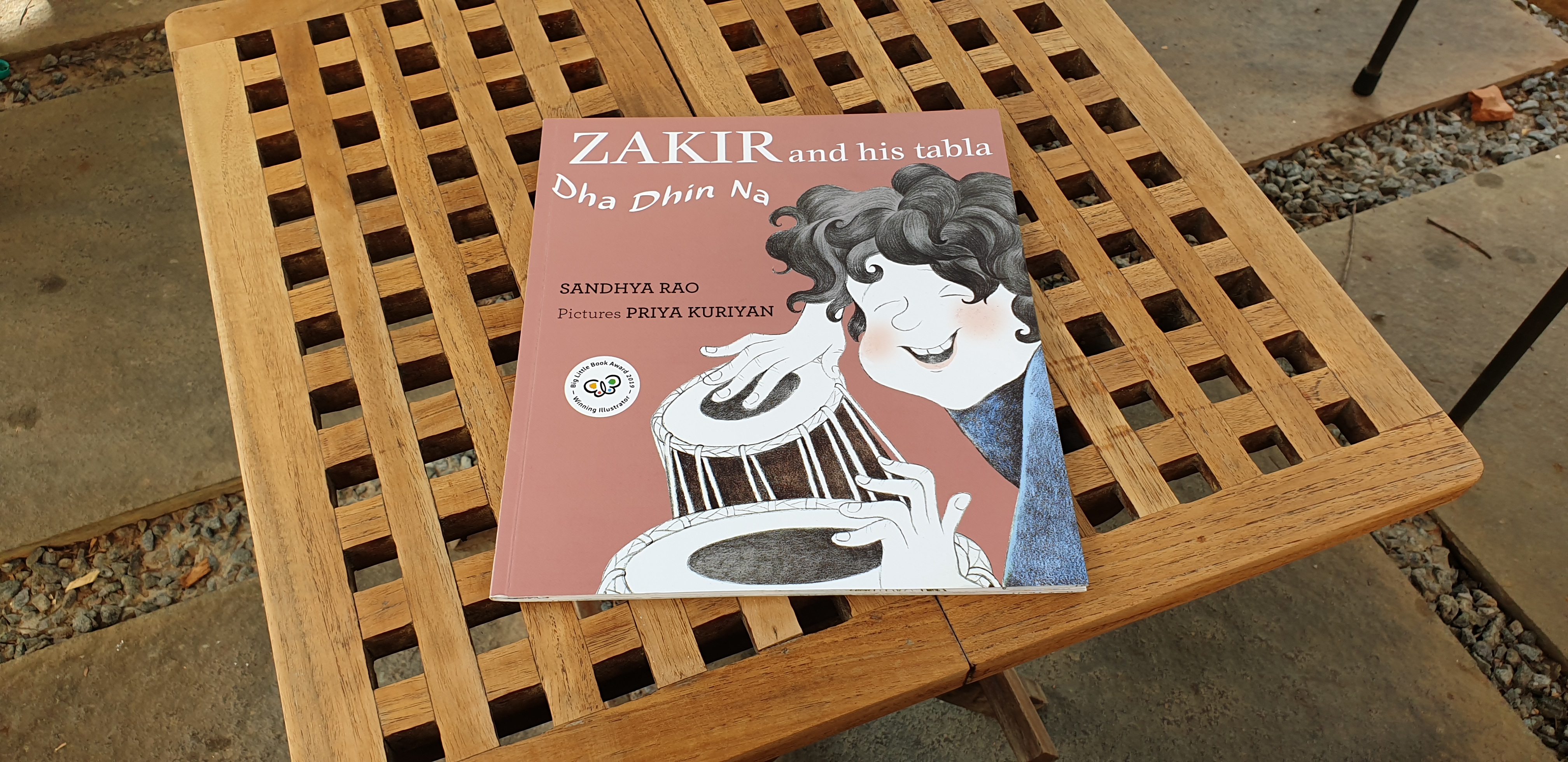 The great Sandhya Rao is back with a brand new book on Zakir Hussain. Zakir and His Tabla: Dha Dhin Na is a picture book you will absolutely love! We also review a picture book on Srinivasa Ramanujan and a very touching book about a family of croaking frogs who one day stopped croaking.


This week, we received three lovely picture books. All three are delightful and memorable in their own way.
Zakir and His Tabla: Dha Dhin Na by Sandhya Rao, Illustrated by Priya Kuriyan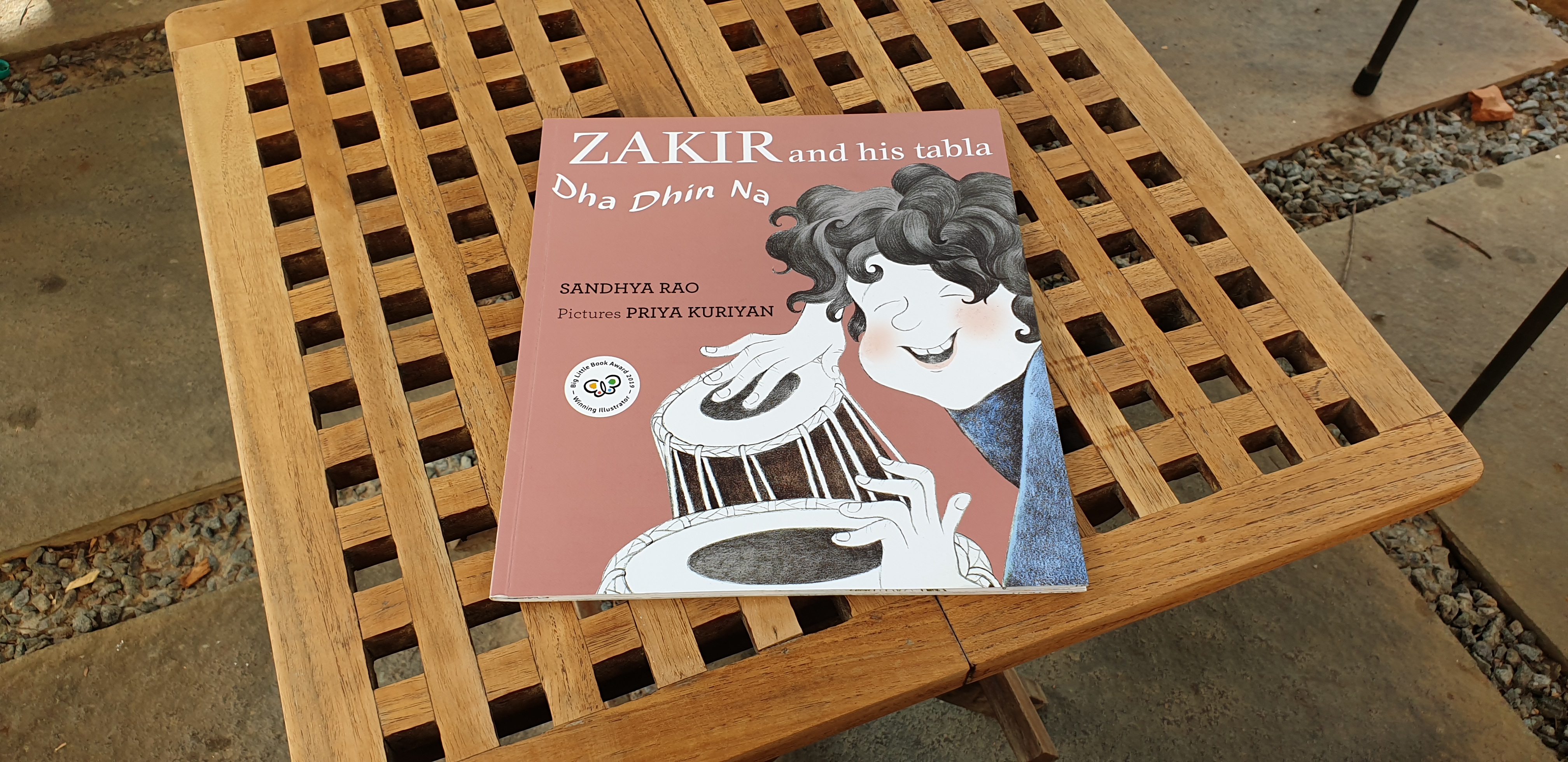 We all know Zakir Hussain but I must confess, my daughter didn't know who he was until today. So I decided to fix this immediately. I showed her videos of Zakir Hussain's performances.
When my daughter saw Zakir Hussain, she was riveted. Who wouldn't be? His vivacity, his large smile, and his incredible tabla playing endear the listener to him as much as they do to his virtuosity. Watch the Taj Mahal tea commercial and my god, you not only see someone who is incredibly talented but a young man with incredible screen presence, a million-dollar smile, and incredible energy.

When one of the greatest children's writers in India writes about one of the greatest musicians in India and you have one of India's most celebrated artists illustrate the book, then you simply HAVE to pick up that book!
Sandhya Rao, an award-winning children's author joins forces with the amazing Priya Kuriyan to bring you a spectacular picture book, Zakir and His Tabla: Dha Dhin Na.

The book starts with Zakir's birth. Zakir's mother asks Zakir's father to whisper prayers into the newborn's ears but instead, Ustad Allarakha Rakha whispers tabla bols into his son's ears! Indeed, Zakir's life is all about the rhythm that possesses him right from his childhood. He loves drumming with his fingers on vessels, pots, pans, and everything he can get his hands on. He overturns his plate, spills food but he just cannot get the rhythm out of his fingers.

His father asks him, do you want to learn the tabla? Zakir says yes! We absolutely love how the book depicts Zakir's precious moments with his father. They truly shared a special and unique bond through music. The book is filled with other such fun and lovely moments. In one instance, little Zakir plays the dhol during the annual mela at the dargah near his house. During another incident, he breaks his fingers playing cricket and his father is upset but when little Zakir's eyes fill with tears, Ustad Allarakha hugs him and buys him a plate of dahi batata puri! Zakir loves playing the tabla. He would get up at 3 am and learn from his father. They would perform together, improvise and truly collaborate on some occasions. Zakir would then go to school, come back, play cricket and then play the tabla again!

We marveled at many interesting anecdotes in the book. For instance, once Ustad Allarakha was playing a long concert with Ustad Ali Akbar Khan, the famous sarod player, and in the middle of it, he asked Zakir to take his place. Eight-year-old Zakir took over, with even Ustad Ali Akbar Khan smiling and encouraging him on. The book talks about Zakir's fascination with rock music, his journey abroad, his different musical collaborations, and how the US became his second home. We read in wonder about his work with Ravi Shankar, his love for all kinds of music and his adventurous spirit. He is always a curious musician, eager to learn, explore and pass on his love for drums, tabla, congo, bongo, and mridangam to young people. The book has so many other lovely anecdotes.

My daughter says, "this book is a treat! I can read it again and again!"

We highly recommend it!


Srinivasa Ramanujan: Friend of Numbers by Priya Narayanan, Illustrated by Satwik Gade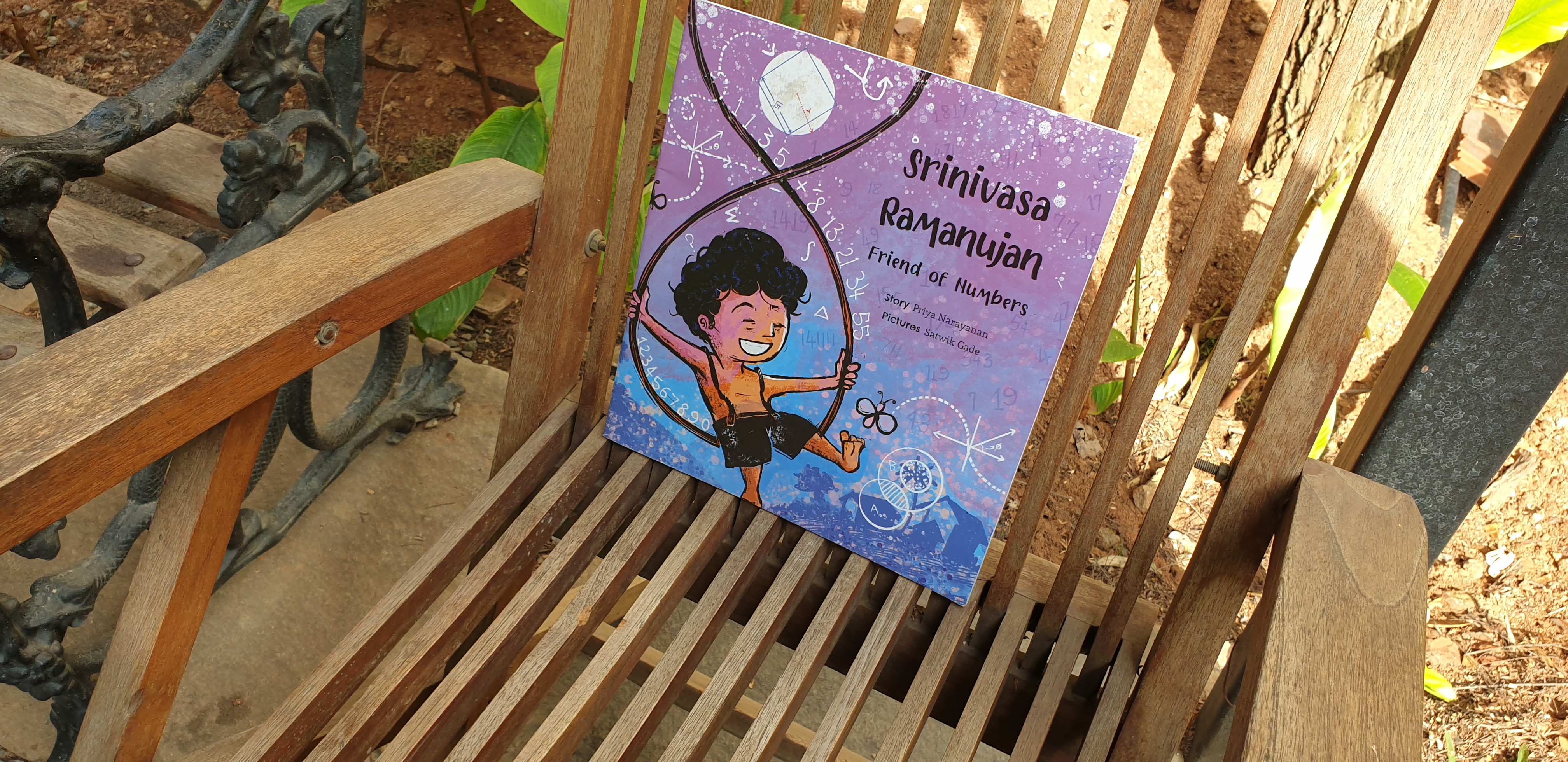 "How far were the clouds? How big were the stars? How long was the equator?"

Sound familiar? Yes, our children ask so many such questions. Srinivasa Ramanujan, Friend of Numbers is written by Priya Narayanan and illustrated by Satwik Gade. The book is about the famous Indian mathematician and much like the book on Zakir Hussain, this picture book begins with Ramanujan's childhood. A curious child who found numbers fascinating and who saw patterns everywhere, from kolams to temple architecture, Ramanujan was a child who loved to challenge his teachers.

My daughter was stumped and amazed when we got to the scene where Ramanujan was a child. His teacher said, "If you divide any number by itself, you will get 1. For example, if you divide 3 fruits among 3 people, each will get 1."

Ramanujan said, "Sir, what if no fruits are divided among no people? How will anyone get 1?"

The book explores the artist in the mathematician. Ramanujan grew up exploring numbers the way an artist explores forms or a poet explores words. The book traces his journey to Cambridge, his life there and his mathematical breakthrough.

Interesting, engrossing, and truly a wonderful peek int the life of a genius, children will enjoy this book about one of the greatest mathematicians of all time!


The Frogs Who Loved to Sing by Anita Raina Thapan, Illustrated by Nirzara Verulkar
Oh, how we loved this book by Anita Raina Thapan! The book is about Rohan, who goes to visit his grandmother. She has a beautiful garden and it is also home to a family of seven frogs - a grandpa frog, a mama frog, a papa frog and four baby frogs. They croak all night and Rohan's grandmother has had enough of them. She decides to transport the frogs outside the gate and leaves them there. Rohan is upset because to him, the croaking of the frog is beautiful and part of nature.
The book ends on a sweet and caring note, both for the grandmother and the grandson.
We especially love the last scene of the book - bound to touch you and make you feel happy.
Don't miss it! This is a lovely garden book for children, and the author dedicates the picture book to all the frogs of Veliyanad in Kerala, who enchanted her with their singing during two monsoon nights. We love the sense of monsoon rains that the story gives us, and the illustrations bring us scenes of beauty and abundance in an Indian garden.