Why kids shouldn't miss 'How We Know What We Know' by Shruthi Rao
posted by Shweta Sharan, March 04, 2021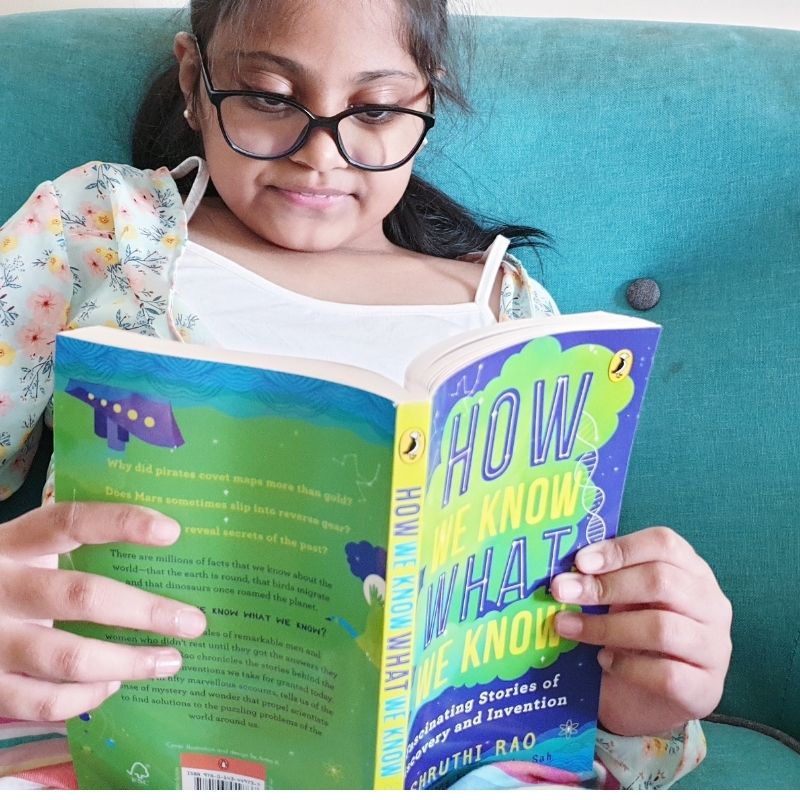 Shruthi Rao's How We Know What We Know is an incredible book that talks about the women and men who chased the mysteries of science, going to great lengths to solve them.

Trust Shruthi Rao to write another incredible non-fiction book. How We Know What We Know is more than just an outline of discoveries and inventions that changed our lives. It talks about how men and women got to the heart of these puzzles and solved them. The book's stories are adventures in their own right, masterfully spanning everything in the world - dinosaurs, cinema, bird migration, the world wide web, microbes, finding out the age of trees, the discovery of vitamins, the first controlled trial, and so much more!
How do you make mice and scorpions?
The book is so much more than a non-fiction book. It feels like a conversation with someone who can really pique our interest and take us on unexpected paths of discovery. Shruthi begins by writing, "Science does not always have the answers but science knows how to look for the answers." The book's intriguing first chapter is titled 'How to Make Mice and Scorpions and Other Strange Things.' The author starts by asking us -- how do you make a mouse? Do you stuff a dirty shirt into the mouth of a container? If you are perplexed, don't be - this is how in the 17th century, humans thought that living things rose out of non-living sources.

Shruthi talks about the Italian naturalist who really debunked this with his experiment and a woman scientist who first provided evidence against this theory. The idea held on though and even some famous scientists of all time, who lived during that time, believed in it.
The chapter ends with a brilliant experiment by Louis Pasteur to put the argument to rest. Reading this is like reading a medical mystery. Scientists are both right and wrong, constantly working hard to understand the truth of the world.
An unusual bet
My daughter and I loved the chapters on fabrics, the history of paper, and how refrigerators were invented. Shruthi talks about how Albert Einstein even attempted to design an environmentally friendly fridge but gave up. This design is being revisited, by the way! The chapter on the history of crayons was great to read too, and we liked how it talked about the controversy of Crayola's 'skin' colored tone, which was light in color. We enjoyed the chapters on electromagnetism, zero, and the decimal system.
Our absolute favorite chapter is the one on how moving pictures came about. It all started with an unusual bet. I don't want to give it away but here's how this chapter starts: "How does a horse gallop? This was the question that occupied the mind of Leland Stanford in the late 1800s."
History and the future
The book makes connections with the past. The chapter on solar energy begins with a magnifying glass experiment and a story about Archimedes using science to defeat the Romans in 212 BCE. This strategy involved solar energy and the chapter talks about the use of solar power.

The final chapters talk about the Internet, self-driving cars, and the irresistible question of AI's hold over the world. As someone who interacts a lot with young adults, I know just how curious and well-informed they are about new technologies. This book is a great way to help them think about the possibilities of technology and what's in store for the world. It is important to do that to know their place in it.
When kids find things out for themselves
The idea of inventing something by accident -- pretty spectacular right? But like many inventions and discoveries from the past, the answers lie in different places and are there all around us. We just need to make the connections.

In a market that is saturated with non-fiction books that simply throw facts together, this book is full of exciting stories and narratives that make the details come alive. Children will love the way the author's mind moves, how she steers them masterfully from one discussion to another and how she encourages children to find things out for themselves. We think you must add this book to your child's collection! It will bring lasting value to his or her life.