Two Beautiful Little Garden Stories for Your Preschooler!
posted by Shweta Sharan, May 31, 2020
When Niyatee Parikh Sharma, the author of The Tomato Flood, wrote to me about her book, she introduced it as a 'garden story,' and that immediately drew me in! A garden story sounded charming and different, somehow. My daughter thought so too, as we sat down to read this beautiful little picture book.

My daughter is 8 and she has outgrown picture books, but she does read them to her little friends or to my nephew. The Tomato Flood brings back some beautiful memories of when she was little and when she'd love to read such books. These square-shaped colorful paperback picture books (like The Tomato Flood) are exactly what the children love reading, touching or tracing with their little fingers. My daughter and I have such lovely memories of reading picture books about parks, parties, school, caterpillars, fairies and more.
Back then, I had always wished we had had such beautifully written and lucid picture books that featured Indian children and scenarios. How I wish books like The Tomato Flood had existed when my daughter had been little! Of course, we now have wonderful children's books from Indian publishers. Still, there is something about The Tomato Flood that makes it a perfect read for a toddler or a preschooler.
What it's about
The Tomato Flood is the second and latest book in Niyatee Parikh Sharma's Tomato series. In this book, little Veer and his baby sister Ananya are helping Baba in the garden. They are digging, plucking weeds and clearing the dry leaves. Both of them get distracted when they are halfway into their fun gardening tasks, and they start plucking tomatoes from the garden and throwing them at one another! They squish the tomatoes, stamp on them so that they go SPLAT and there are tomatoes everywhere! Mummy is so cross that she gives them a time-out. A few days later, something amazing happens. Lots of tomato saplings start growing in the garden and soon, the entire garden is swarming with tomatoes! There is a bumper harvest of tomatoes. Mummy and Baba try to make the best of the situation. Mummy makes tomato rice, tomato dosa, tomato chutney and even contemplates tomato laddoos! They give away tomatoes to neighbors and even to people who don't like tomatoes! But the bumper harvest won't stop. More and more tomatoes keep growing. What on earth is going on?

Read the book to find out!
What makes The Tomato Flood a great picture book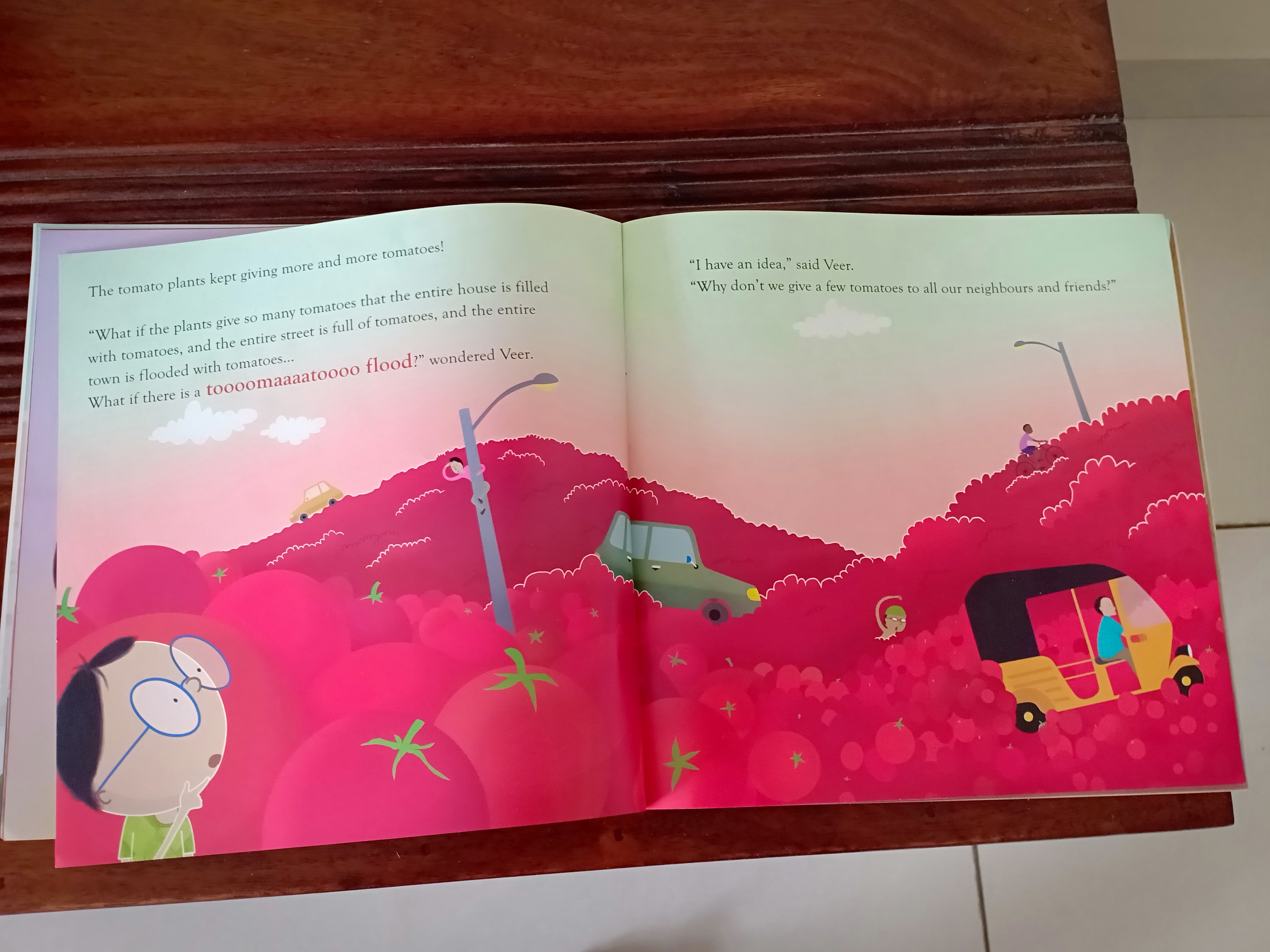 I think this little picture book is a must-read. It is exactly the kind of books that preschoolers both need and love, and I'll tell you why. There are many reasons why it works brilliantly. For one, it is a great story. There is a cause-and-effect scenario, and I find that many kids really respond well to that. The idea of planting something and having something grow from it? The idea of tomatoes flooding your house? All of it is exciting and fun. Children love drama and larger-than-life situations.
I also loved the little science lesson that the child will learn from the book and how they will also realize that vegetables come from gardens and from the earth, not from supermarkets! It also introduces them to gardening and exploring plants, vegetables, and fruits. It fosters a love for the outdoors -- a place where adventure lurks and all the mysteries of the world unfold. Also, the secret about the tomatoes and how they grow in such huge numbers? It will really fascinate their little minds and teach them essential science.
The story is also written with lucidity and elegance. The plot isn't convoluted and every incident, event or action is part of a simple sequence. I find that preschoolers love this simplicity. Of course, they love non-linear plots too but even those, like Julia Donaldson's The Paper Dolls, have a pattern that the events follow.
I also love this book's quality of production. The font and typeset in a book are huge dealbreakers for me. I know that they influence my daughter to actually see the page and the words. Even a simple picture book, if illustrated and put together beautifully and with a good sense of design, draws me in completely. That's another area where The Tomato Flood scores very high. Words like 'squish' and 'splat,' for instance, are printed in red and in a bigger font size than the other sentences. Such visual cues will draw the child in and hone their pre-reading skills.

The author, Niyatee Parikh Sharma, is an interior architect by profession and also loves rearing butterflies in her garden. We can see both these passions combined in the book, which has a lovely sense of design and communicates a love for the outdoors! The illustrations by Alankrita Amaya are also wonderful. We love the pages that show the tomato flood enveloping cities and people, even as Veer wonders when the bumper harvest will stop! The illustrations of the tomato dishes got us all hungry and happy! From tomato salad and pasta to tomato rice, omelet, and dosa, the children get a sense of the variety of cuisines that a simple tomato can produce.

At the heart of the book is a modern Indian family with kids whom we can relate to completely. Whether it's Veer and his mummy selling the excess tomatoes at shops or fairs or giving them away, we love every detail that makes up the story! The book is perfect for children aged 4 and above!
The Tomato Flood is our Toka Junior book pick for June 2020. We use it to make a critical preschool skill come alive. Teach number sense to your child with this book and this activity!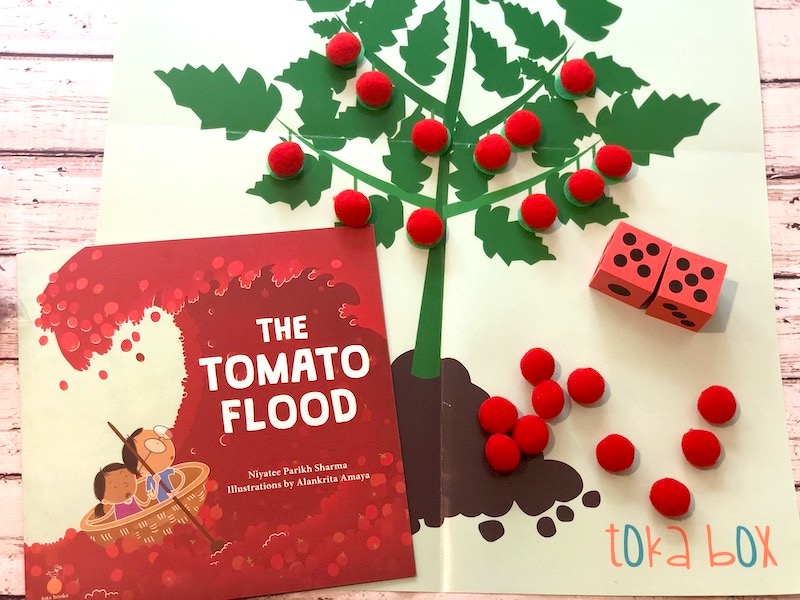 Buy it now!
Don't miss the first book in the series, The Tomato Thief!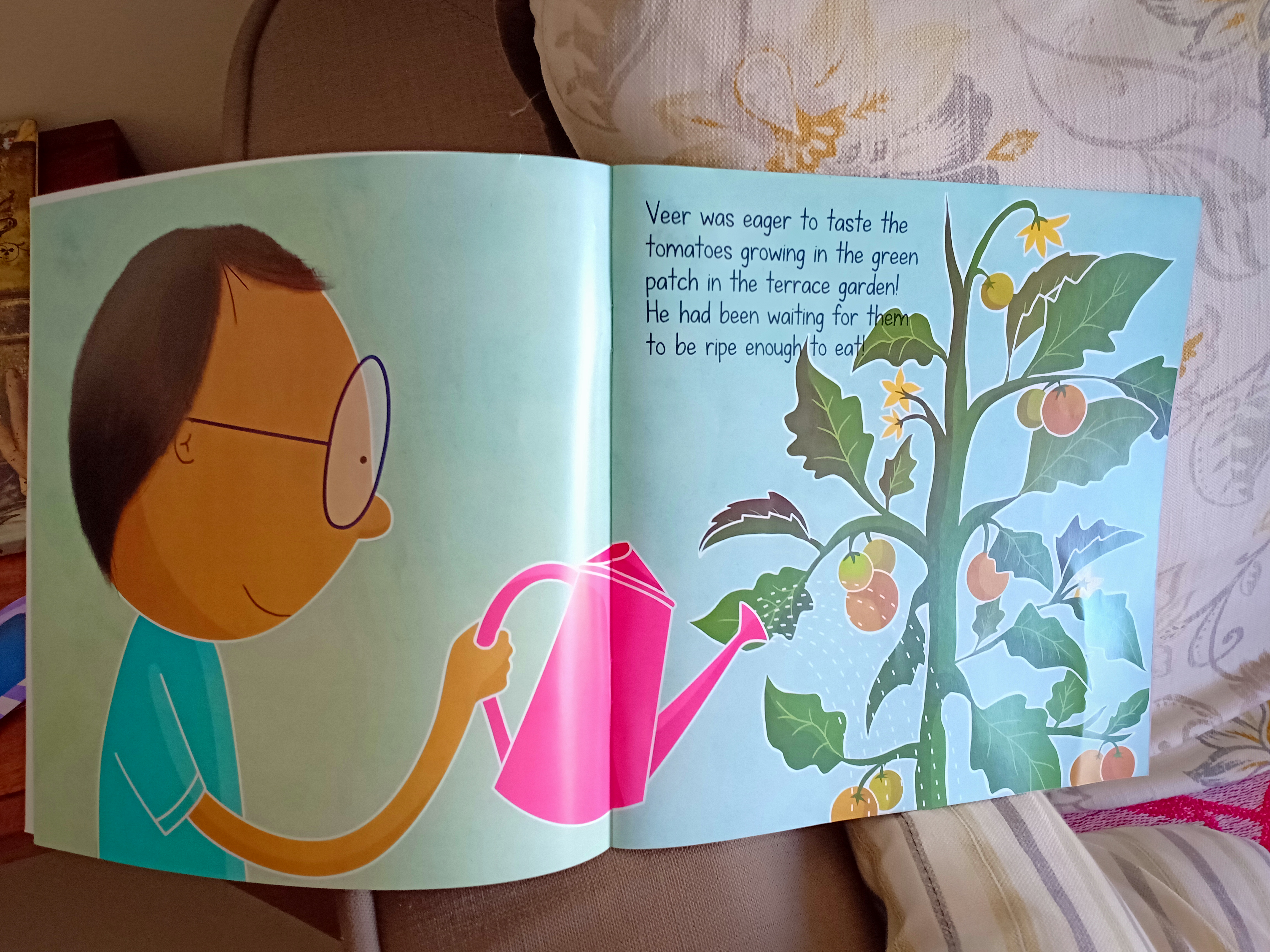 The Tomato Flood is Niyatee Sharma's latest book in the Tomato Series. Its predecessor, the first in the series is another lovely book, The Tomato Thief.
In this book, Veer is eager to taste the tomatoes that are growing in his mummy's terrace garden. But mummy tells him to wait till the tomatoes are ripe before he can eat them. Veer waits for them to ripen. He counts each day until day 4, when he is sure they must be ripe. But when he comes out on day 4, he is shocked to discover that the tomatoes are missing! Who could it be?

Veer goes from one person to another in the family -- Baba, mummy, Shobha aunty the cook, Ramu Kaka the gardener, even his baby sister Ananya. But no one is stealing tomatoes from the garden. Veer then decides to hide out in the garden and discover the tomato thief for himself. What he ends up discovering really surprises him!
The Tomato Thief is a lovely little story that shows Veer following a simple trail to discover who the tomato thief is. Again, this picture book has a sequence. It also tells children about food and how fruits and vegetables grow, and when we can eat them. The illustrations by Alankrita Amaya are beautiful and the color scheme is just perfect! We love how the pages aren't glossy but get the exact tones. It is a treat for the eyes!

There are so many Indian picture books flooding the market today. Some of them are amazing, and most of them are derivative or repetitive and don't really understand the mind of a child and the kind of visual appeal that they want from a picture book.
The Tomato Thief and The Tomato Flood are two of the really good picture books out there. I look back at my daughter's adventure with picture books with great fondness. I know that even on my bad days, whenever I would pick up a good picture book with her and read it, its simplicity and the composure at the heart of its storytelling would really make me feel happy and peaceful. The Tomato series will contribute to many such happy memories. Don't miss these books!
Both the books are published by a wonderful publishing house named Tota Books, the children's imprint of Full Circle Publishing. All the books published by Tota are beautifully illustrated and perfectly edited. We love the direction that Indian publishing in India is taking!