13 Must-Read Books for Pongal and Makar Sankranti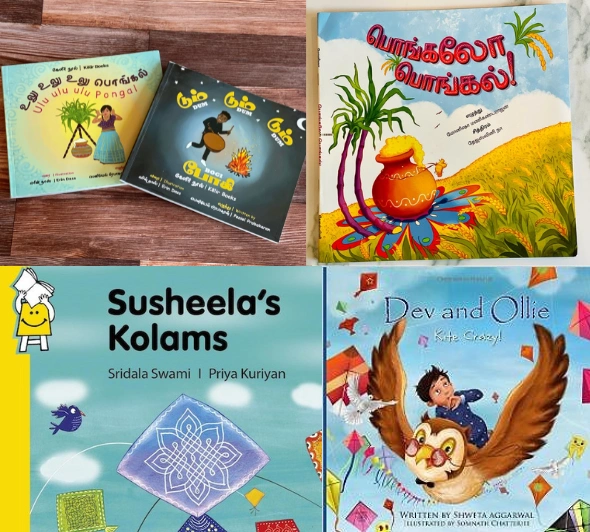 Lohri, Pongal, and Makar Sankranti are coming up. When we looked for books on these festivals, we found many generic books on festivals. We decided to select and list beautiful books that also celebrate the harvest, kite flying, seasons marking the end of winter and of new beginnings!
1. Dev & Ollie - Kite Crazy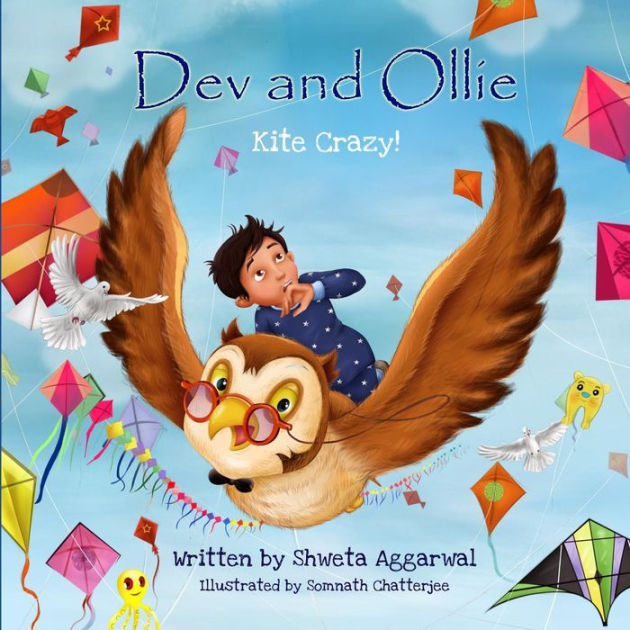 Dev & Ollie - Kite Crazy written by Shweta Aggarwal and illustrated by Somnath Chatterjee is a book perfect for kids aged 4+. Dev is a cheeky, clumsy and of course, a curious boy and Ollie is Dev's magical cuddly toy who comes alive only in the night and they together take off on adventures. Interesting huh?
Dev unwraps his birthday presents and finds a cool new kite. But there is a problem, he doesn't know how to fly it. His grandpa promises to teach him the next day. But he doesn't want to wait till then. So he together with Ollie decides to go on an adventure and learn to fly a kite? So where do they go? They go to one of the largest kite festivals in the world. You might all have guessed it by now. It's a state called Gujarat. :-) So to know what do they do there and how do they learn to fly a kite and did they learn Kai Po Che, you need to read the book. Read our review here!
2. Pongalo Pongal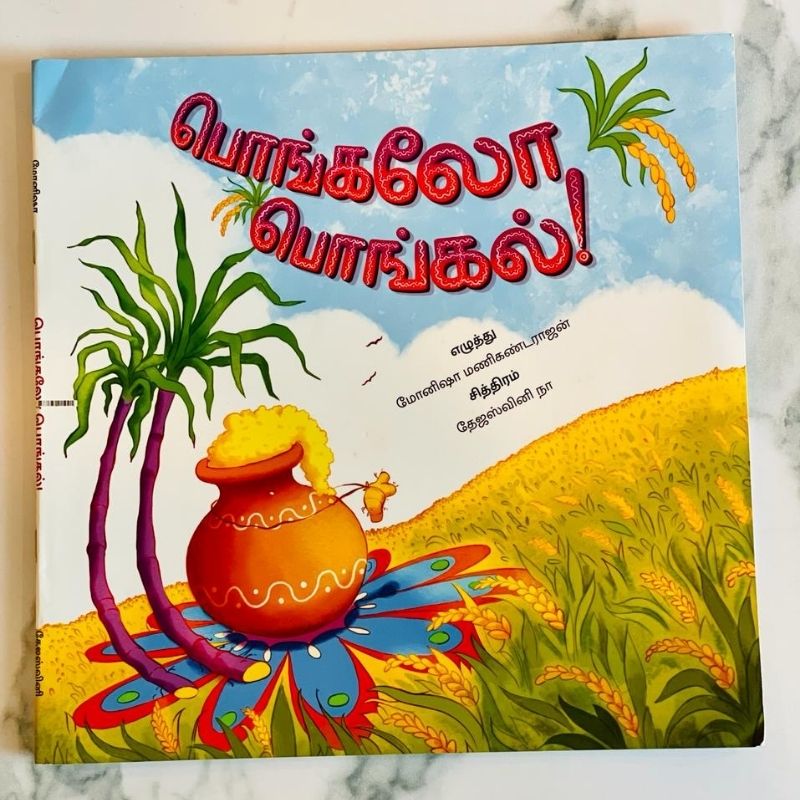 A unique way to introduce colors to your little one! பொங்கலோ பொங்கல் is not just a book about பொங்கல் ! We also want to introduce kids to colors in Tamil through this book! Every page is rich with details and will give great talking points for you to discuss with your little one.

3. Pongal Book Bundle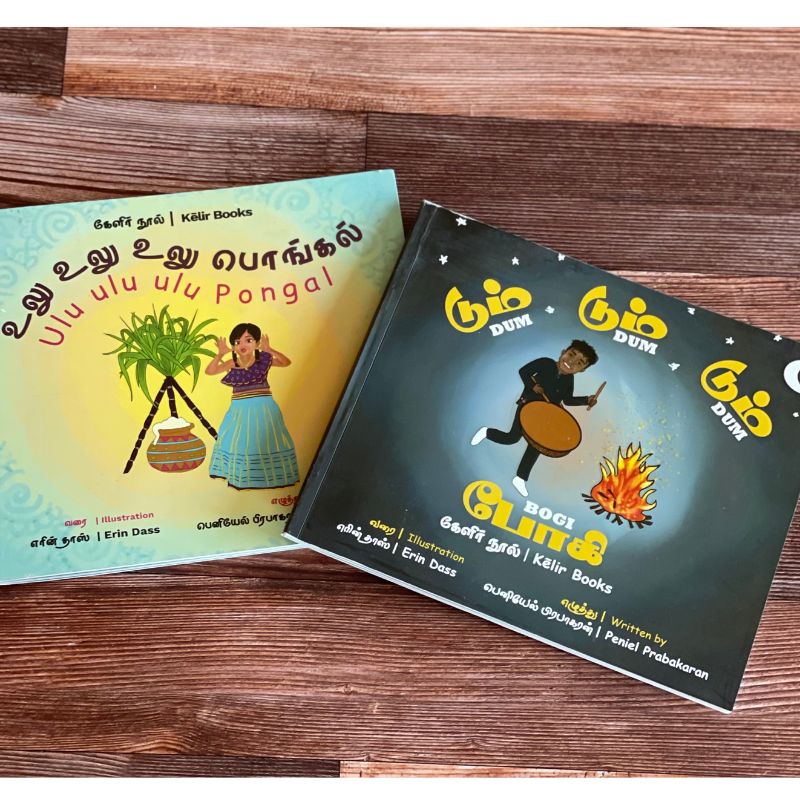 This bilingual Tamil children's book bundle from Kelir Books is part of a series of 4 books based on the 4 days of Pongal.
Includes the story of Bogi & the story of Thai Pongal.
4. Where's the Sun?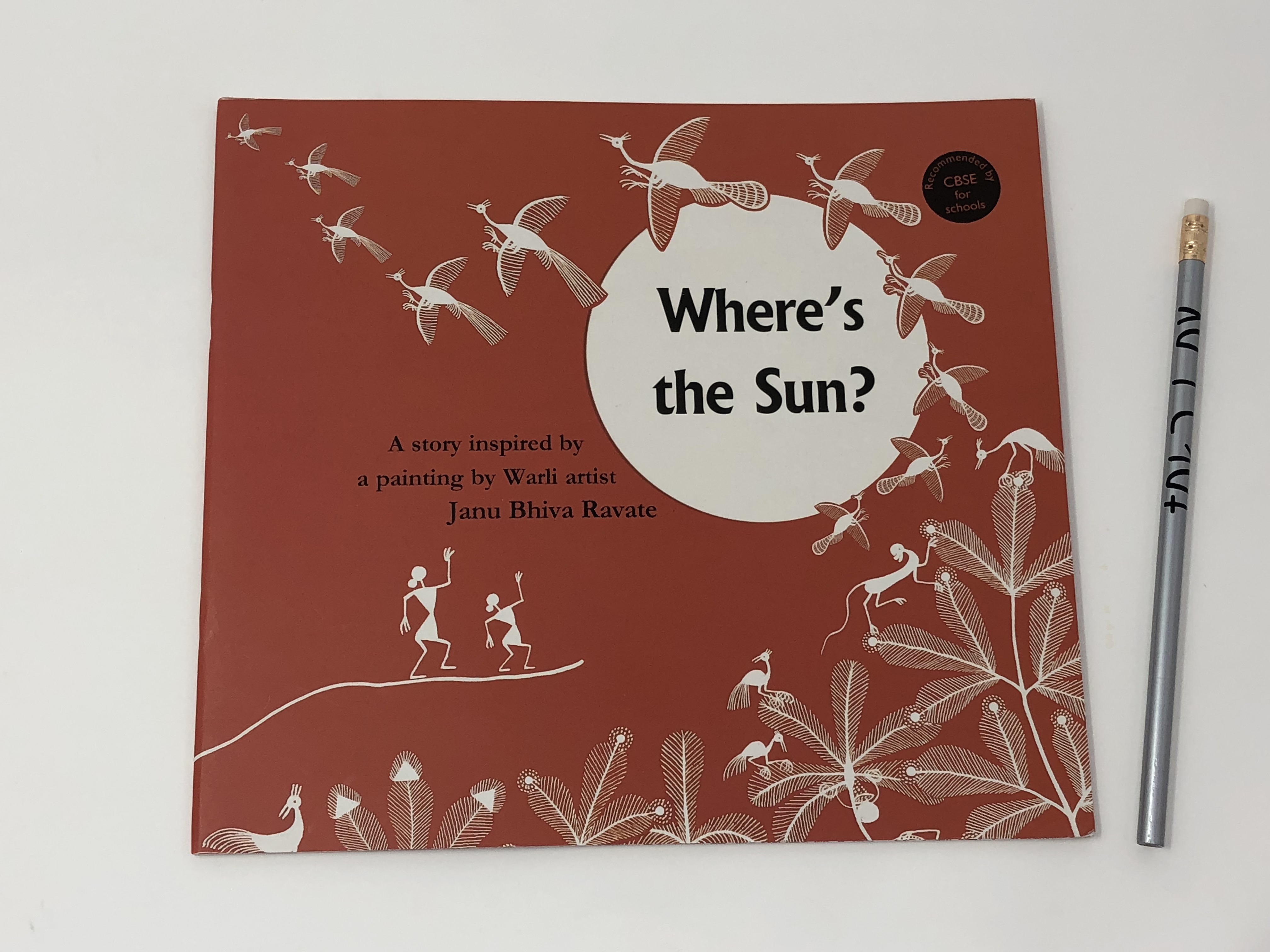 Written by Niveditha Subramaniam, illustrated by Janu Bhiva Ravate and published by Tulika, Where's the Sun? is about how one morning, a mother and child go in search of the sun. Will they find it? The simple story is based on a traditional painting by a master Warli artist, with illustrations extracted from the original spectacular canvas.


5. The Tomato Flood
A beautiful little garden and harvesting story for preschoolers, The Tomato Flood is the second and latest book in Niyatee Parikh Sharma's Tomato series. In this book, little Veer and his baby sister Ananya are helping Baba in the garden. They are digging, plucking weeds and clearing the dry leaves. Both of them get distracted when they are halfway into their fun gardening tasks, and they start plucking tomatoes from the garden and throwing them at one another! They squish the tomatoes, stamp on them so that they go SPLAT and there are tomatoes everywhere! Mummy is so cross that she gives them a time-out.
A few days later, something amazing happens. Lots of tomato saplings start growing in the garden and soon, the entire garden is swarming with tomatoes! There is a bumper harvest of tomatoes. Mummy and Baba try to make the best of the situation. Mummy makes tomato rice, tomato dosa, tomato chutney and even contemplates tomato laddoos! They give away tomatoes to neighbors and even to people who don't like tomatoes! But the bumper harvest won't stop. More and more tomatoes keep growing. What on earth is going on?


6. Festival Through the Year Stories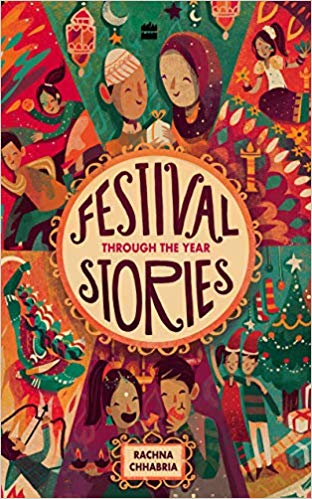 Written by Rachna Chhabria, this lovely book has stories woven around all of India's festivals, from Sankranti and Ayudha Puja to Christmas and Easter. The picks for Sankranti and Pongal are absolutely superb. In 'Celebrating Lohri in the Village,' Nikhil and Natasha visit their grandparents, Dada and Dadi, in Punjab. They learn about the significance of Lohri and fall in love with Punjab. The descriptions of the food, dancing around the fire to the beat of the dhol, and learning Gidda are a treat to read.
In 'Dadi's Prize-Winning Pongal Dish,' they sample some sweet Pongal but with a twist! In 'Kite Flying on Makar Sankranti,' the twins fly the kite and learn about the festival that celebrates and worships the sun.
Throughout the book, Natasha and Nikhil experience an entire year of festivals and celebrations. Their grandparents are from different parts of India and the confluence of identities is wonderful to read. We love the beautiful descriptions of the festivals and the stories woven around them, including the journals that the children write. Don't miss this one!
7. Farmer Falgu Goes Kite Flying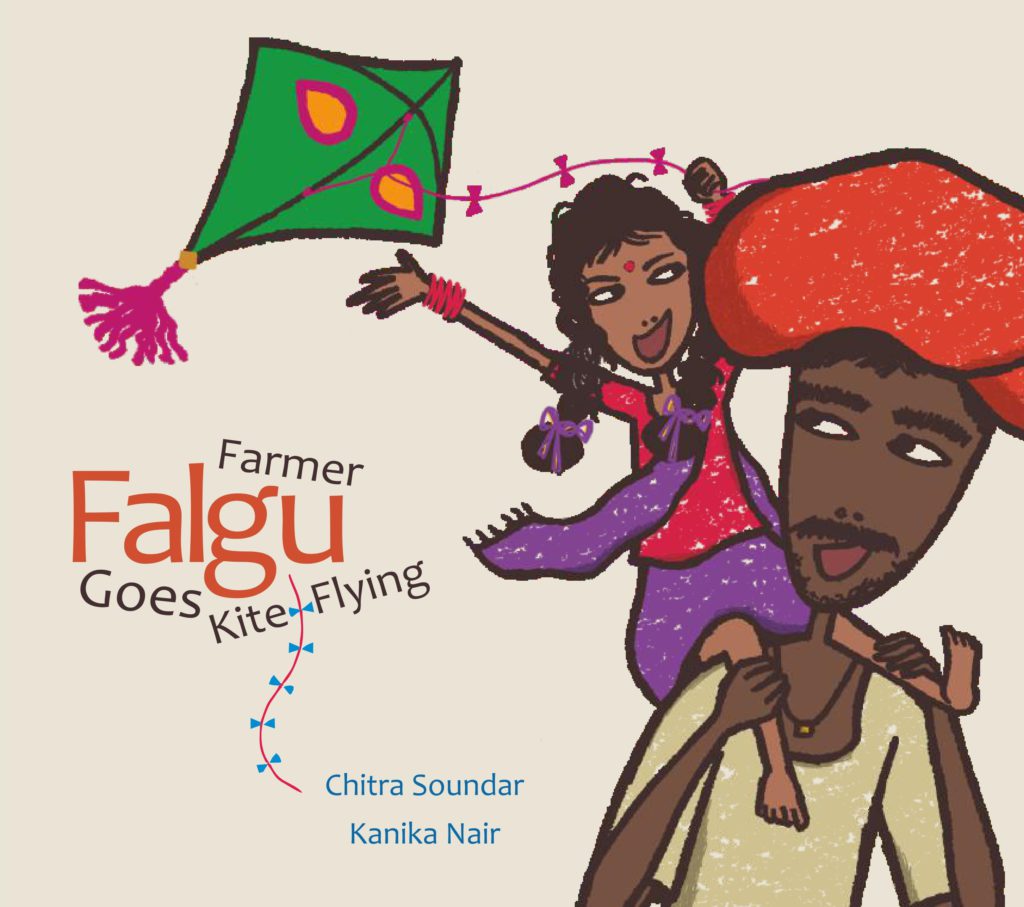 Farmer Falgu's trips never go smoothly. In this third book of the series, he is on his way to the annual kite-flying festival with his daughter, Eila. But…. Whoosh! She loses her kite to the strong wind. Will our ingenious Farmer Falgu come up with a solution to make his daughter happy?

We love the series for their engaging plots, the writer's superb craft, and of course, those mesmerizing illustrations that you just cannot tear your eyes away from, come what may!


8. Farmer Falgu Goes on a Trip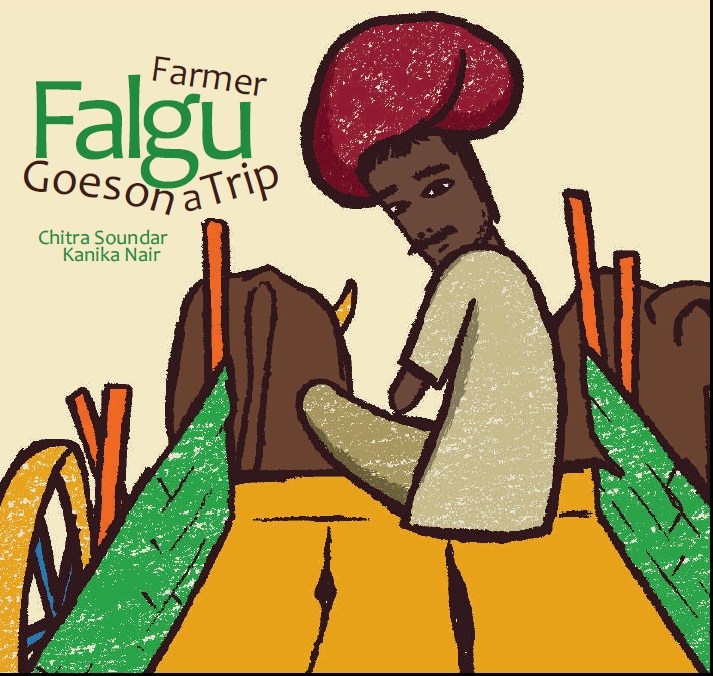 Markets, harvests and the onset of spring -- another Farmer Falgu book is about how Falgu goes looking for peace and silence, away from his noisy farm. He decides to embark on a trip to look for some silence. He takes his bullock cart and goes off in search for some peace and quiet. But does he really find it? On the way, he meets loads of interesting characters and is kind enough to give them a lift in his bullock cart. So does he really find the silence and peace and quiet? Is he happy after that?
Read on this cute and funny tale of Farmer Falgu, written by Chitra Soundar and brilliantly illustrated by Kanika Nair. The book is really suitable to be read out loud to young kindergarten kids. They will love the wonderful sounds which the author has penned, depicting each character to whom Farmer Falgu gives a lift.

9. Susheela's Kolams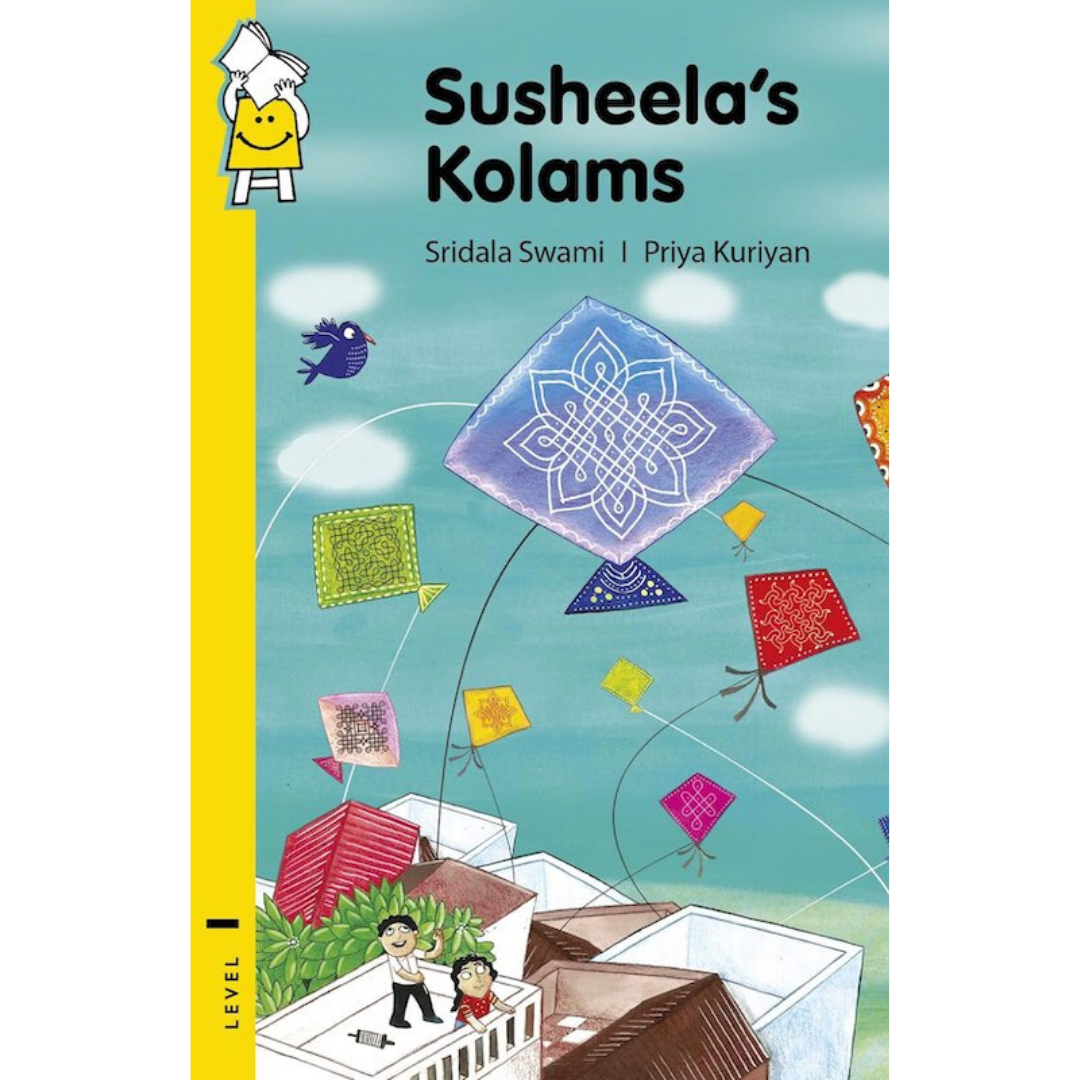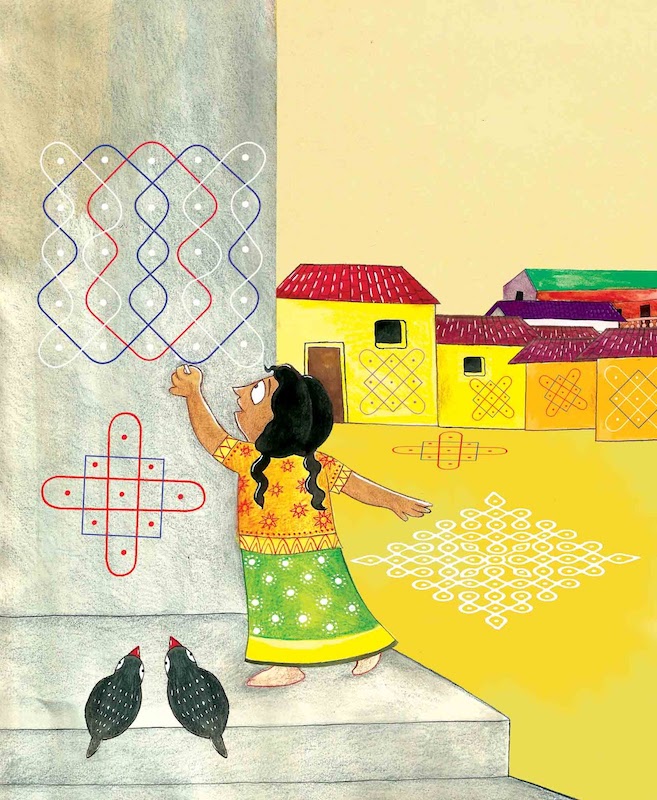 You must have seen kolams on doorsteps at home and even in school, but have you ever seen a kolam in the sky? Read on to find out how Susheela made those kolams by reading this beautiful book by Sridala Swami, illustrated by Priya Kuriyan. The book is called Susheela's Kolams and is published by Pratham Books.

The book is about a girl named Susheela. She lives in Tamil Nadu. Her mother taught her how to draw Kolams. Every Pongal she's allowed to make one kolam on her own. What kolam does she make, a freestyle kolam or an intricate dot/pulli kolam? The Air Force then asks her to help them make a kolam - a kolam in the sky! How does she do this? Read this fabulous book and don't forget to pair it with this kolam activity we recorded just for you!
10. Maari – A Gift From the Skies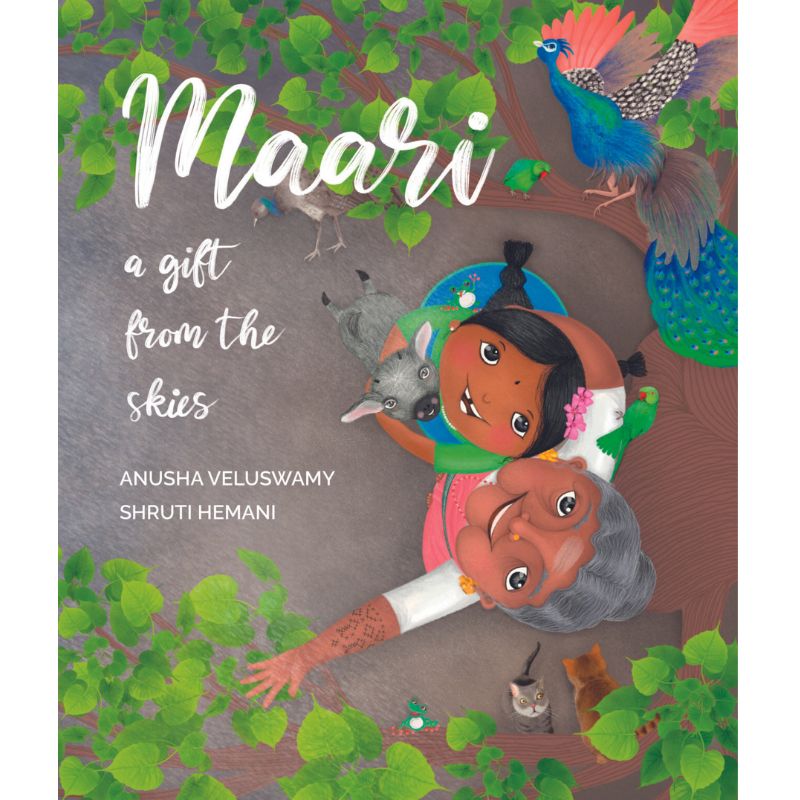 Persistent heat waves have left Kanmani's village burnt and bare, but her village is rather busy gearing up for a festival. The village people cautiously prepare decorative pots, the women wrap
themselves in bright silk sarees, and the men, women, and children bring out their parai and beat the drums joyfully!
What could they be celebrating now? Why are they celebrating when the soaring temperature has only brought more bad news to the village? Will there be a drought this year?
Maari – a gift from the skies is a peek into Kanmani's world – her little village in Tamil Nadu.
It is a story of finding safety within your community, finding calm in your chaos, and a story about the gentle empathy of nature.
This book will also help to begin conversations on Indian folk dances.


11. Lohri: The Bonfire Festival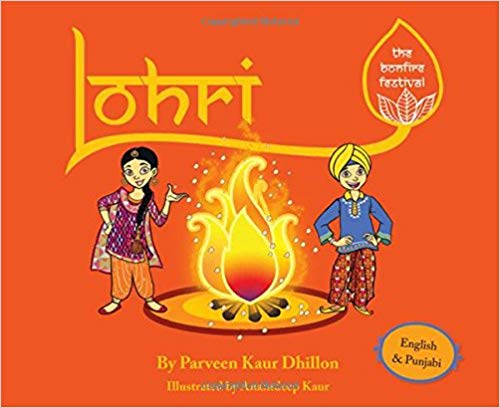 Written by Parveen Kaur Dhillon, Lohri: The Bonfire Festival is a stunning bilingual book that introduces children to the beauty and the magic of Lohri. My kids were fascinated with the festival, as we are not Punjabis but never knew about this beautiful festival. The book is about Ajeet and Rakha as they explore Lohri, a fun-filled and colorful winter harvest festival of Punjab. The rhymes in English and Punjabi are wonderful and the book introduces a tradition that dates back to the fifteenth century.
12. The Rooster and the Sun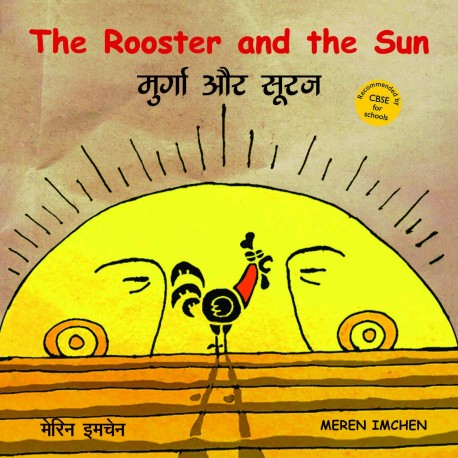 The sun is hurt when the farmer shouts at it and goes away. Only a rooster's trick will bring it back. Luminous illustrations bring alive this folktale of the Ao people of Nagaland. Enjoy this beautiful bilingual book

One day, a farmer was working in his field, the bright sun shining on him made him hot and uncomfortable. He shouts at the sun, for shining so brightly. The sun feels hurt, goes to bed, and refuses to shine for the next few days plunging the earth into darkness.
The farmer is remorseful for his ingratitude and sends several emissaries to convey his apologies to the sun, but all his efforts are in vain until a clever rooster tricks the sun into rising.
The story is bilingual: printed in both English and Hindi making it easier for a child to read and understand the text with which she is not so familiar.
13. Bhoomi Learns to Draw a Kolam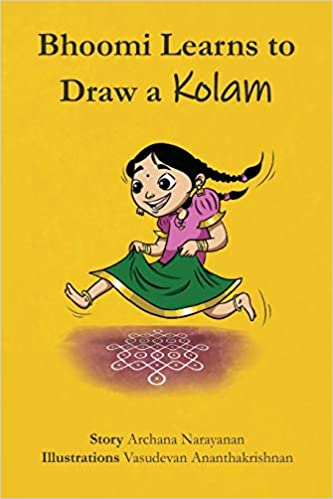 Kolam is an Indian art form traditionally drawn using rice flour on floors of houses or in courtyards. This story is about a little girl, Bhoomi, who falls in love with her mother's kolams and decides to learn the art of drawing kolams. Join Bhoomi in her quest! It is a perfect book for Pongal and Sanrkanti!