3 Delicious Sankranti and Pongal Sweet Recipes
posted by Toka Box Editorial Team , January 12, 2021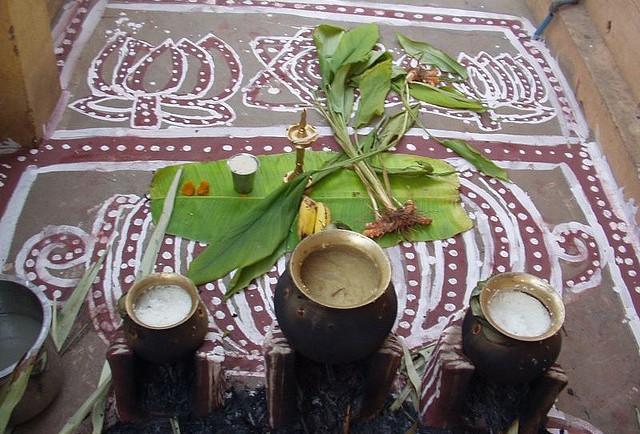 Pongal, Sankranti, Lohri -- the festival of harvest and of new beginnings is around the corner. We give you 3 lovely sweet dishes to celebrate the occasion!


1. Sweet Pongal or Chakarrai Pongal
by A Kay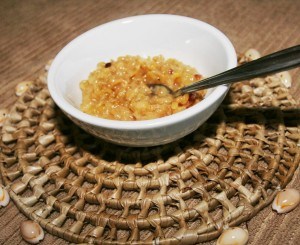 Photo courtesy: The Simple Vegetarian Cookbook
Any Tamilian worth his or her salt would have heard of Meenakshi Ammal and her insanely famous book (in four parts) Samaithu Par. This book, in all probability, lists all South Indian, traditional, vegetarian recipes and personally, I have never had a single failure when following her recipes. While I was flipping through this book I came across an alternate way of making chakkarai pongal that simply begged to be made. On that note, am I the only one that reads recipes and cookbooks for pleasure?
Prep Time: 5 minutes
Cook time: 50 minutes


Ingredients: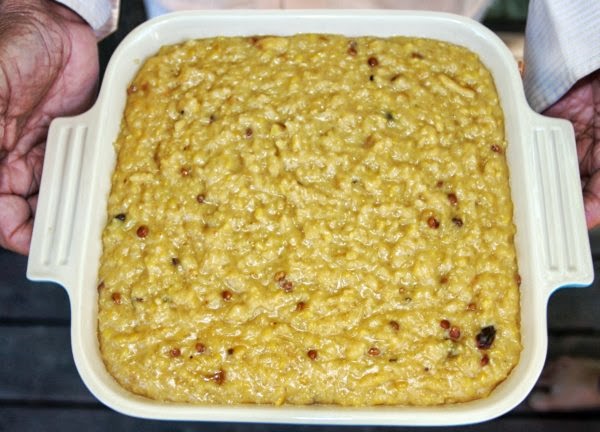 Photo courtesy: The Simple Vegetarian Cookbook

White Rice – 1 cup
Split yellow moong/ Paasi paruppu – 1 cup
Milk – 2 cups
Water – 2 cups
Ghee – 1/4 cup
Jaggery – 1 cup
Cashews – 4-5, broken
Raisins – 1 tbsp
Cardamom – 2-3, husked and crushed
Cooking Camphor – a pinch
Saffron – a few strands


Instructions
First, grab a chair and place it strategically near your stove. I don't mean to scare you and this recipe is very simple but time-consuming and requires patience. From experience, I have realized that a chair and a favorite playlist go a long way in cooking the perfect Pongal!
After reserving a tbsp of ghee, add the rest to a thick bottomed vessel followed by rice, moong dhal. Shallow fry for about 5 mins and you can't miss the wonderful aroma that fills your kitchen. At this point, add about a cup each of milk and water, and cook the rice-dhal combo in medium flame. Keep stirring as the liquid covers, bubbles over and cooks the rice-dhal mixture. Continue to stir and, as the liquid gets absorbed, continue to add the rest of milk and water, preferably a couple of ladlefuls at a time. You don't have to stir constantly but when you do, stir as vigorously as you can so that the mixture doesn't stick to the bottom. Also, make sure to stir when you add liquid so that it is incorporated well. Cook till both the rice and dhal are cooked well but not mushy. For a cup of rice, the cooking time was about 30-35 mins.
Add the cooking camphor, crushed cardamom, and saffron.
Now add the jaggery (broken into small pieces) to this mixture and stir. Breaking down helps the jaggery to liquefy and mix faster. Once the jaggery is fully melted and mixed, you will notice that that mixture has a slightly syrupy texture. At this point, your pongal is done!
Fry the cashews and raisins in the reserved tbsp of ghee and add it as garnish. You can also use slivered almonds if you wish to do so.
While this is time-consuming, it is not laborious and the flavor that slow-cooking imparts makes every minute worth it!
2. Thinai/Foxtail Millet Laddus
by Vidhya's Vegetarian Kitchen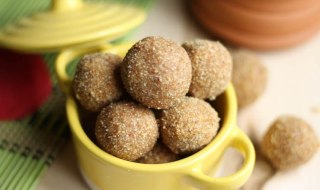 Don't we all love laddus? It's now time for Millet laddu. I prepared this laddu using the foxtail millet popularly known as Thinai in Tamil and Kangni in Hindi. It is the second-most widely planted species of millet. (The first one is pearl millet or Kambu/Bajra). It is one of the staple diets in South East Asia. Foxtail millet's references go back to the Sangam period of Tamil literature and it is often associated with Lord Murugan/Subramanya. With Thiruvathirai and Pongal/Makar Sankranti around, I thought why not try this Thinai laddu.
Flour based laddus are one among the easy and simple recipes to try with kids. Mixing the flour and shaping the laddus are fun to do with kids. If you can source fox-tail millet flour, this can be "No-stove" recipe too. I couldn't source the flour and also I was able to find only the par-boiled foxtail millet variety this time. The grain size and texture was slightly different but taste-wise it was all good. You can prepare this laddu with any millet varieties that you have in hand. I made this as a nut-free laddu but you can include your favorite dry fruits and nuts. So without any further delay, here comes the recipe and oh yeah this goes as part of the IMC's January Treasure Box Recipe.
Ingredients:
Foxtail millet – 1 cup
Powdered Jaggery – 1/2 cup
Cardamom Powder – 1 tsp
Melted Ghee – 1/4 cup (add as needed, see notes for reduced usage)
Prep-Work
Heat a kadai and dry roast the foxtail millet without adding any oil for 5 minutes over medium heat.

Let it cool down and grind into a coarse powder without adding any water.

If required, powder the jaggery is set aside.


Steps:
Add the powdered foxtail millet and jaggery in a wide plate.
Add the cardamom powder and mix them well. Get your kids help from this step onwards. (Kitchen might turn messy, but the fun family times makes it worthy)
Now add the melted ghee on need basis and start shaping them into a ball of 1-inch diameter.
That's it. Thinai laddus are ready. Enjoy the healthy laddu.
Notes:
If you want to reduce the amount of ghee, you about 4 to 5 tbsp of milk but that reduces the shelf life of the laddu.

Store bought flour will be very fine and they bind easily. For the coarse-textured flour, you need more ghee/milk.
Adjust the jaggery as per your sweet preference.

Any chopped nuts or dry fruits can be added as per your taste.


Til-Gud-Poli
by Divya Ganeshan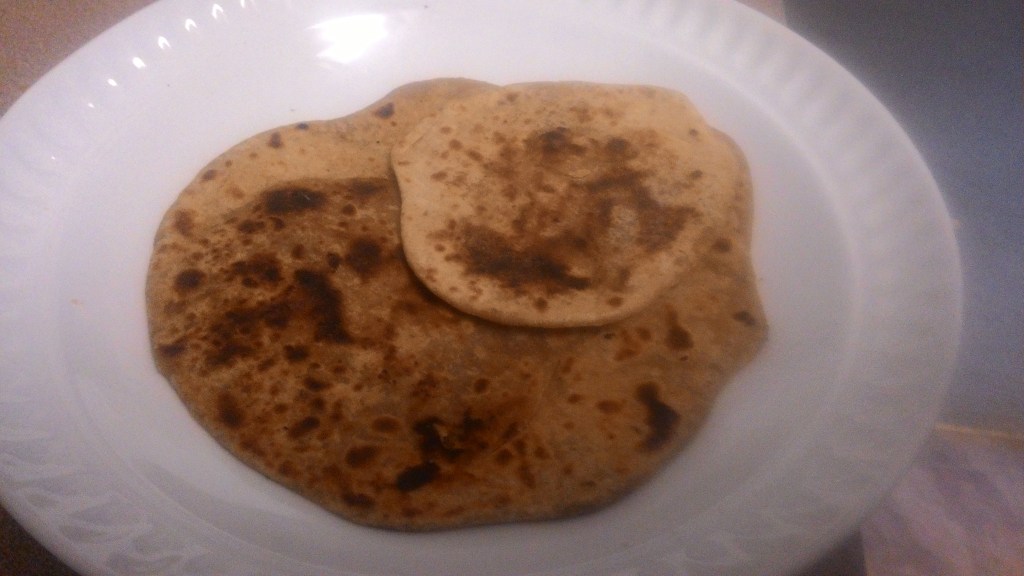 Pongal/Sankranti is almost here to kickstart the Indian festival season. And like we all know, for every festival in India there is a festive food, to go along with the celebrations.
The importance of til (sesame seeds) is that it keeps the body warm and provides good oil, which is much needed in the cold dry winter months which is when Sankranti is celebrated.
Being born and brought up in Mumbai and then living in Pune my taste buds have developed a liking to many Maharashtrian dishes. Til-Gud laddoos are as popular in Maharashtra as Sakarai Pongal is down south. The importance of til (sesame seeds) is that it keeps the body warm and provides good oil, which is much needed in the cold dry winter months which is when Sankranti is celebrated.
'Til-Gud poli' or Til gulachi poli as they call it in Marathi is another Sankranti delicacy. I had tasted this once at a colleague's home, where his mom made them right in front of us and served it garam-garam with a huge spoon of ghee. I simply loved it and from what I understand this is enjoyed better when made crispier than the popular puran poli.
So here is me experimenting on something other than Sakarai-pongal this Sankranti!
Til Gud Poli, Til Gul Poli, Sankranti
Ingredients:
For the dough you need-
1 cup Whole wheat flour
1/2 cup All purpose flour (optional, I just used a little to roll the rotis)
2-3 Tbsp Oil
Warm water to make the dough
Salt – a pinch
Ghee / Unsalted butter
For the Filling
1 cup Jaggery (grated/powdered)
1/4 cup Besan
4 Tbsp sesame seeds (roasted)
3-4 Cardamoms
1 Tsp Ghee
Method:
Prepare the dough similar to a paratha dough using the above ingredients and let it sit for a while.
Now for the filling, roast the besan in 1 tspn of ghee. Grind the roasted sesame seeds and cardamoms to a fine powder. Add this mixture to the powdered jaggery and then add the roasted besan. Combine to make a soft filling.Use ghee if required and make small laddoos and keep aside.
For making the polis, take a ball (lemon size) of dough. Roll it into a small circle. Place the filling in the middle and cover with the edges and seal. Roll it like parathas of medium thickness. Heat a pan and smear some ghee and roast the polis on both sides till brown spots appear.
The polis should be crisp and they taste great when served hot with a little ghee 🙂
And as they say "Til-gul kha, god-god bola" loosely translated that means "Eat this sweet and speak sweet-sweet"!
Enjoy this sweet delicacy and a Happy Pongal/Sankranti to you all!