All our Chapter Book Picks for Children from 2020!
posted by Toka Box Editorial Team , December 10, 2020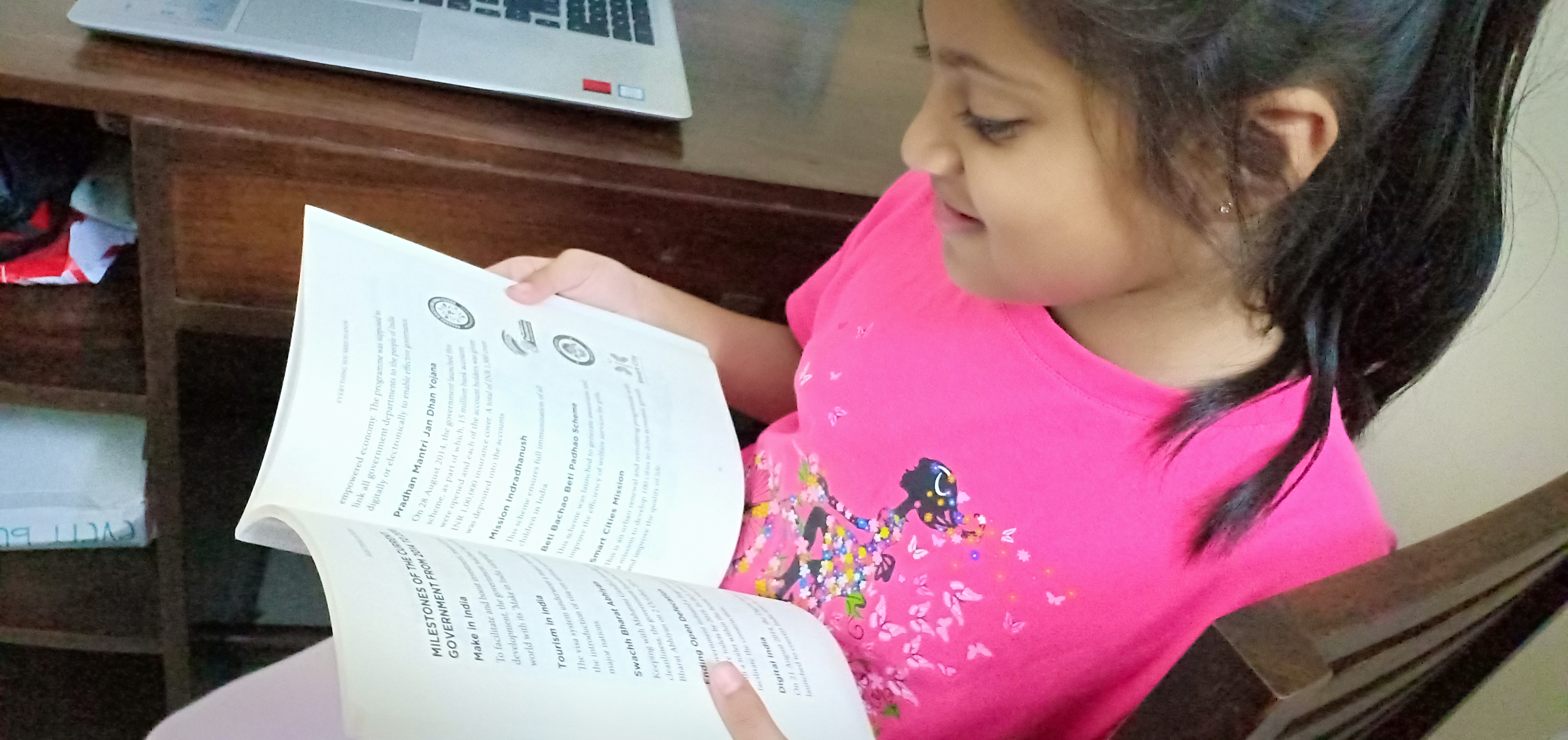 Find out our Chapter Book picks for 2020!

In May, when we introduced the Chapter Book pick for every month of the year, we were dazzled by some incredible books! We discovered new South Asian authors from different publishers. We explored chapter books on a variety of topics, both fiction and non-fiction! Some of the themes and ideas covered in this list are:

Wildlife, travel, and animals!
STEM adventures
South Asian historical fiction
Mehendi, art, and tech!
Birds and conservation
South Asian identity
Food and fun
Stars, adventures through constellations, and magic

A round-up of the Monthly Chapter Book Recommendation for children ‑ from the several books we run through each year!
As kids transition from picture books to chapter books, it is important for us as parents to recognize that the transition may not be as easy for all kids!

To make this easy for both parents and kids we at Tokabox classify chapter books further as:
Toka Early Readers for 6‑8 yr olds
Toka Middle Readers for 9‑12 yr olds!
Toka Teens for teenagers & YA!


May Chapter Book Pick for Toka Early Readers

Kashmira Sheth's 'Nina Soni, Sister Fixer!' is the second title in the humorous Nina Soni series featuring a charming, distractible Indian-American girl and her family and friends.

"A long rainy stretch during spring break has Nina restless and hungry for a new project and aggravated with little sister Kavita's embarrassing behavior. A fresh pile of dirt just delivered to the neighbor's house for a landscaping project ends up being too tempting to resist. Can Nina fix Kavita and create something amazing at the same time?"

Here's what my 8-year-old thought of the book: "Nina Soni is fun and teaches you that you cannot change the way a person is. She wants to fix her sister and in the end she finds out that nobody can change how a person is. I also liked that Nina is the same age as me and Indian American like me."


June Chapter Book Pick for Toka Early Readers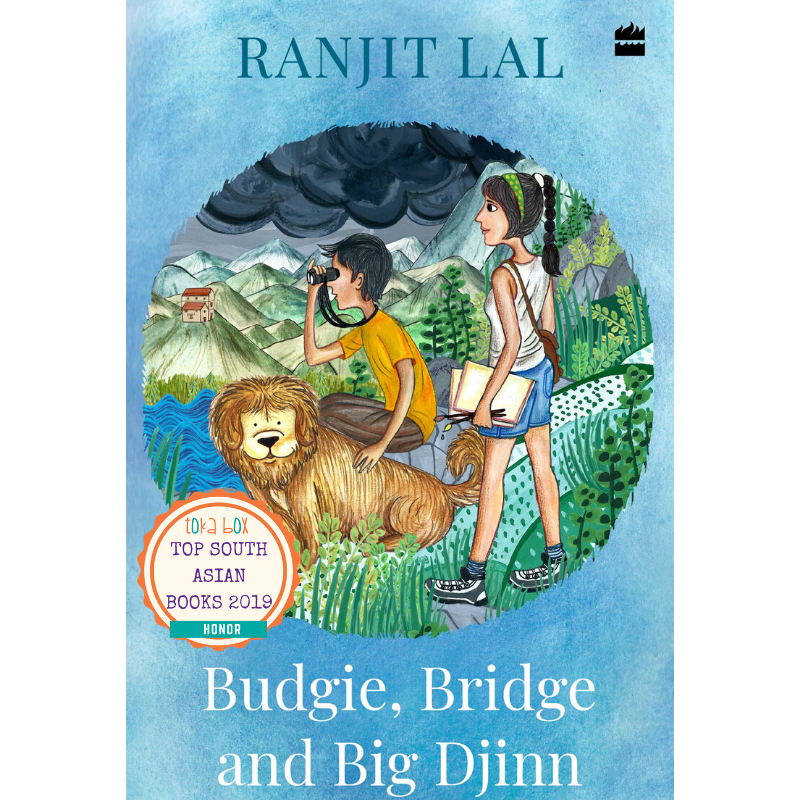 Ranjit Lal's Budgie, Bridge and Big Djinn is pretty special! The book is about Brijesh, Shoma and Shoma's Tibetan Mastiff‑German Shepherd Big Djinn, as they embark on a dangerous expedition to save their home near Nainital. In the book, the author's love for natural history, wildlife, birds, and animals really shines through. This book was an Honor Book at the Toka Box Top South Asian Chapter Books of 2019!

July Chapter Book Pick for Toka Middle Readers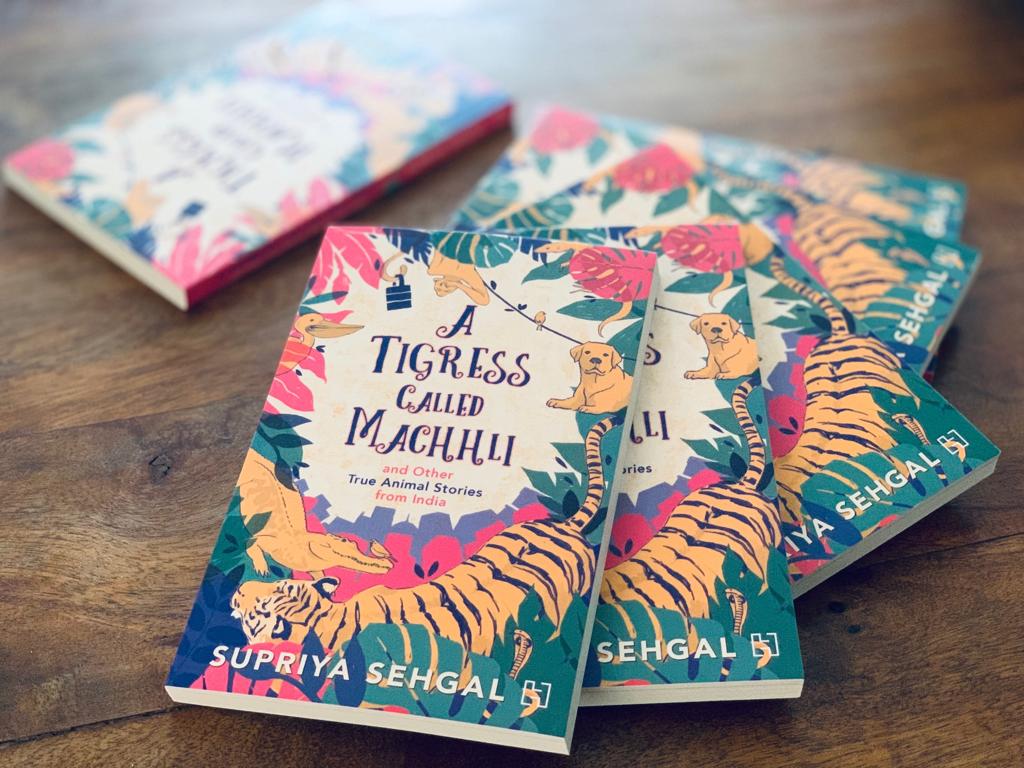 The Toka Box Chapter Book pick for July is A Tigress Called Machhli and Other True Animal Stories from India, written by

Supriya Sehgal.

This book is a collection of fascinating stories about the author's adventures with animals during her work as a travel journalist!
The titular story in A Tigress Called Machhli by Supriya Sehgal narrates a formidable scene -- Machhli, the famous tigress of Ranthambore, takes down a 14-foot crocodile and the battle lasts for hours, culminating in an epic move that wins Machhli the title 'Crocodile Hunter.'

This was our Toka Box Top South Asian Chapter Book in the Non-Fiction category for 2019!

August Chapter Book Pick for Toka Middle Readers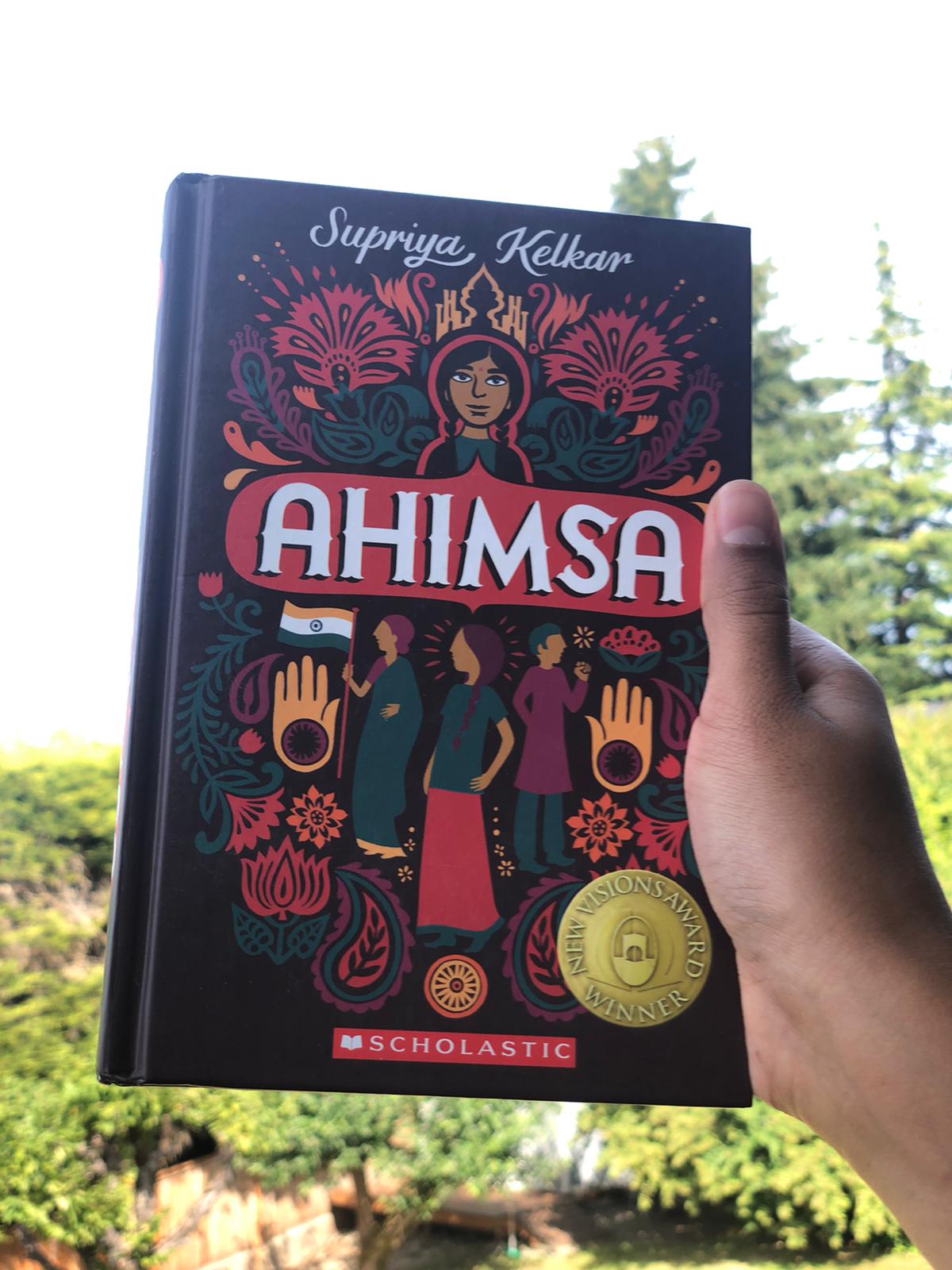 'Ahimsa' by Supriya Kelkar is our Chapter Book pick for August!⠀Set in 1942 in the fictitious town of Navrangpur, Ahimsa is a wonderfully written novel that tells the story of a 10-year-old Anjali and her role in the Indian Independence movement. The book is set against the backdrop of the Indian Independence movement and hooks you from the first page. Simply dazzling!⠀
⠀
It gives us a wonderful peek into the lives and personal conflicts of people who lived during 1942 in India and who were part of India's historic freedom movement. We think you will absolutely love Ahimsa - perfect for #Tokateens! It is a delight to read, has fun, pace and humor, and leaves you emotionally and spiritually satisfied after you finish it!⠀
September Chapter Book Pick for Toka Teens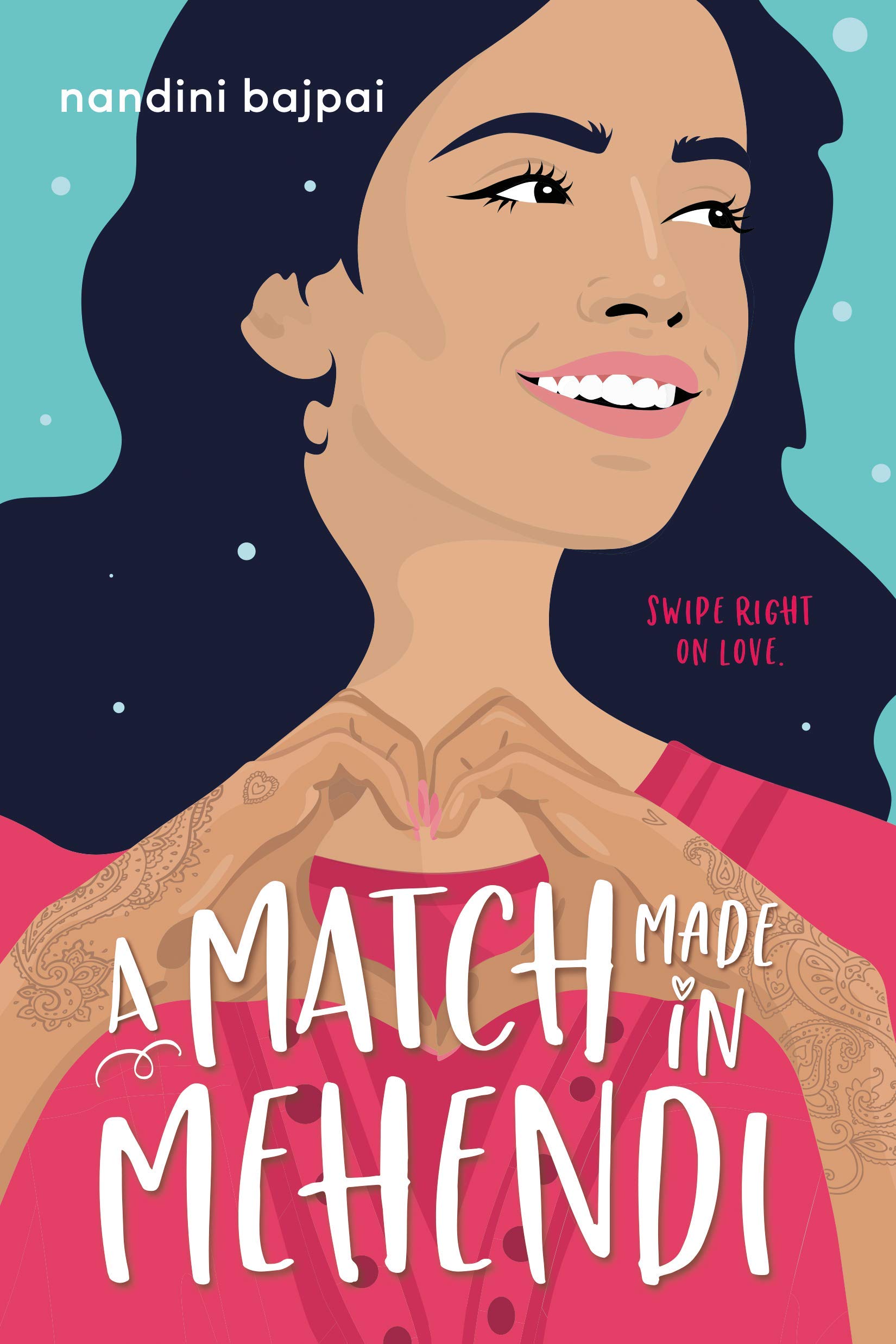 Our pick for September is Nandini Bajpai's 's hottest new YA book on the block titled A Match Made in Mehendi. Fifteen-year-old Simi is from a family of Indian matchmakers, so does she have the gift too? Armed with her family's ancient guide to finding love, Simi starts a matchmaking service-via an app, of course! But what happens when she pairs a social wallflower with the star of the boys' soccer team? Fun, funny, vibrant, and hard to put down -- you simply cannot miss this one!
October Chapter Book Pick for Toka Teens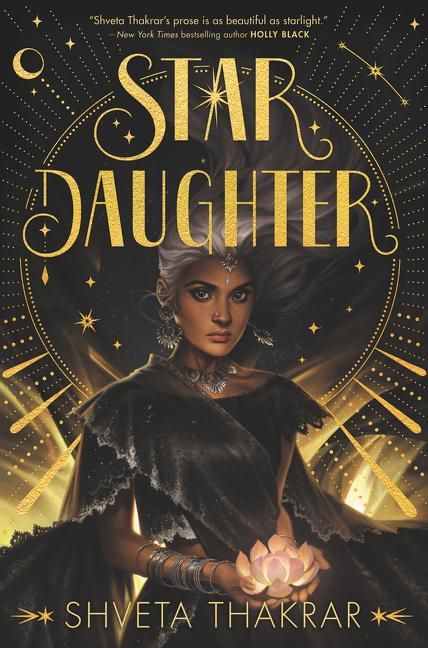 Star Daughter is a gorgeous 'Debut Fantasy' by Thakrar who cites Neil Gaiman's Stardust as her inspiration. She says that she wanted to read a similar magical fantasy story about an Indian girl, with love and intrigue - thrown into the mix.
Unlike Gaiman's book, the central character in Star Daughter is a young girl named Sheetal Mistry, who lives in New Jersey with her father and has a secret. Her hair is starlight silver and the stars call out to her, urging her to sing their song. She is the daughter of a star named Charumati, who had to leave Sheetal's human father to protect him. No one except Sheetal's father and her best friend Minal know about this secret, but slowly things began to happen – she discovers that her boyfriend Dev has a family history that is intertwined with hers. She then discovers that she has to save her father and to do this, she has to travel across the galaxy to visit her mother at the Starry Court. Sheetal finds herself embroiled in a competition in order to save her father's life and to decide the next ruling house of the heavens.⠀
⠀
This book has everything a young adult will look for in a book – adventure, magic, fantasy, love, courtly intrigue, matches blazed forth, lost and won among the stars and a plot that hurtles unstoppably from start to finish. The author takes us through magical night markets, jars that contain portals to different worlds, and finally, the magic of star song and what it means to search for your identity. ⠀
November Chapter Book Pick for Toka Teens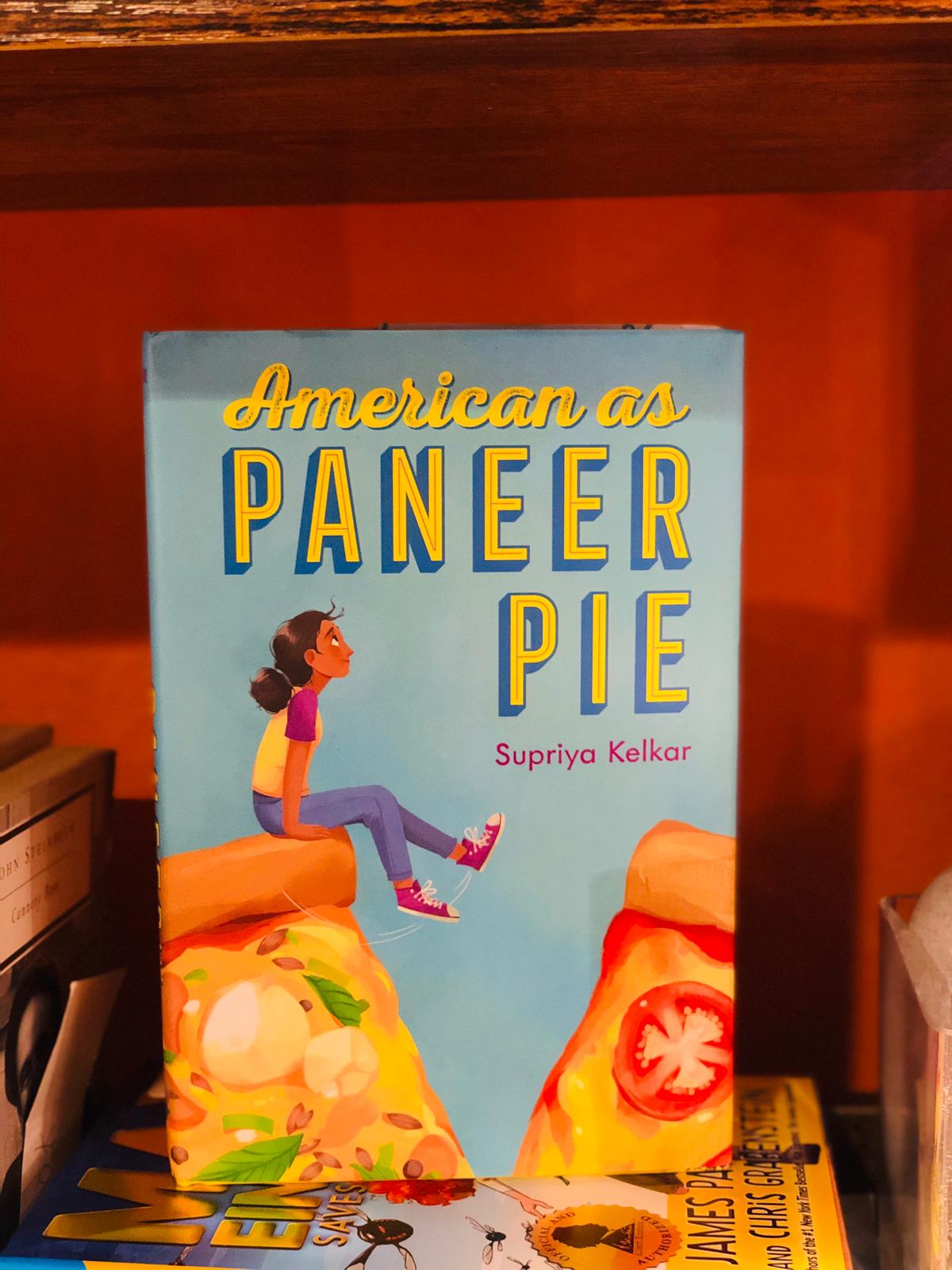 American as Paneer Pie by Supriya Kelkar is a powerful and captivating novel is about an Indian-American girl named Lekha who lives in Oakridge, Michigan. A lover of Bollywood and Indian food, Lekha has been happy living in her own world and ignores jibes from other kids about her - who she is and where she comes from. Lekha has a brown birthmark shaped like a bindi on her forehead, prompting a boy in school named Liam to call her 'Dot.' From people not getting her name right, to making fun of the food she eats and how she dresses, Lekha tries to keep to herself. She makes it to the super-competitive swim team, much to Liam's chagrin, and his bullying increases. Lekha is okay with dealing with these jibes, until a girl named Avantika moves to town and challenges the status quo in a major way, standing up to bullies. Interestingly, the novel is set against the backdrop of a divisive statewide election and adds so much context to the story.
December Chapter Book Pick for Toka Early Readers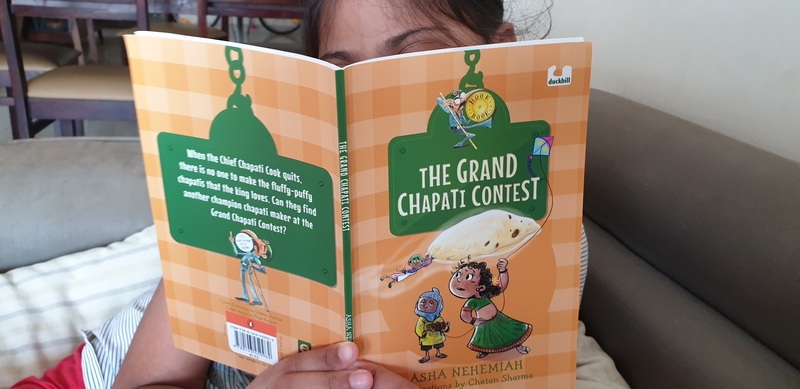 Want to introduce your kids to chapter books? This Hook Book is designed for that purpose ‑ it has illustrations and is longer than a picture book but it isn't a full‑fledged chapter book. Our Chapter Book Pick for December is one awesome book ‑ The Grand Chapati Contest by Asha Nehemiah!
We absolutely love this book and all its delightful elements. We love that the queen is a designer and a problem solver. We also love the different kinds of chapati makers, including the elephant! The illustrations by Chetan Sharma are delightful. Above all, kids will totally get the importance given to soft, fluffy chappatis!