Two Books With a Taste of Royal Life!
posted by Gomathi Kannan, July 01, 2019
Gomathi Kannan reviews two lovely books by Pragya Tomar and illustrated by Giulia Lacopini! Does your child love princesses or a royal life? Want such a book to come with a dash of Indian culture? Then you must read these books!

I found two books fit for my royal prince- Babu and Bina at the Ghost Party and Princess For A Day, both penned by Pragya Tomar and illustrated by Giulia Lacopini. These two books, through two entirely different stories, gave us an unusual perspective on the royal life and also a taste of India!
Princess For A Day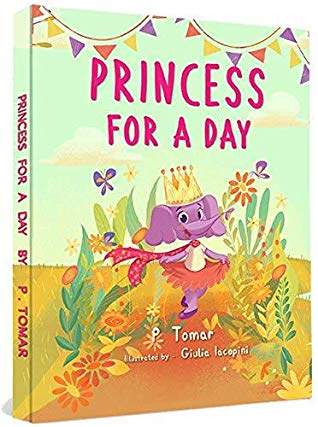 Is your child obsessed with princesses and loves pretending to be a
princess or roleplaying like one? This book by Pragya Tomar might be the best book pick
then! As the title suggests, Bina, the cute little girl of the
elephant family proclaimed herself a princess and demanded royal
rights. Everyone in her family decided to brighten her day by serving
her the royal way. She loved being a princess until her brother started
playing with honey and hippos. She realized being herself was
more fun than being a princess. The illustrations by Giulia Lacopini make
us fall in love with the elephant family. I definitely ought to mention
the cool grandpa's laboratory, the mom's earrings, and the grandma's saree, and of course,
all the facial expressions! The story encourages children to be humble and
kind and more importantly to enjoy being themselves.
Buy the book now!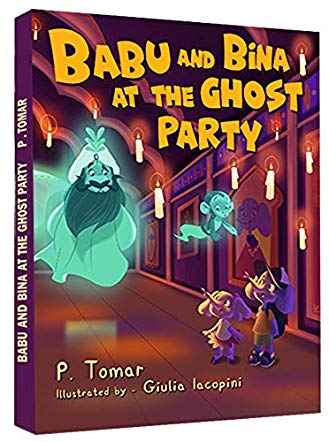 Another Lovely book from Pragya Tomar, Babu and Bina at the Ghost Party is about adorable elephant
siblings that are excited about a tour to the old India fort but little do
they know that there will be an unknown adventure packed for them that day
when their pup Pinto goes missing within the palace! I was a bit
skeptical about reading a book titled 'ghost party' but my son was
absolutely charmed by the unique theme of this book! What better way to
visit a palace than a personal tour by the royal ghosts? Once again, a
fabulous job by Giulia Lacopini. Floating ghosts, suspended
candles, and animated light shows that create a whimsical world that kids
would love to explore!
My son and I enjoyed reading aloud both the books and we would
definitely recommend reading this!