The Toka Box Top South Asian Children's Books of 2021!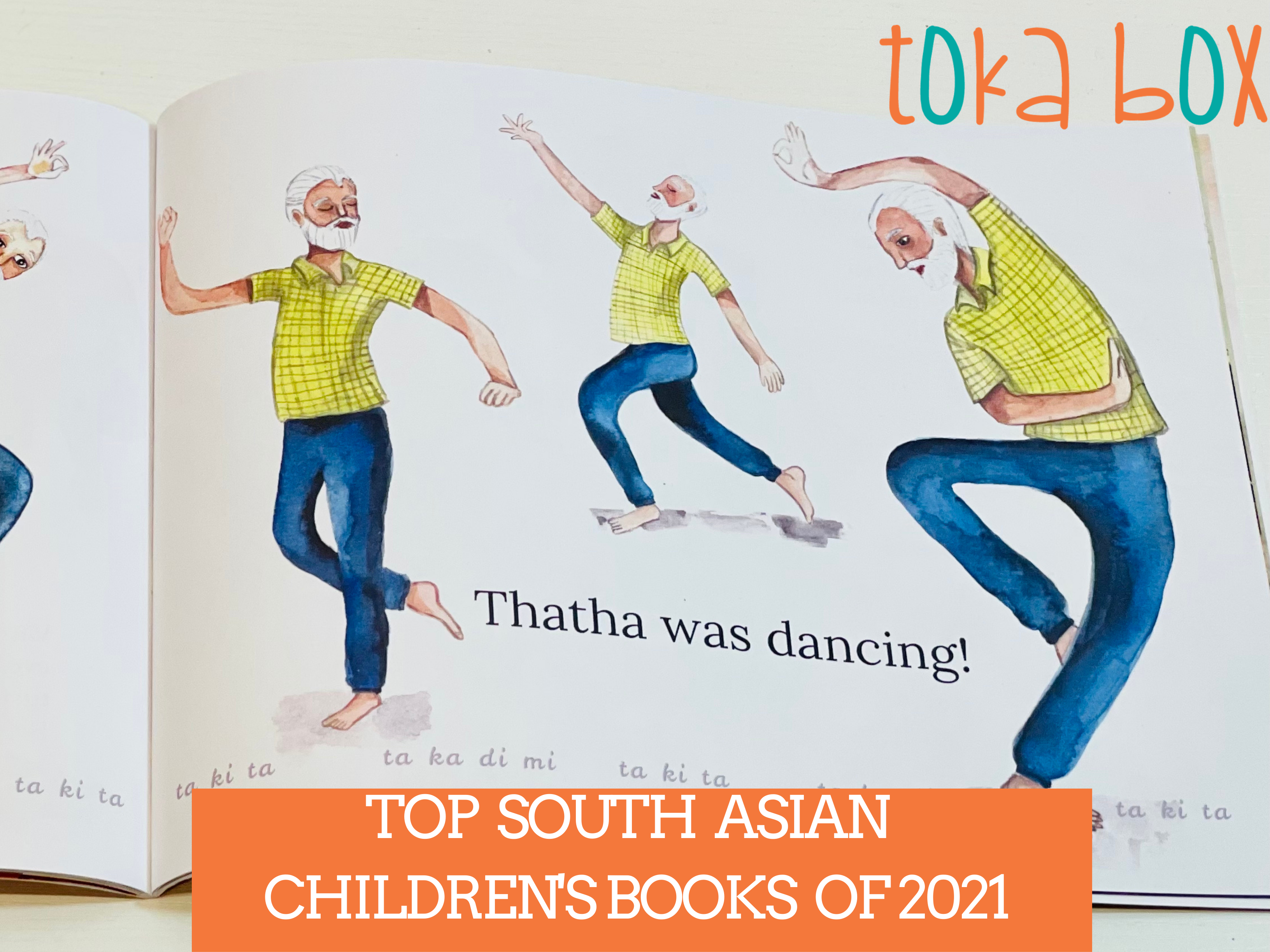 To celebrate the best in South Asian Children's Literature, we present the Toka Box Top South Asian Children's Books of 2021!
If 2020 was the year of self-discovery in the midst of a pandemic that pushed us to look inwards, 2021 was all about branching out with bold and interesting new ideas. We stepped out, changed by the pandemic but waiting to take on a fresh version of the world.
Every year, Toka Box releases its pick of the best South Asian books released during the preceding year. This is a roundup of the best South Asian Children's books published in 2021.
There are many firsts on this year's list. We have a Tamil board book as the winner of the Board Book category and a Malayalam board book as an Honor Book! A few years ago, we had very few bilingual board books but today we have an incredible variety. You know you are moving the needle in South Asian Children's Literature when a bilingual book powers its way to a list that is otherwise a mainstream category of books. We also have graphic novels and comic books on this year's list. These are not just books we loved but books that sold well and reached many young readers from around the world.
How we chose the books
If you haven't guessed by now, we read lots and lots of children's books! We read them with our kids, with our friends' children, and even with our own nephews and nieces. We look for books that inspire children but we also believe that books should be fun!
This year, Toka Box truly wanted to factor in a child's love for books and understanding of them. We love it when an author stays true to the quirky child's voice inside his/her head and reaches the child in so many ways. We were also delighted to see so many new authors, illustrators, and publishing houses!
The picture book format has truly amazed us with the risks it takes and the way it pushes the boundaries of visual narratives for children. While the picture book format has always been strong in South Asian Literature thanks to incredible publishing houses and the culture of picture book reading, we have other genres and formats that make a mark this year too.
The chapter book format is now more than just a chapter book that reflects our children and their identities. We have laid that foundation and now we move on to stories, ideas, interesting conflicts, and tremendous personal growth. We also have a new category this year - comic books and graphic novels! Isn't that incredible? We can expect many more graphic novels for kids and young adults in 2022.
Here is our list!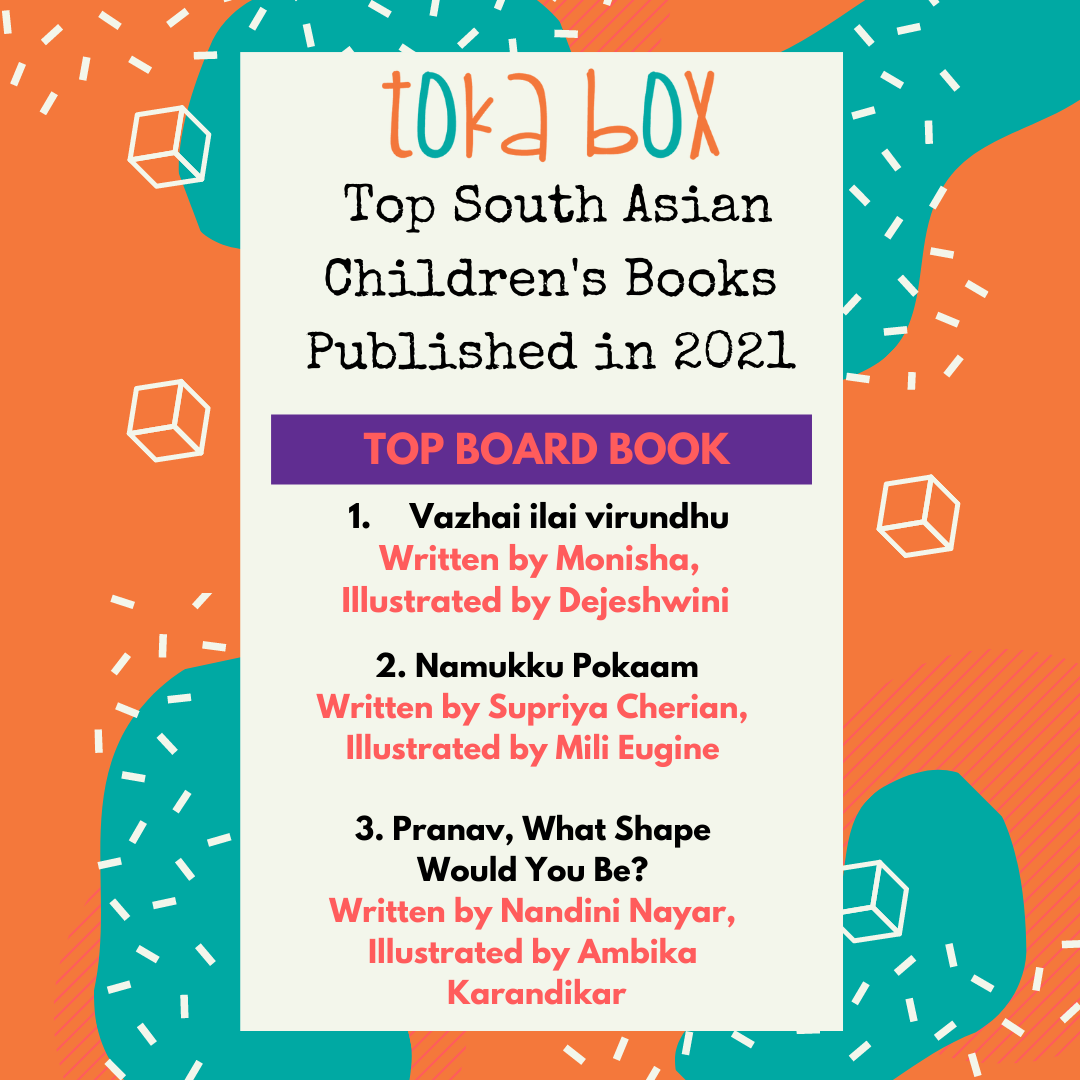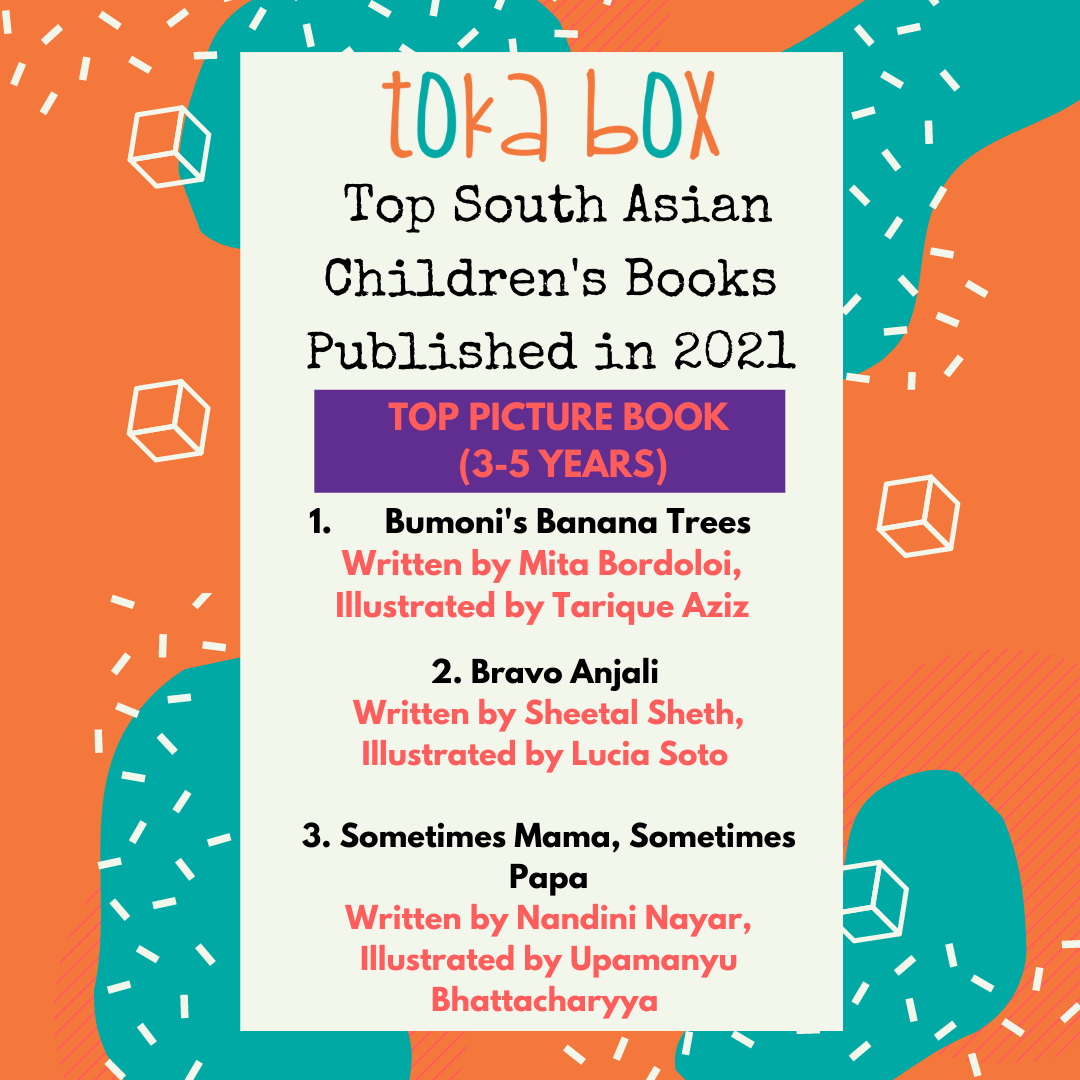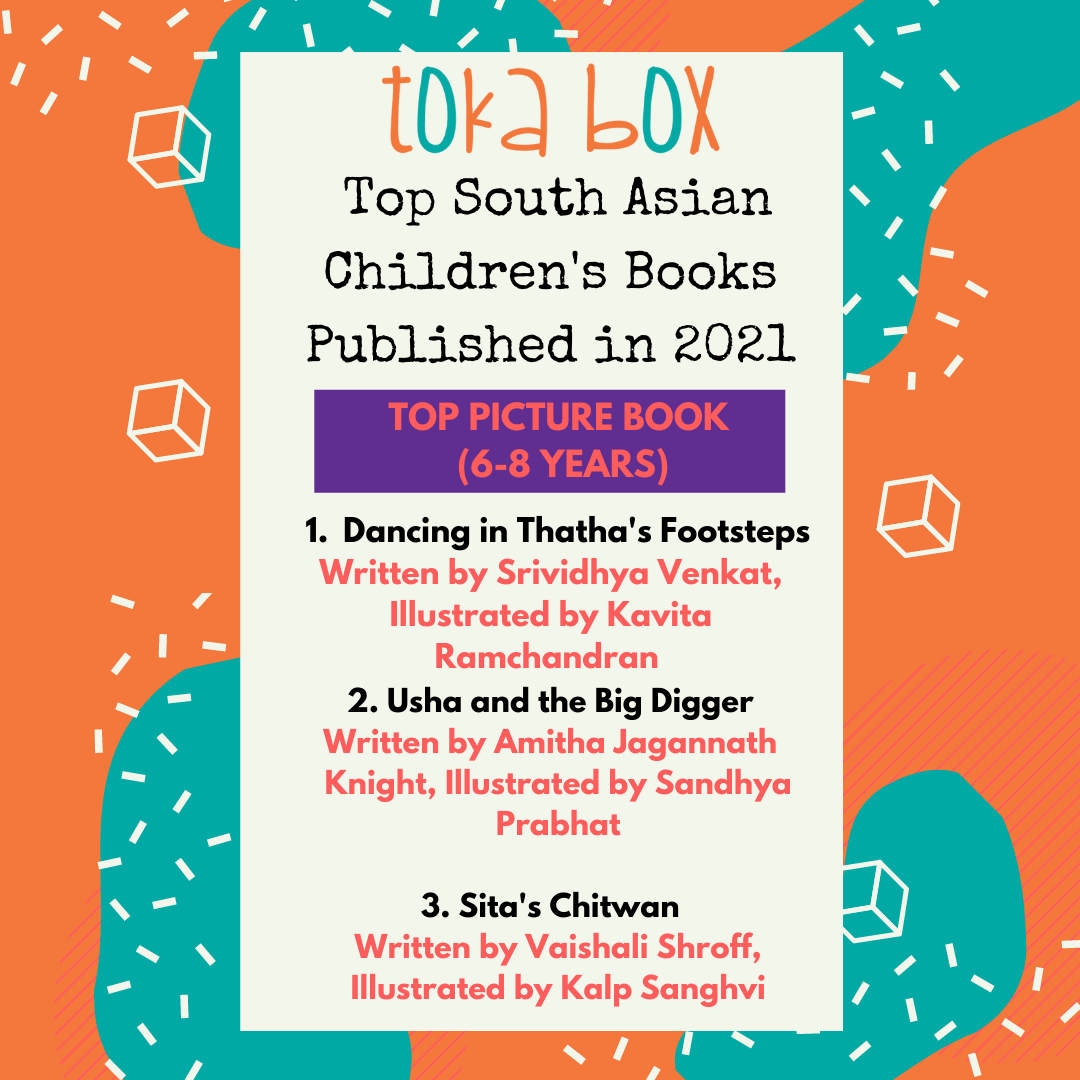 Best Board Books of 2021
WINNER: Vazhai Ilai Virundhu: A Montessori Numbers Book by Monisha, Illustrated by Dejeshwini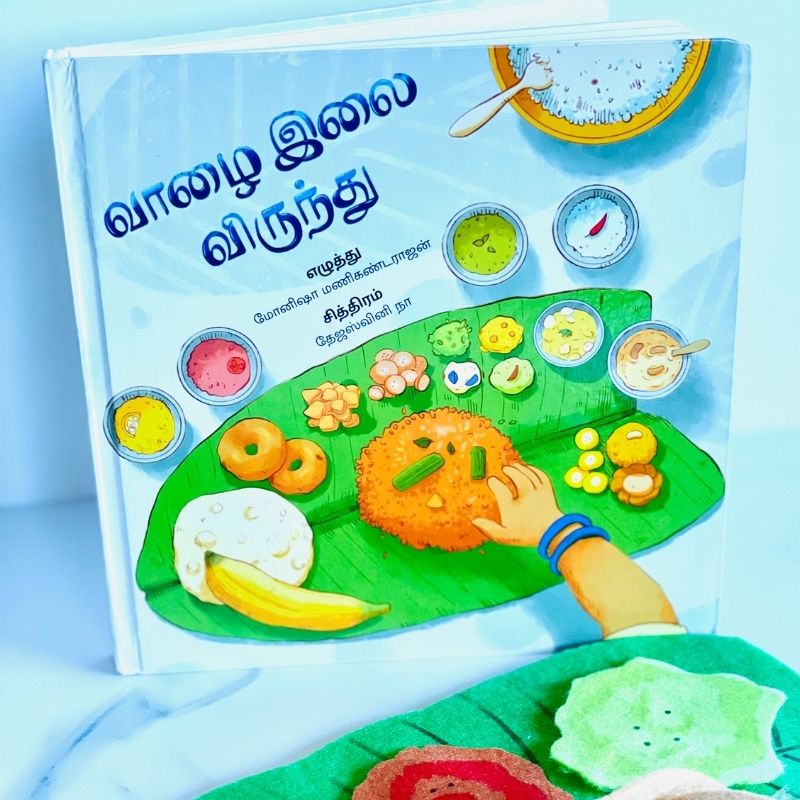 We loved Monisha/Tamil Montessori's Vazhai Ilai Virundhu, a Montessori counting board book in Tamil. The idea of a whole family sitting to eat a meal on a banana leaf is formidable and important during these times. We also love the elements of Montessori in the book and the beautiful Tamil writing too. This Montessori numbers book is TamilMontessori's debut children's Tamil book for children aged 0 - 3 years. This board book introduces numbers to the littlest readers through a scrumptious feast served on a banana leaf. This book is illustrated by Dejeshwini and published by Zhagaram Publications.
HONOR BOARD BOOKS
Namukku Pokaam (Let's Go) written by Supriya Cherian, Illustrated by Mili Eugine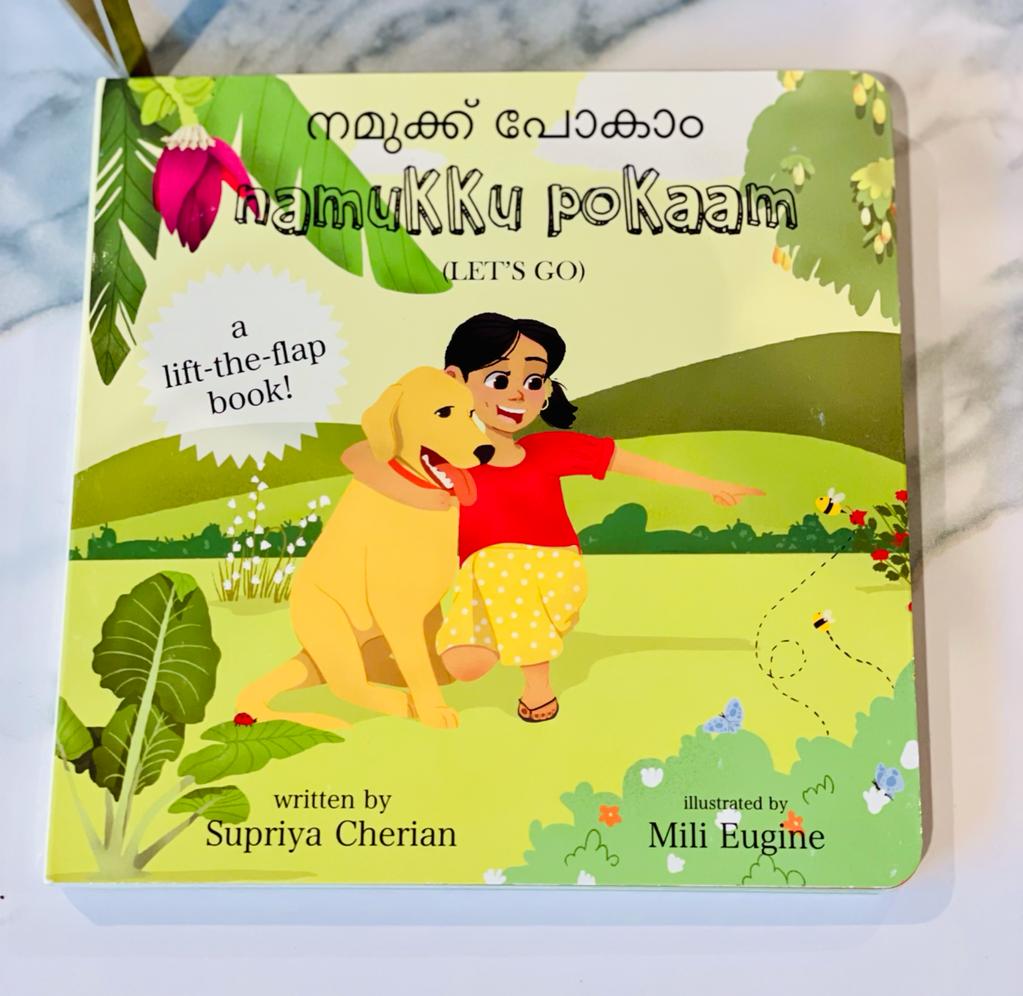 We were so excited when we heard about a board book in Malayalam. Namukku Pokaam is a perfect way to introduce a child to the beauty and cadence of the Malayalam language. This interactive, lift-the-flap book is fun to read and comes with English transliteration and translation. In the book, Rocky and Rosy go on a fun trip to Kerala. On the way, they explore animals, birds and nature. Who do they meet on the way and what do they do? The book takes children on a delightful and sensory journey and the delightful illustrations add to the book's vibrancy.
Pranav, What Shape Will You Be? by Nandini Nayar, illustrated by Ambika Karandikar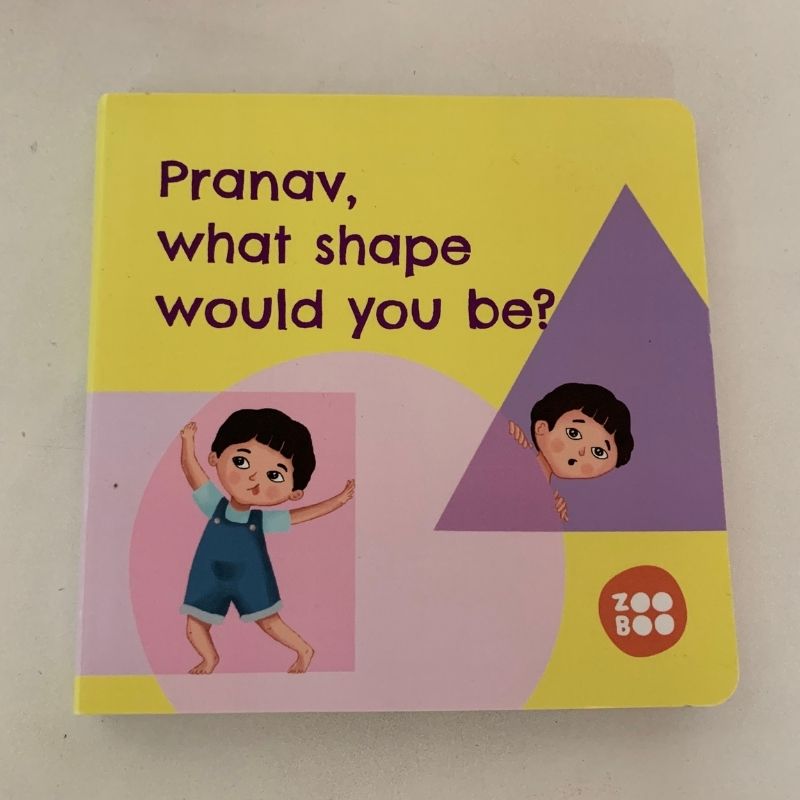 When she was 4, my daughter was a huge fan of Pranav's Picture by Nandini Nayar. She made me read it five times a day, maybe more!
Pranav is a sweet and imaginative little boy who has these fun and endearing adventures with his mother. The biggest appeal of the Pranav books is the relationship between Pranav and his mother, a warm-hearted and fun person who truly understands him. The books are filled with lovely incidents that parents and children will definitely relate to and cherish.

In this board book, Nandini Nayar brings back our favorite mother-son duo! Pranav wants to be a ball. His mother then rolls and wraps him up with dupattas and he becomes a big circle who rolls around. He is soon bored and wants to become a square. His mother finds a big box and cuts five holes - four for Pranav's arms and legs and one for his head. Pranav loves being a square but soon gets bored and moves on to other shapes. Finally, he wants to be only one shape - himself!

A lovely way to explore shapes and objects instead of the customary board books that just mention shapes. We love the story. Pranav's mother resourcefully changes him into different shapes! The relationship between her and Pranav makes for a lovely shared reading experience. A definite must-read for the 0-2 age group!
BEST PICTURE BOOKS OF 2021 (AGE 3 - 5)
WINNER: Bumoni's Banana Trees by Mita Bordoloi, illustrated by Tarique Aziz

We think Tulika has perfected the art of the picture book. There is something extraordinary about Bumoni's Banana Trees by Mita Bordoloi. While many picture books are based on a true story, this book actually came true!
Bumoni's Banana Trees is about a girl named Bumoni who lives in a big backyard just outside the Kaziranga National Park. We dive into her world with Mita Bordoloi's engrossing narration. They use long banana stems to make fishing boats, use the stems, eat them as food, and even eat from banana leaves. Bumoni's family then tosses these banana leaves into a pit for the cows to eat. One night, a herd of wild elephants cross over to Bumonis backyard and eat the bananas. This area is bursting with banana trees and Bumoni loves eating bananas. One night, a herd of elephants cross the river and discover the trees. They come back night after night, earring the bananas and banana leaves. Bumoni's family is very upset. Bumoni comes up with a clever idea to keep the elephants at bay but she is worried. What will they eat and where will they go? Bumoni and her family think of a clever alternative.
Mita Bordoloi wrote Bumoni's Banana Trees as a story in 2014 and 5 years later, a cluster of villages in central Assam's Nagaon district found a way of keeping crop-raiding elephants off their crops. I won't spoil the ending of the book because it is exciting and holds your attention till the very end.

HONOR PICTURE BOOK
Bravo Anjali by Sheetal Sheth, Illustrated by Lucia Soto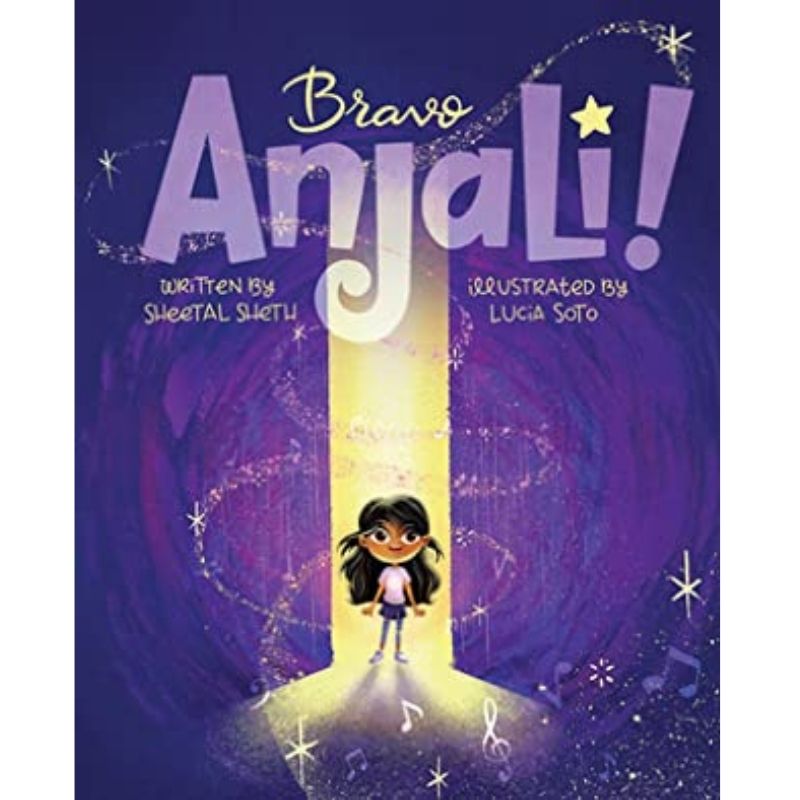 We are huge fans of Sheetal Sheth's first book, Always Anjali. Bravo Anjali is a great successor to that special book that our kids could relate to and understand so completely. In Bravo Anjali, Anjali is a talented tabla player but more than anything else, she loves playing it. Things turn sour when Deepak, who was her good friend, starts giving her a hard time for being better than others. "People are only interested because she's the only girl in tabla class and they want her to feel special. She's not that good." Doesn't this somehow sound familiar to us?
This is what Deepak tells everyone in the class, much to Anjali's disdain. She then purposely messes up her playing to fit in but then finds a way back to the music that she loves so dearly. I was stunned when I heard what Deepak said and what Anjali did to deal with the situation. We tend to underplay our talents on purpose in order to fit in. I did this constantly in college because the teasing and the taunting got too much. At one point, I decided to throw these apprehensions to the wind and do what I loved doing most - learning and acing my projects and assessments, speaking out in class whenever I had an opinion. This great book, illustrated to perfection by Lucia Soto, and written so brilliantly by Sheetal Sheth, cautions us against these little fears and encourages us to celebrate ourselves. Very often, we subjugate our needs to those of others and seek approval as a form of validation. Music is a great way to break free of these barriers and to really connect with what we love doing. Also, we absolutely love Anjali's little monologue in the bathroom stall. This is something that all kids go through and it is great to read a book that gives voice to it. Bravo Anjali is also fun and re-affirms friendship in its final pages. Don't miss it!
Sometimes Mama, Sometimes Papa by Nandini Nayar, Illustrated by Upamanyu Bhattacharrya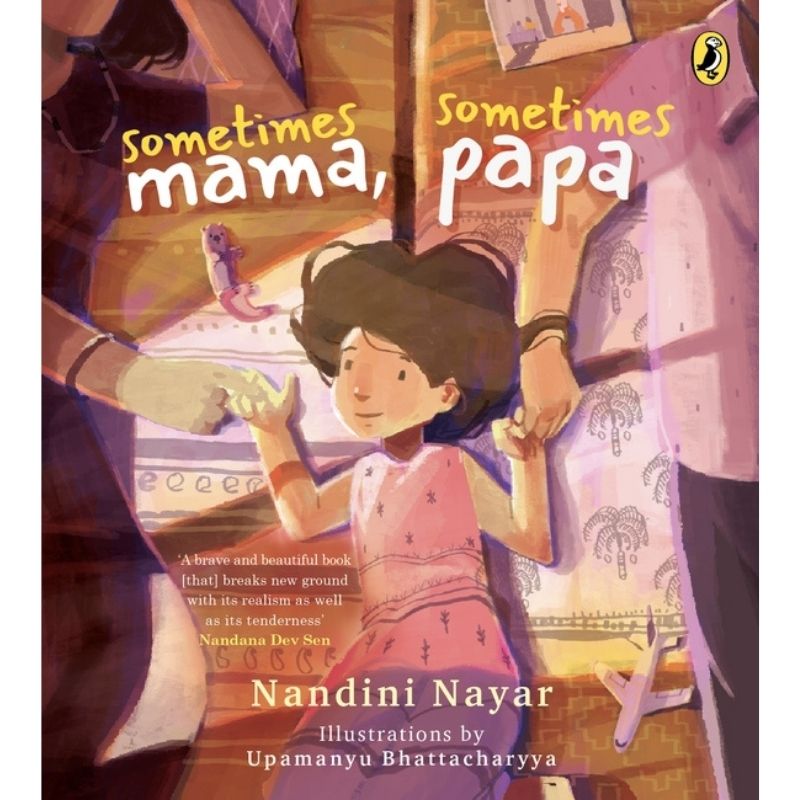 Sometimes Mama, Sometimes Papa by Nandini Nayar is about a girl who has two homes - her father's home and her mother's home.
For children and changing families who have two unique homes, this is a much-needed book. When Keya's parents stopped living together, unusual things happened. Keya became the only girl in her class with two homes. 'Where will you live?
Sure, this book is perfect for children to understand the myriad views of life and family, but we love the refrain - 'sometimes mama, sometimes papa,' which eases so perfectly into every scenario in the book. This is not simply a book about a child whose parents are divorced or separated but also a book about a girl who finds the courage to look at different ways of being and living.
BEST PICTURE BOOKS OF 2021 (AGE 6-8)
WINNER: Dancing in Thatha's Footsteps by Srividhya Venkat, Illustrated by Kavita Ramchandran

When we read Srividhya Venkat's book before it was released, we knew it was going to be a huge hit. We included it in our Toka Explorer Box in 2021 and that box completely sold out! This book is about young Varun, whose sister Varsha heads to dance school with her grandfather on Sundays. Varun usually has his karate session then but when waiting for his sister, he peeks into the classroom and is fascinated by the rhythm and grace of Bharatanatyam, a dance from India that Varsha is learning to perfect. Varun tries a few moves at home in secret because, well, boys don't dance, do they?
Varun's thatha doesn't think so and gives him a surprise.
Srividhya Venkat's beautifully crafted words and Kavita Ramchandran's stunning illustrations bring a unique story to life, shining the way for many children to take different paths and explore their identities in their own true ways!
Usha and the Big Digger by Amitha Jagannath Knight, Illustrated by Sandhya Prabhat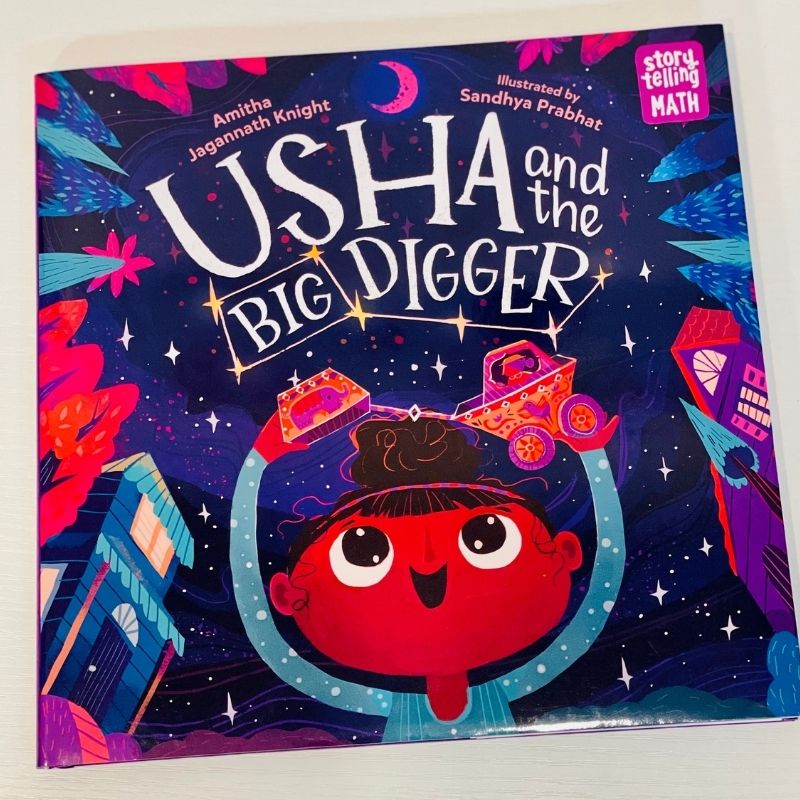 Usha looks up at the sky and sees a set of stars when joined with imaginary lines for a Big Digger! Her sister sees a Big Dipper (or spoon) and sure enough their friend Gloria sees a Kite! Who is right? How is it even possible for the same set of stars to appear in different shapes to all three of them?
A fun explorationof geometry and spatial sense from this Storytelling Math book by Amitha Knight! The saturated colors of the nighttime antics of the kids by Sandhya Prabhat are a joy.
We are huge lovers of books that make STEM come alive by combining it with storytelling.
HONOR PICTURE BOOK
Sita's Chitwan by Vaishali Shroff, Illustrated by Kalp Sanghvi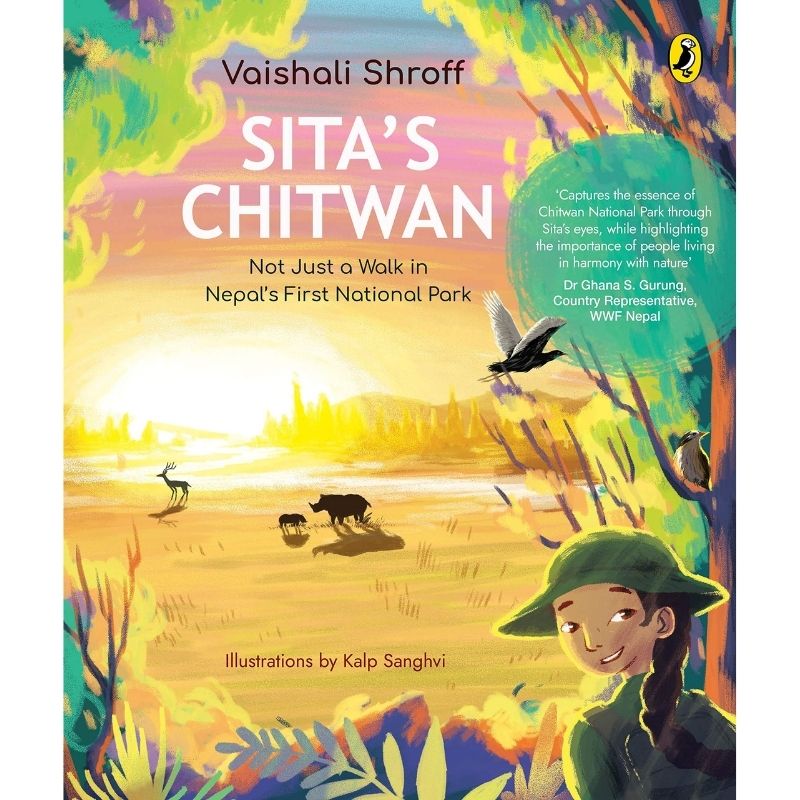 The beautiful Chitwan National Park in Nepal is a UNESCO World Heritage Site, with over 550 species of birds, animals and highlights like the one-horned rhino, leopards and Bengal tigers. Sita's father, Man Bahadur, works as the park's nature guide but eight-year-old Sita, having grown up in the park and around its animals, knows enough about the park to show visitors around too! She is unbridled in her enthusiasm for its flora and fauna, eager to share the park with its tourists. Man Bahadur is proud of her but tells her to also listen to the stillness of the jungle and to its hidden sounds. What happens when Sita comes face to face with a rhino? This beautiful and adventurous book is a wonderful way for children to enjoy a story and to learn about Nepal's first protected national park. The book also features an interview with Doma Paudel, Nepal's first female nature guide. She challenged the status quo and became a nature guide in 2017. The book mentions interesting forest related careers - nature guides, wildlife journalists, range officers, and even dendrologists or tree lovers who study trees in forests. Vibrant illustrations and the colors of the forest come alive in this fabulous book by Vaishali Shroff!
BEST ILLUSTRATIONS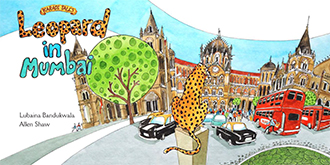 WINNER

Leopard in Mumbai Illustrated by Allen Shaw, Written by Lubaina Bandukwala
The minute we opened this picture book, we were hooked. Who doesn't love a leopard loose in the streets of Mumbai? A leopard escapes the Sanjay National Gandhi, catches a fast trainn from Borivali to Bandra, and causes a commotion everywhere he goes. He narrates this story and his memorable day out.
We love that Allen Shaw's illustrations tell their own memorable stories and add so much character to this stray leopard. Our favorite illustration is the one of the leopard chilling out with a plate of vada pav in Mumbai! He has such a mischievous yet likeable look on his face.
HONOR BOOK

When Adil Speaks, Words Dance by Lavanya Karthik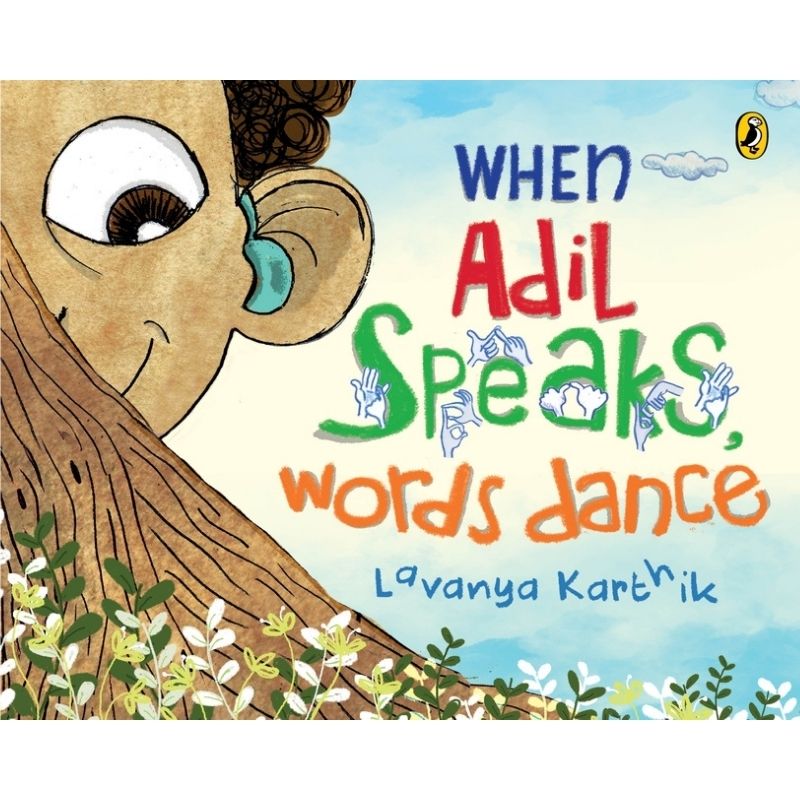 Everyone wants to be friends with Adil.
But how do you start a conversation with someone when their words dance to music you cannot hear?
When Adil Speaks, Words Dance is a heart-warming tale of empathy, inclusivity and the surprising superpowers of friendship.
In this book, a section of the story is only communicated through pictures - this is when Adil and his friend communicate using only doodles in class.

TOP EARLY CHAPTER BOOK 6-8 YEARS
Malhar in the Middle by Shruthi Rao, Illustrated by Lavanya Naidu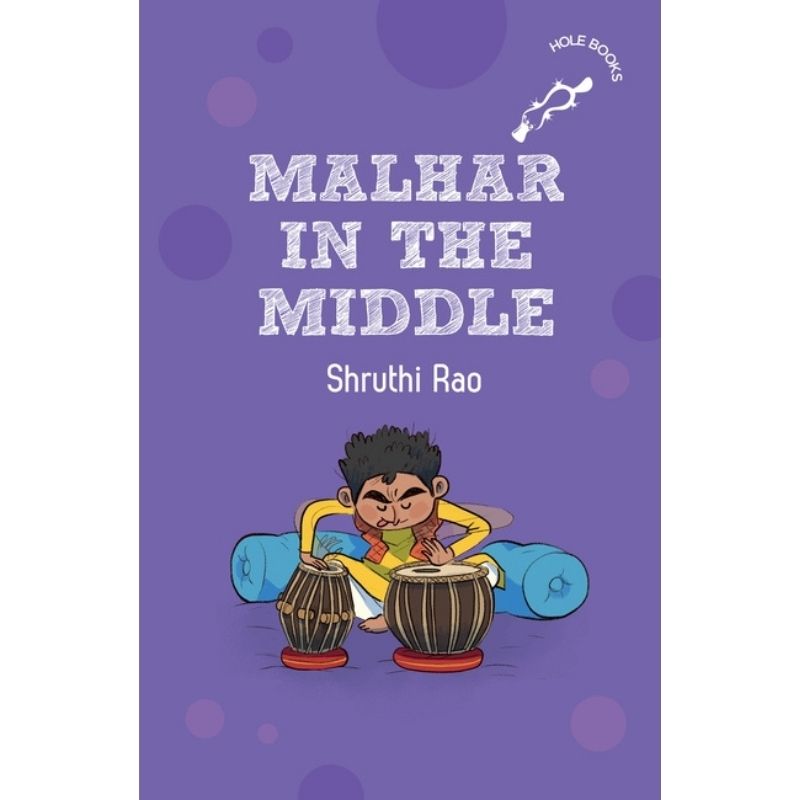 Shruthi Rao and Lavanya Naidu are back with a new hOle book! Malhar in the Middle is special for so many reasons. Shruthi is one of our favorite children's writers. A truly exceptional writer and storyteller, she weaves magic with her unique ideas and plot, creating something completely new and astounding for our children.
The story of Malhar in the Middle is intriguing. Young Malhar is a tabla player and so is his brother, Kedar. One day, Malhar comes to a conclusion - why are tabla players, or indeed percussionists, made to sit on the side of the stage? A percussionist is as important as the rest of the group. "Is the singer more important in a concert? Is that why they sit in the middle of the stage?" Malhar asks his parents indignantly and they try to explain to him why traditionally, the percussionist sits in the side.
Malhar, however, is not convinced. He suddenly stops bringing up this subject but his silence puzzles his parents.

In his head, Malhar has a plan. He is set to perform with Chaithanya, the vocalist, in a concert soon and they decided to change tradition a little.
The book's ending involves a passionate conversation between a great music maestro and the audience. We truly think that this is one of the best depictions of the tradition versus change debate we often hear when it comes to classical music and dance. It also makes for thrilling fiction - ideas that blaze forth like action, flying off the page to enthral us.
We heard in a podcast that Shruthi Rao took possible inspiration from her childhood when she would go to concerts and her father would always go to speak to all the artists and not just the main artist. We love this youthful focus on new ideas versus tradition and the richness of the plot!
Honor Book

A Pinch of Magic by Asha Nehemiah, Illustrated by Priyankar Gupta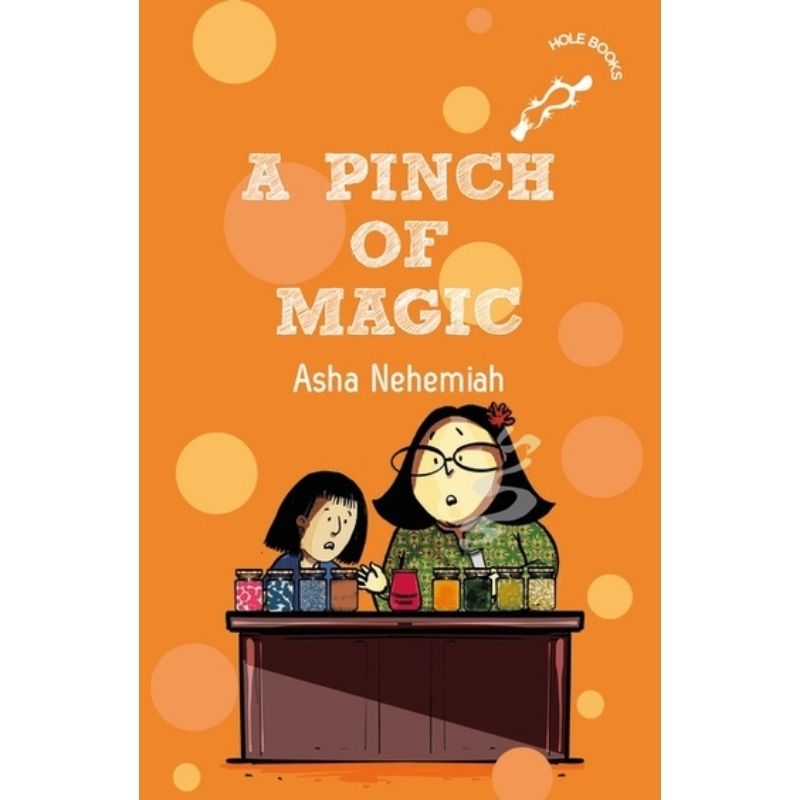 My daughter and I loved the book! A Hole book is a great way to transition children to chapter books or to get them invested in the reading habit. Even for eager readers, this one is a treat. The book spins a wonderful and charming mythos around Aunt Malu, her herbal cures and her adventures with her niece, young Veena, who wants to help her aunt find very special spoons that she needs to make her cures. The book is filled with a fun plot twist and friendly, loveable characters.
We love it when South Asian writers create interesting mythologies rooted in everyday life. Children will love this book's plot and its exciting ending!
The Boys Who Created Malgudi by Lavanya Karthik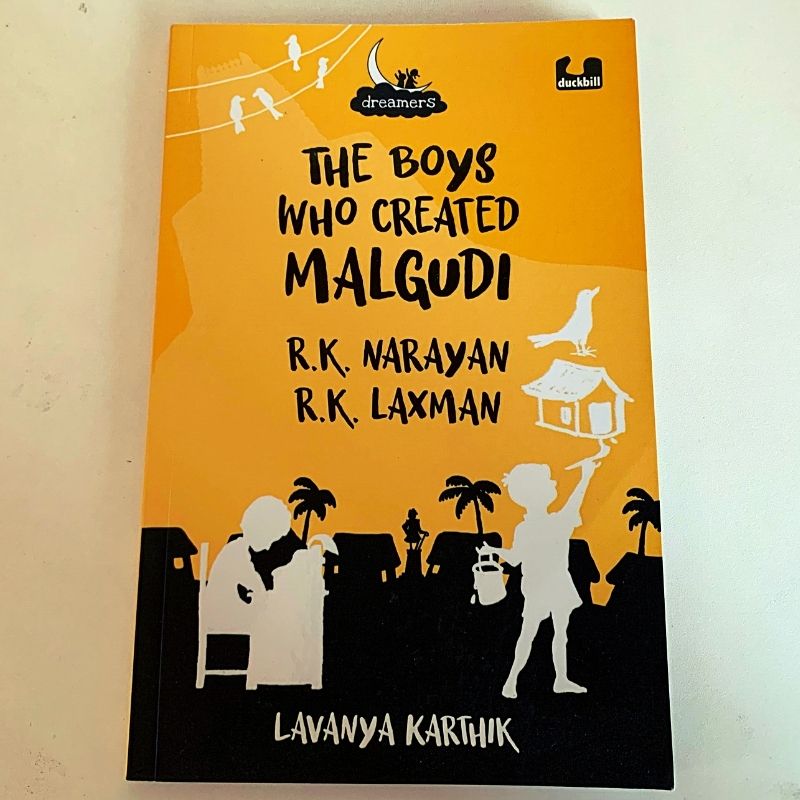 Most of us grew up reading RK Narayan's fiction, especially the many adventures of Swami, Sampath, and the enchanting town of Malgudi.
For anyone who is a huge fan of RK Narayan's fiction and RK Laxman's brilliant illustrations, The Boys Who Created Malgudi is a marvellous mix of characterisation and motive. It is fascinating to see how Narayan and Laxman's lives and pursuits intertwine. The book is narrated from Narayan's point of view. Narayan loves the written word and writes as many stories as he possibly can, stories that feature people, incidents and places from his own childhood.
His brother, Laxman, whom Narayan calls Doodu, loves drawing and wants to be a famous cartoonist some day. While Laxman knows what his true calling is, Narayan is a little more perplexed. He loves to write stories about everyday people but grapples with different kinds of setbacks. For one, he tries to read all the tomes in his father's libraries but understands very little. He wants to emulate the master writers of the English language but finds that he has his own style, a style that shuns formality and affectation. He submits stories to many publishers but is constantly rejected. In the end, Narayan goes on a walk in Mysore, a walk that ends in a shift in perspective and an exciting new idea.
MIDDLE GRADE CHAPTER BOOK (FICTION)
WINNER: A Mystery At Lilli Villa by Arathi Menon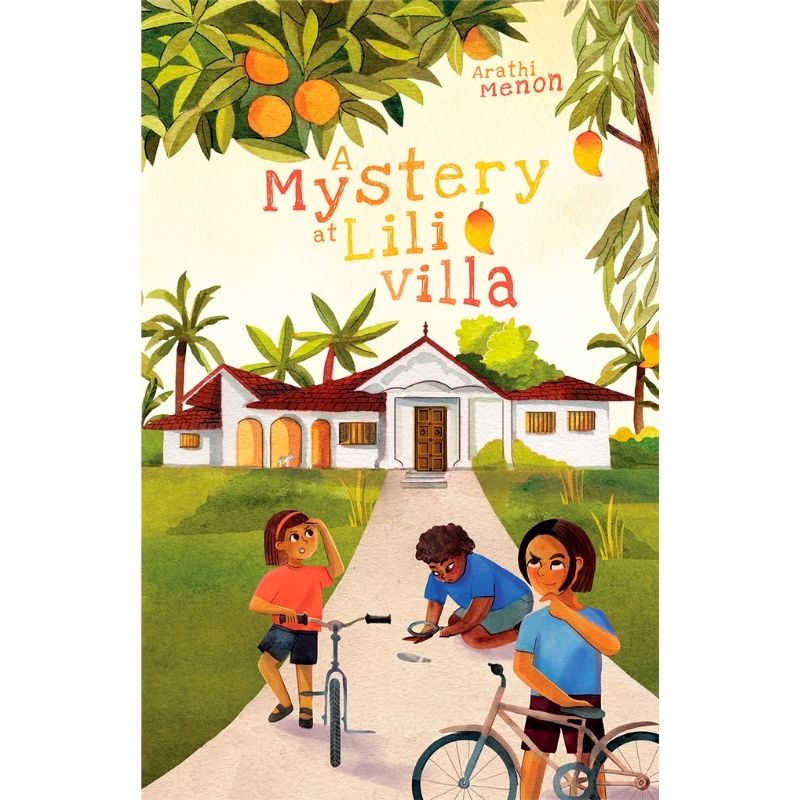 As children, we all loved reading The Famous Five and Secret Seven. Our kids aren't exactly fans of Enid Blyton but they absolutely loved A Mystery in Lilli Villa. It brings forth the nostalgia and charm of the Enid Blyton books but sets it in India, with children who look like our children and with some truly amazing descriptions of food.
Cousins Arj, Tam, and Mira are spending their summer vacation in Elathoor, a little village in Kerala when their family home, Lili Villa, is broken into and some jewelry is stolen. The Terrific Three set out to solve the mystery but soon discover that there is no shortage of suspects. Is it Pinching Kodavis or Dumdumchecchi, the milking lady? Is it the mean fisherwoman who starves the cat or the retired nurse who owns a luxury car? Or is it Mani with his upside-down Russian secret? Who could the thief possibly be?
HONOR BOOK

The Sage With Two Horns, Written by Sudha Murty, Illustrated by Priyankar Gupta
We love how Sudha Murty narrates lesser known tales from Indian mythology, tales we never knew existed, which include such fascinating characters, themes and motivations. We have stories from the Ashtavakra Gita or the book of self-realization. We loved the story about the snake that stole earrings, and the author connects the story of Uttanka with rain clouds in the desert that are still called Uttanka Megha! We love the stories that explore famous Indian sculptures, statues and artwork.
One in particular stood out. The story about the many statues of Kannagi really opens our eyes to Kannagi's story. We also loved The Way You Look at It, a story about a conversation between Karna and Krishna. One day, Karna is in a pensive mood and Krishna takes him aside to find out what is bothering him. Karna broods over why his mother abandoned him as a baby and compares his life with Krishna's own life. Krishna then encourages Karna and tells him that he is lucky to have someone like Duryodhana who supports him. Intelligent and astute as always, Krishna shows Karna how history will look at his many gifts and virtues. "If Duryodhana wins the war looming before us, the credit will go to you. Even if Yudhishthira wins, everybody will blame me because they think I am encouraging the war. Life is full of challenges and it is not fair to anybody." Life always has challenges, says Krishna. It all depends on how you look at it. Such stories encourage young readers to work their way through everyday problems and to tackle them.
After all, they are part of life. Sudha Murty's masterful storytelling simplifies even the complex narratives. We also love The Girl Who Wanted the Death Penalty, which is a story about Goddess Lakshmi, who wanted to test Lord Vishnu's belief that Punyanidhi, king of the South of Madurai in Tamil Nadu, was a true devotee of Lord Vishnu. The titles are intriguing too and children are keen to read each one because of how enticing they sound! 'The Indra's Who Became the Pandavas,' 'The Mystery of the Identical Nose Rings,' and 'A Pigeon's Weight' are some of the titles in the book.
Sona Sharma, Very Best Big Sister written by Chitra Soundar, Illustrated by Jen Khatun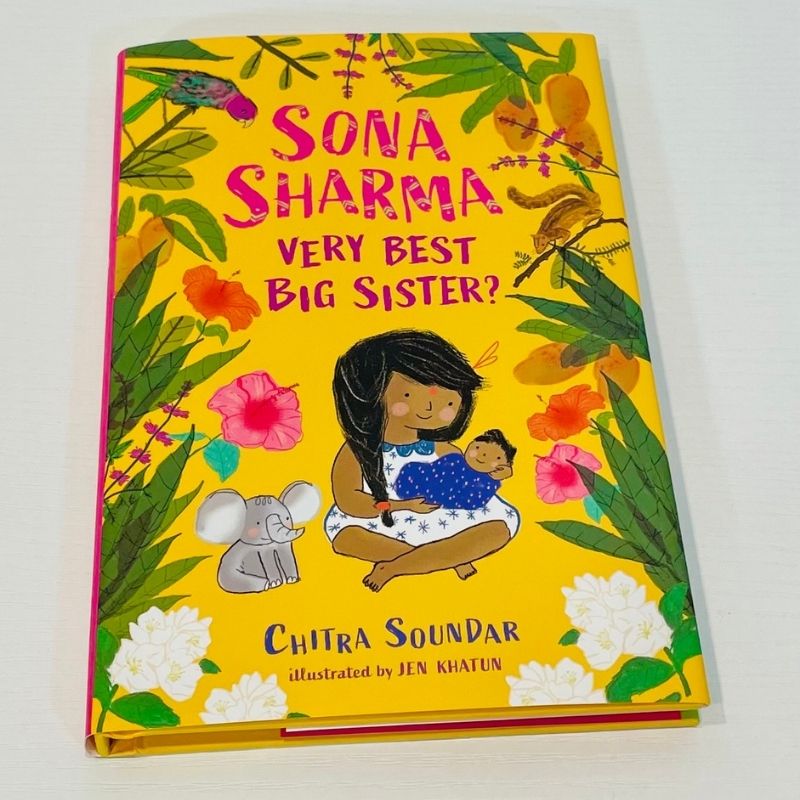 This book felt like being fed comforting thair chadam (Curd rice) fed by the loving hands of your paati. Sona is a little girl who lives with her parents and her grandparents and her favorite toy called Elephant. Her mother's mother is called President and she lives down the street in an orange house called Orange! I loved the literal nature of these names and how Sona is able to share her innermost thoughts with Elephant. Sona's mom is expecting a baby and as is the norm in India, no one knows if it is a boy or a girl till the baby is born.
Everyone around Sona is preoccupied with getting things ready for the new baby. This gets Sona worried about how things will change when the new baby comes, after all things are already changing. Sona is assured by each family member in their own way in turn that she is loved and cherished and will continue to be when the baby arrives. She is also given the task of helping her dad choose the baby's name if it is a boy. Everyone has to choose a name, since the baby will have three names - one to honor each of the families from the mother's and father's side and one that will be the name the baby's parents will choose and which will be her "School" name and what the baby will be called by.
When the baby arrives, is Sona ready to be the very best big sister? When the priest at the naming ceremony requests a fourth name, what does Sona do? Will the name crisis at the naming ceremony help Sona assume the role of big sister finally? A book with subtle humor, a relaxed pace and that felt comforting even to me as an adult. There is nothing like the warm embrace of your extended Indian family!
BEST COMIC BOOK/GRAPHIC NOVEL
Naturalist Ruddy by Rohan Chakravarty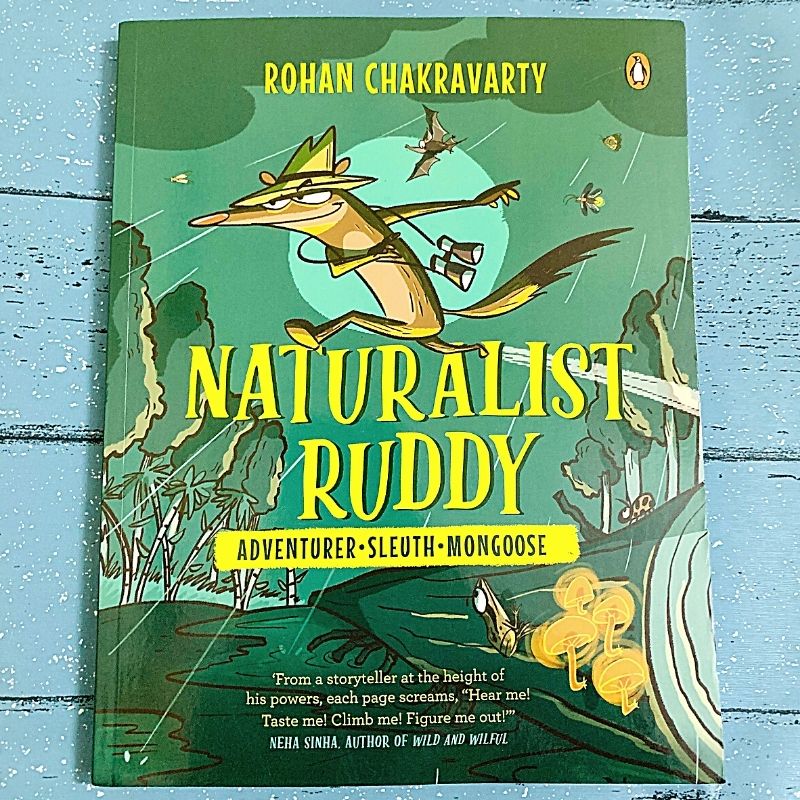 Oh how we love this book! Rohan Chakravarty is a famous artist, cartoonist, wildlife buff and the creator of Green Humour, a series of comics about the environment. In Naturalist Ruddy, detective fiction meets natural history! Naturalist Ruddy is a mongoose. He is also a sleuth and an adventurer, getting to the heart of some of nature's most fascinating mysteries. Written as an exciting comic series, we absolutely love the wildlife and detective crossover. There are tons of little mysteries that Naturalist Ruddy solves, using his wit, his knowledge of wildlife, and of course, books like Vivek Menon's A Field Guide to Indian Mammals. We love how the book references other famous books on wildlife and conservationists like Vivek Menon, F.W. Champion's book on tripwires and technology use to conserve forests,
The book takes us to Kanha National Park, Periyar Tiger and so many other places that are a conservationist's paradise! An absolute must read!
Maithili and the Minotaur by CG Salamander and Rajiv Eipe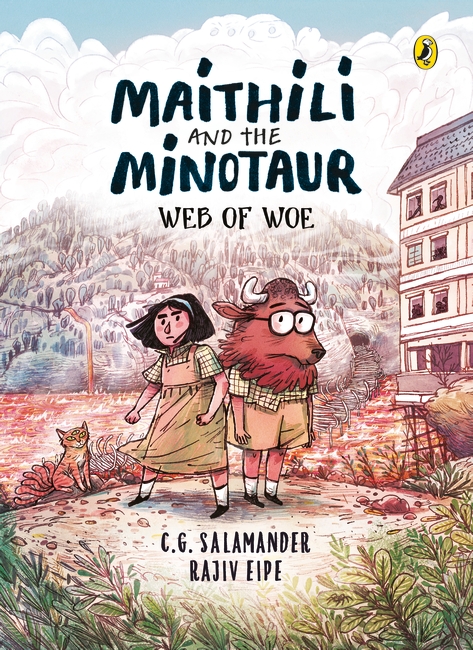 This incredible new graphic novel tells us the story of a girl named Maithili, who lives in the outskirts of a magical wilderness. Along with her friend the Minotaur, she sets off on an adventure in an outlandish world where not everything is as it seems. The book is filled with monsters, including the human kind. It is full of unusual characters and creatures, and we love the book's twists, turns, its humor and of course, the phenomenal writing and illustrations. The book begins with a sequence that is drawn and written so cinematically that you can imagine yourself to be part of the story. Maithili and her mother are on the run from what look like antagonistic humans who are out to capture Maithili. There is something about her that worries them.
Maithili's mother risks her own life trying to protect her. Maithili and the Minotaur hurtles us across different sequences in Maithili's life, all adding up to create an irresistible story that is also filled with funny moments right in the middle of intense and serious ones. The visualisation and story building that go into this graphic novel is truly amazing. When I interviewed CG Salamander and Rajiv Eipe, they told me why kids love graphic novels and comic books. Salamander gave the example of Scott McCloud, who wrote a book called The Invisible Art, a comic book about why comic books are such exciting forms of art. Salamander said that if you imagine that someone is swinging an axe in Panel A of the comic and you have someone screaming in Panel B, your brain fills the gap between Panel A and Panel B. Comic books that way are interactive and get the reader to fill the space with their own interpretation, unlike a cartoon or a film that does it for them. Isn't this so cool?
TOP CHAPTER BOOKS NON-FICTION
How We Know What We Know by Shruthi Rao
I think every child should read this book. What a way to get them interested in STEM and the world around us! My daughter and I loved all the chapters -- the chapter on fabrics, the history of paper, and how refrigerators were invented. Shruthi talks about how Albert Einstein even attempted to design an environmentally friendly fridge but gave up. This design is being revisited, by the way! The chapter on the history of crayons was great to read too, and we liked how it talked about the controversy of Crayola's 'skin' colored tone, which was light in color. We read the chapters on electromagnetism, zero and the decimal system. We came back from the book with our minds full of ideas!
Spaceships to the Universe by Shruthi Rao and Anuradha Jagalur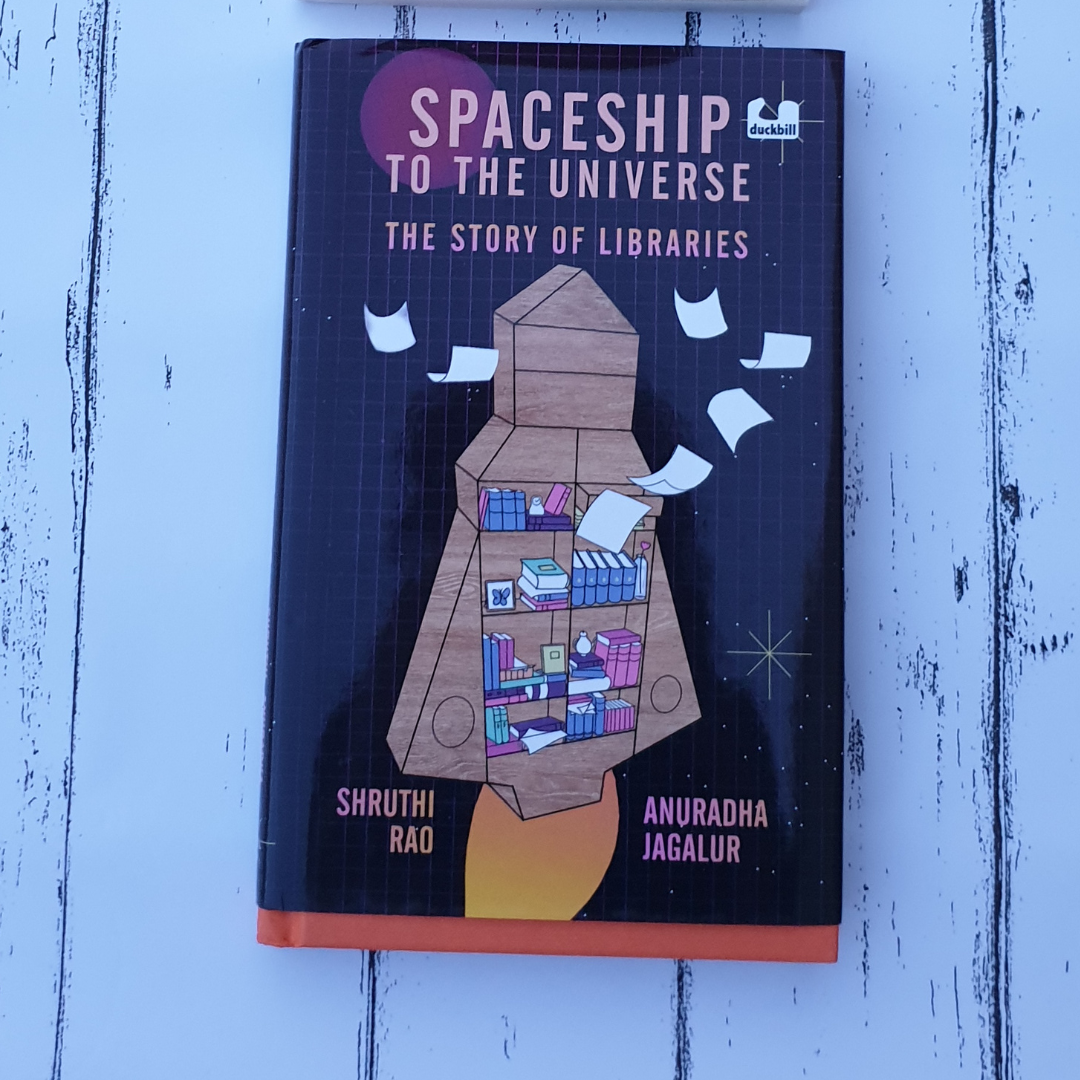 This is a book that both children and adults will find exciting. They will love reading about all kinds of libraries in this book, libraries grand and humble, ancient and modern. These libraries come in all shapes and forms, beautiful and stately, ramshackle and precious. There are many non-fiction books for children that are flooding the market but books like these bring commentary, nuance and compelling narration. There are stories to be uncovered from the library. Read library stories from the past and the present, from how artists and conservators tried to unroll and revive the Herculaneum scrolls to the cave library in Mogaoku in China. Find out about libraries on boats, horseback libraries, secret libraries, human libraries, community libraries and libraries for children from marginalized communities.
Let's Go Time Traveling Again by Subhadra Sen Gupta, Illustrated by Tapas Guha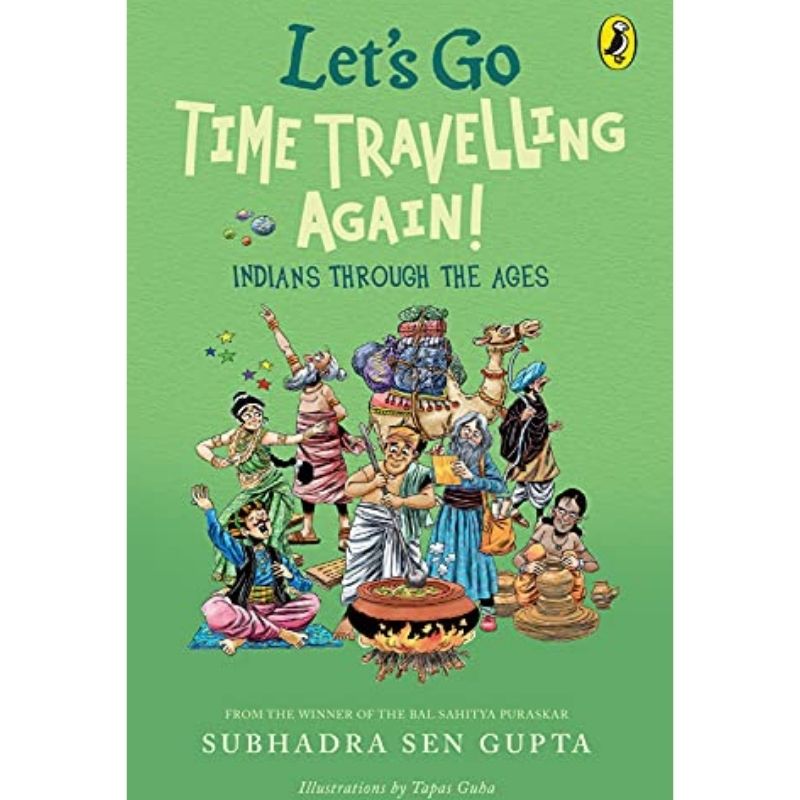 How did Indian mulmuls make it into Cleopatra's wardrobe? Who popularized the Mahabharata in households across the country? Did our ancestors really identify Jupiter and Saturn without even a telescope?
Find the answers to these and many other unusual questions about the India of yesterday. Go time travelling through the alleys of history and explore the many occupations that have existed through time-from dancers and playwrights to farmers and doctors. Sift through snapshots of the rich life led by ordinary Indians and discover unexpected titbits about language, food and culture.
Told through portraits of children growing up in the villages, towns and courts of our country, this sequel to the award-winning Let's Go Time Travelling is a vivid glimpse into our past
We love the interconnectedness of all these narratives. The book really encourages children to look at their history by unlocking the mysteries of the Indian ocean.