The Adventures of Padma and a Blue Dinosaur: A Must-Have Book for Dinosaur Lovers!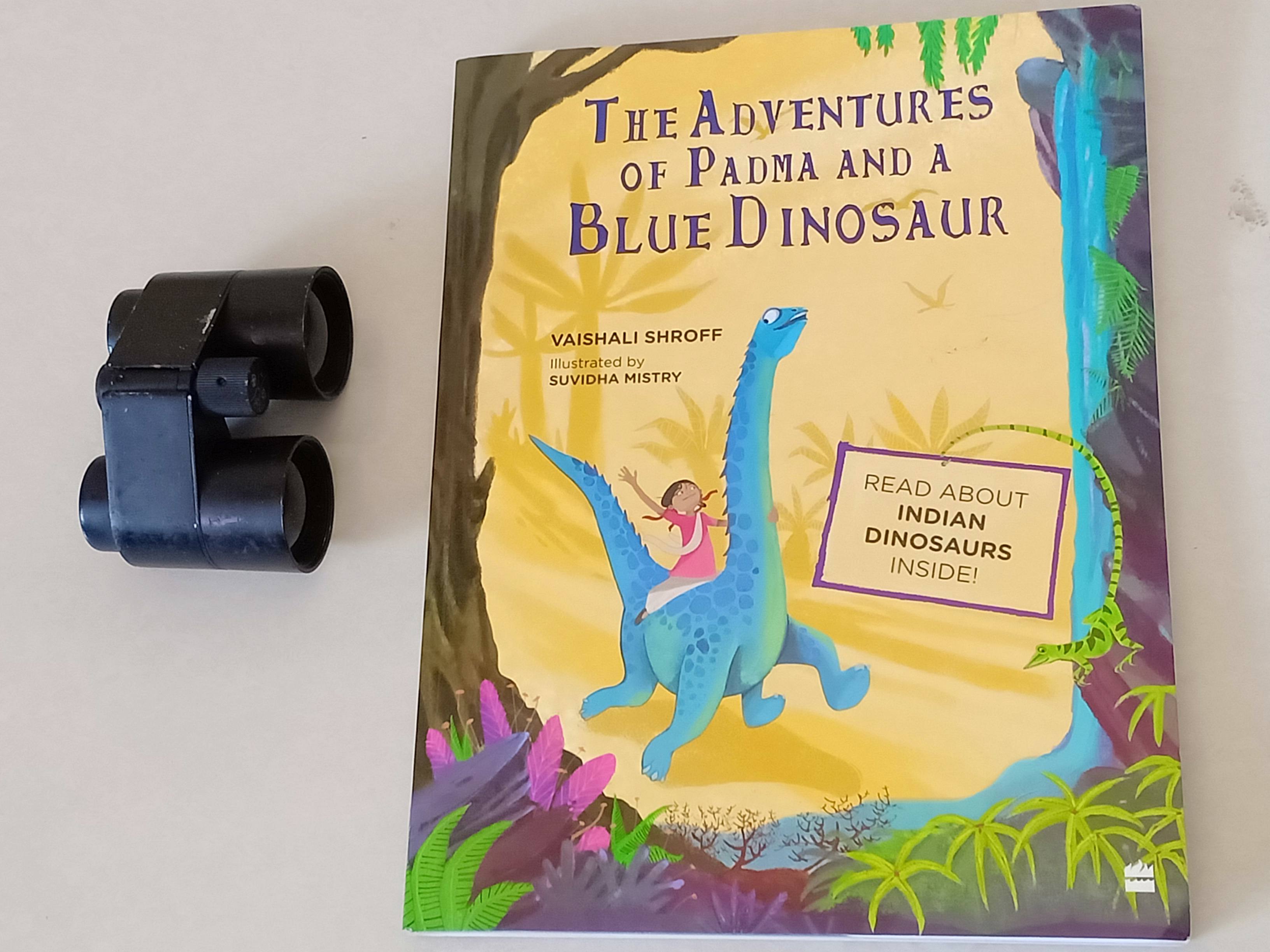 Riveting storytelling, lively characters and the fabulous Bluethingasaurus make The Adventures of Padma and a Blue Dinosaur a thrilling ride! It is also a must-have book for kids who love dinosaurs.

As soon as we got a copy of Vaishali Shroff's The Adventures of Padma and a Blue Dinosaur, my eight-year-old daughter wanted us to read it together. And so we did, and we loved every part of the grand adventure that unfolded through its pages!

Published by Harper Collins, the book is about a little girl called Padma, who lives in Gujarat with her grandmother Labhuben and her uncle Dinkar. Dinkar or 'Rock Uncle' as she fondly calls him is a professor and a paleontologist. Padma shares his love for fossils and prehistory too. When Padma discovers some dinosaur eggs in the flatland that she calls her home, Rock Uncle gives her one to take home. The next day, her flatland mysteriously transforms into a prehistoric flatland where dinosaurs roam. They also meet a beautiful blue dinosaur who is lost and is looking for his family and Padma names him Bluethingasaurus!

Padma, her grandmother, and uncle must help Bluethingasaurus find his family. Together they journey across the river Narmada and seek help from the dinosaur King of Jabalpuria. Their adventures take them to dangerous lands where they escape the King of the carnivores, the Rajasaurus. They meet new friends, journey across majestic waterfalls, and finally find Bluethingasaurus's family.

The ending is a cliffhanger and possibly a setup for a new story!

My daughter likes dinosaurs but isn't particularly a fan. She loved the book and wanted a pet like Bluethingasaurus!
A superb non-fiction section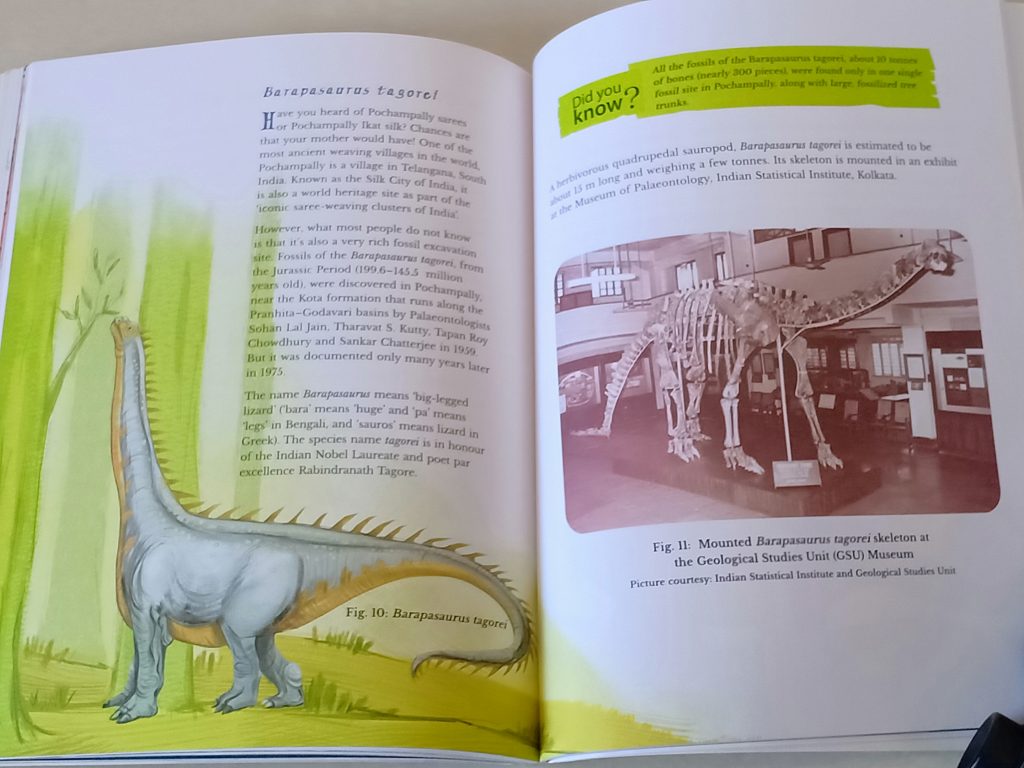 After the story ends, the book has an exciting non-fiction section that talks about Indian dinosaurs and the fossils discovered in India. My daughter and I had no idea about the dinosaur fossils discovered in India. She was stunned do hear that earth once had a giant mass of land instead of continents. We also loved reading about the Lameta Formation, India's most fossil-rich region. We enjoyed the fun section on naming rules and why most dinosaur names end with 'saurus,' 'suchus,' or 'raptor.'

My daughter went bananas over the section on excavation and how to lead an expedition, the tools she'd need, and of course, interesting terms like prospecting, identifying, brushing, quarrying, and digging a trench. Of course, I had to read this section to her and explain it but she now wants to become a paleontologist!

The book also has an interview with Aaliya Sultana Babi, the Princess of Balasinor and a famous amateur paleontologist in India. Famous Indian paleontologists Ashok Sahni and Suresh Srivastava also contribute to the pages.
What we loved about The Adventures of Padma and a Blue Dinosaur

We really loved how the book's fiction gave us a real sense of the times and the dinosaurs themselves. For instance, Rock Uncle says:
"Its very strange. You remember the fossil of a dinosaur skin I showed you at Rahioli? It's very difficult to determine their color from a fossil. So we really didn't know that an Isisaurus was blue and a Titanosaurus was orange. But, it's wonderful to see so much color, isn't it?"

When woven into a story, facts come alive in surprising ways! We also love how the author created a spectacular setting for the story. Suvidha Mistry's illustrations add to the sense of adventure and prehistory, with their rich tones and fabulous details. The way she illustrates Baa cooking for King Jabalpuriya, for instance, or the way she draws Padma and Bluethingasaurus, really stand out!
A great segue into non-fiction!

This book is a great way to introduce your child to non-fiction. The story really sets the stage for the wonderful non-fiction section. Did you know that many educators believe that telling a story or showing a presentation and then following it up with the facts really makes the details stick? This is why we love the format of this book.

We highly recommend this book and if your child likes dinosaur, RUN, don't walk, to the bookstore or to your computer or phone, in case you want to place an order! The Adventures of Padma and a Blue Dinosaur is perfect for children aged 6 and above.