Gajapati's Back! New books we loved this month
posted by Shweta Sharan, August 28, 2020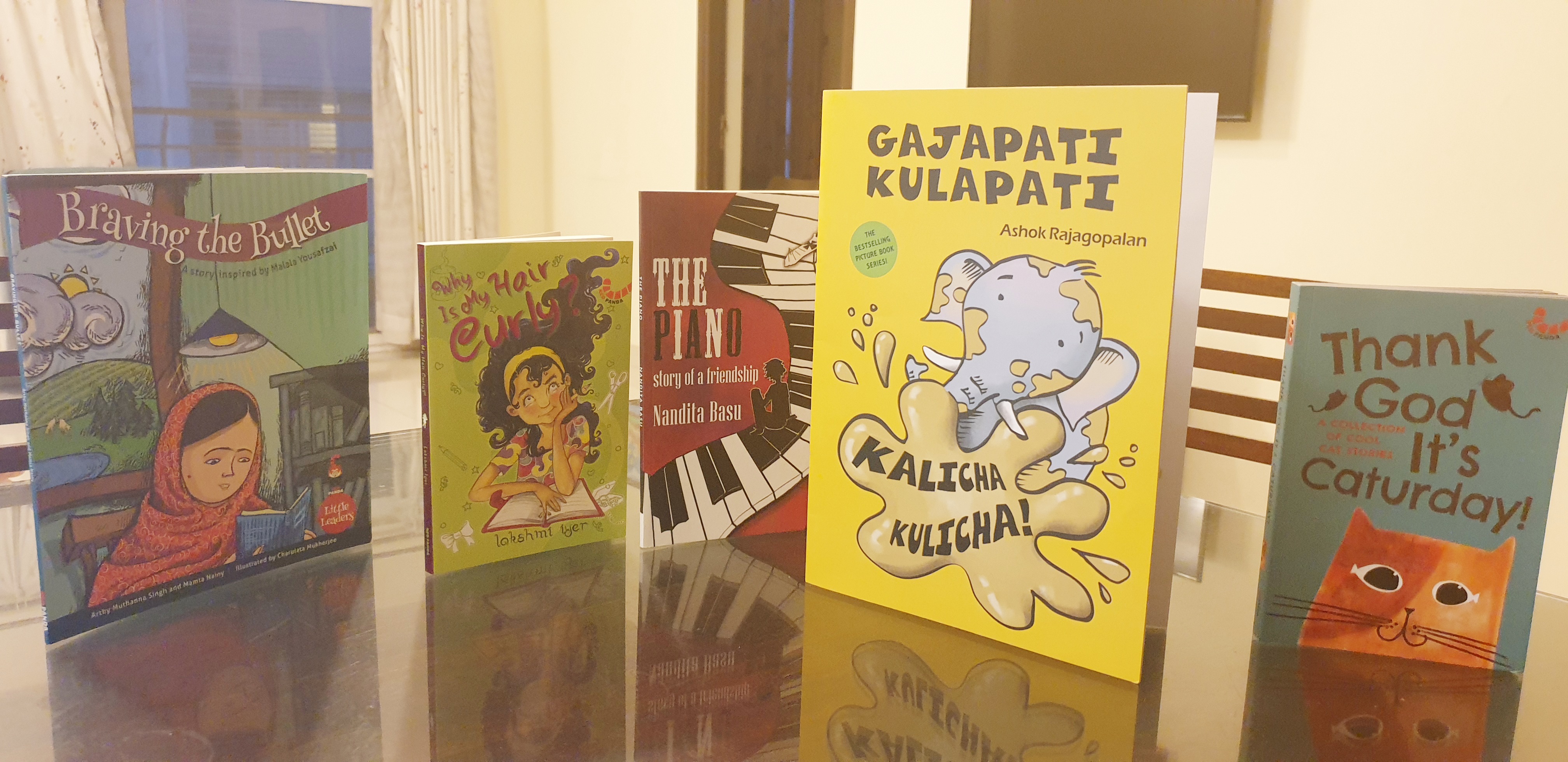 We read some great new books this month and we cannot wait to share them with you! First up is the hit series by Ashok Rajagopalan, Gajapati Kulapati Kalicha Kulicha! We then have books by Lakshmi Iyer, a collection of short stories by famous Indian children's writers, and more. Do check it out!
1. Gajapati Kulapati Kalicha Kulicha written and illustrated by Ashok Rajagopalan

I dare you to read a Gajapati book and not break into a smile. Well, it's time to smile. 2020 may be a chaotic year but Gajapati's back! It's been four years since we saw India's most adorable elephant. This month, Ashok Rajagopalan brings him trumpeting back into our homes with much fanfare and charm!
Gajapati Kulapati Kalicha Kulicha is a story about a big and loveable elephant named Gajapati who lives in a small village with his friends. One day, it is raining and Gajapati is in his shelter, safe and dry. School is declared a holiday so what do all the children do? The children run to play in the mud, their feet making 'kulich' and 'bulich' sounds in the muddy puddles.
Gajapati joins them in the mud and there is chaos everywhere but a happy, puddly, splashy chaos. The children's grandmother declares that they all need a bath but Gajapati doesn't want one, so he disappears. Where does he go? You won't believe where the children find them! We also love that the cow in the book says 'mbaa' instead of 'moo!' The Gajapati books by Ashok Rajagopalan are hugely popular among parents and children!

2. Thank God it's Caturday! A Collection of Cool Cat Stories by Various Indian Authors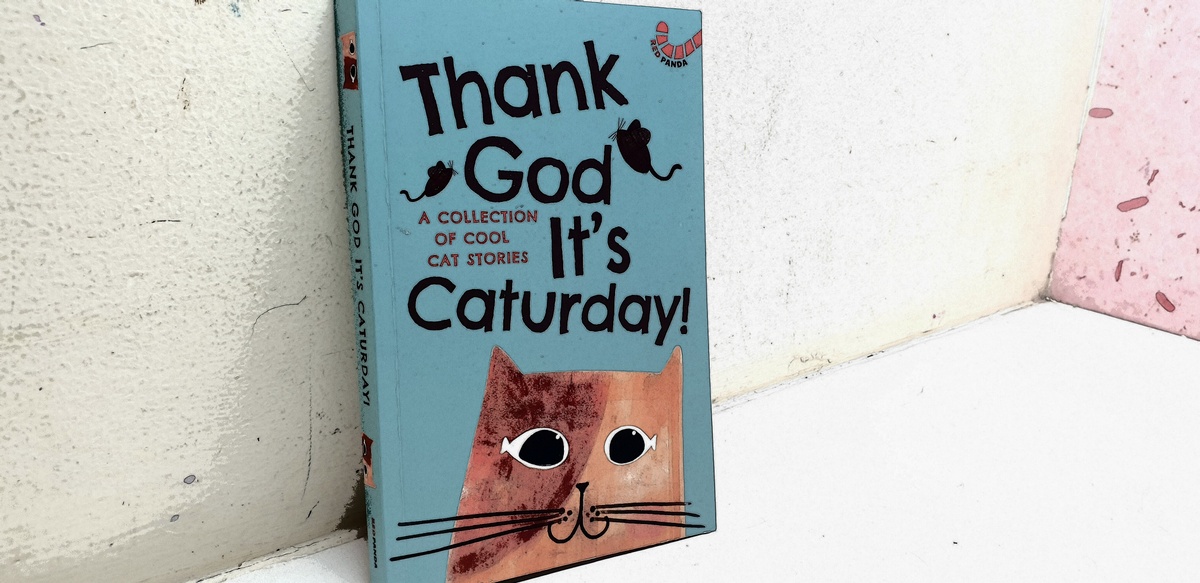 We love cats. Toka Box's in-house cat Sammy is his very much his own person, thank you very much, and he heartily approves of Thank God It's Caturday: A Collection of Cool Cat Stories. Published by Red Panda, this is a new collection of fabulous stories that feature cats in different roles.

The book starts with a delightful story, 'Along Came a Wild Thing,' by Lavanya Karthik. Pharaoh Itinramen considers all cats to be 'sneaky and unreliable.' When a rakshasa enters the Pharaoh's kingdom and starts eating the gods, an unlikely person comes to the rescue! We laughed out loud when we read this story and we think it will make a superb read-aloud.

Shabnam Minwalla's 'The Yellow Cat' was also a quick, fun read about the ghost of a yellow cat that is believed to haunt the halls of a school. 'Billo and Her Famous Friends' is partly based on an incident in history. It is narrated by a cat named Billo, who finds herself living with some very famous Indian historical figures! We also loved Vaishali Shroff's lovely story about a cat who finds an unusual friend in a boy named Adi.
There are so many other wonderful stories by famous Indian writers like Neha Singh, Nandini Nayar, Lalita Iyer, Nalini Ramachandran, Nalini Sorensen, Lavanya Karthik and Harshikaa Udasi.

We also love the funny cat puns and jokes that are sprinkled across the book. Our favorite? How is cat food sold? Answer: Purr can!
3. Why is My Hair Curly? by Lakshmi Iyer, Illustrated by Niloufer Wadia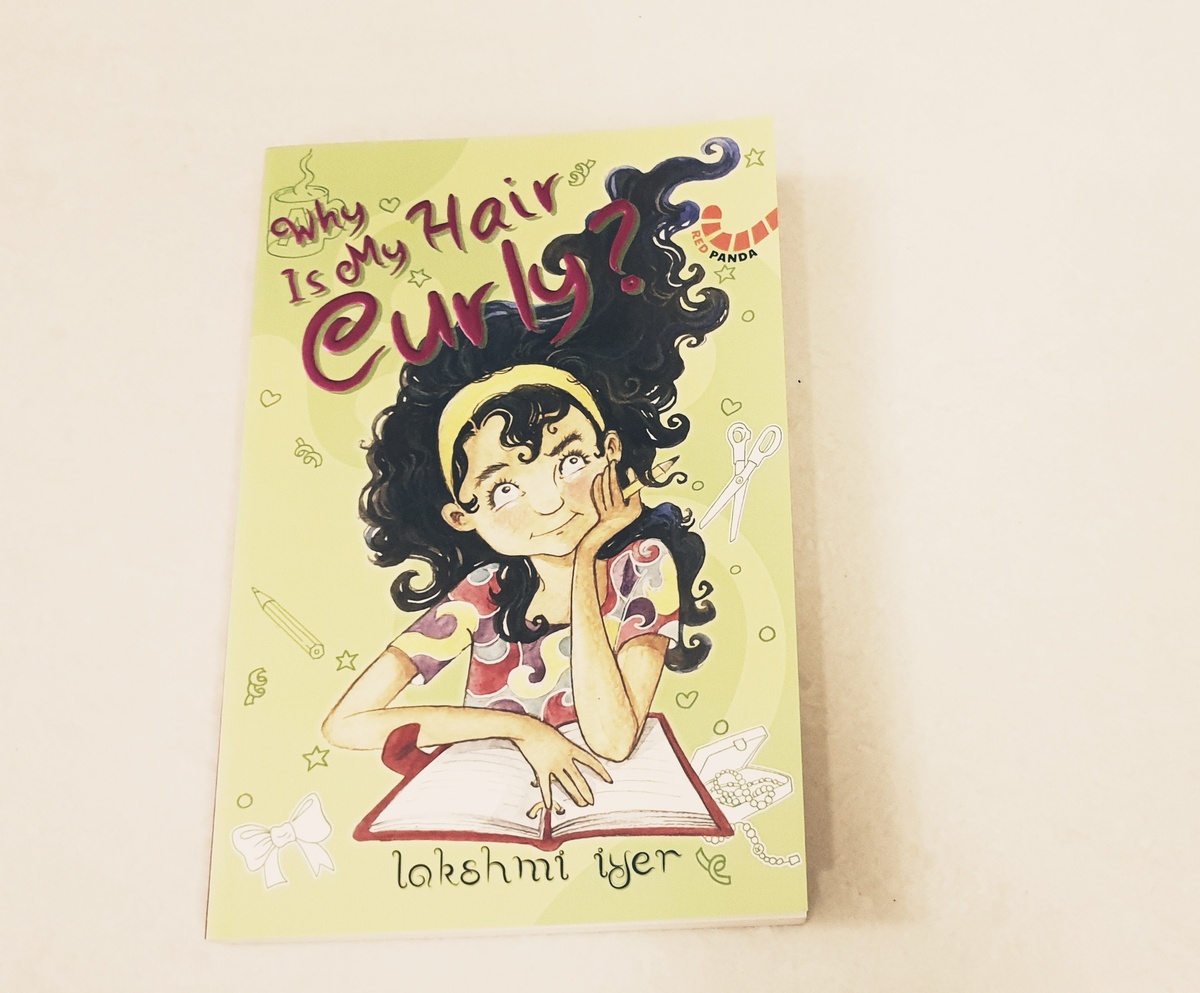 I have curly hair and as a child, I always wished I had straight, shiny hair. When parlors started their ironing trends, I was first in line. But sometimes I think about my naturally curly hair and I wonder if I could have grown to like it after all. In Why is My Hair Curly, Avantika has an interesting relationship with her curly hair. She wishes it was straight and tries brushing it but cannot keep her curly hair down.
Avantika's parents adopted her and Avnish as babies. Both the children grew up knowing about this story but somehow, Avantika cannot solve the riddle of her curly hair. Did her birth mother or father have curly hair? Her parents who adopted her have smooth, straight hair. One day, Avantika befriends a paati in the park and things change in unexpected ways. A touching, heart-warming and engrossing story about our appearances and our identities, we really love how this story resolves itself with such hope and clarity. We also need more books about children with different identities, physical features, backgrounds and personalities.
We are living in such a beautifully diverse world and books like this cheer us up because we know that there are different kinds of children from all over the world. In the book, another girl tells Avantika that she loves her beautiful curly hair and Avantika is surprised, even looking at her hair differently after that incident.
4. The Piano: Story of a Friendship by Nandita Basu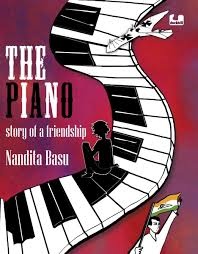 The Piano: A Story of a Friendship is written in comic book format but it feels more like a graphic novel with its shifts in time and the variety of moods that sweep across its pages. The book begins with a girl named Meera who longs for a friend. The story then flashes back to 1912 in Leipzig, Germany, when a father buys a piano for his son but his son simply isn't interested in music.
Over the next hundred years, the piano goes on an adventure of its own, from the war-ravaged Western front and England to Kolkata and finally in 2012 in Mumbai. Does Meera find a friend? What happens to the piano? Read the book to find out! You will love the places it takes you to and the stories it weaves into its pictures.
5. Braving the Bullet, A Story Inspired by Malala Yousafzai, by Arthy Muthanna Singh and Mamta Nainy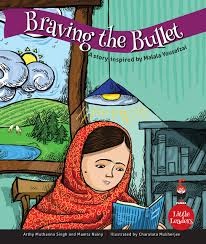 The story has been told so many times but every time we read it, we get goosebumps. In 2012, Malala Yousafzai was shot in the Swat district by the Taliban. She had just written an exam and was returning home. This picture book by Arthy Muthanna Singh and Mamta Nainy is about how Malala fights back after she is shot, her recuperation, and her relentless fight for girls to educate themselves and to reach their potential.
These are troubling times for us all. We are grappling with a pandemic. The threat of climate change looms larger than ever.