Best Indian Children's Books We Read in October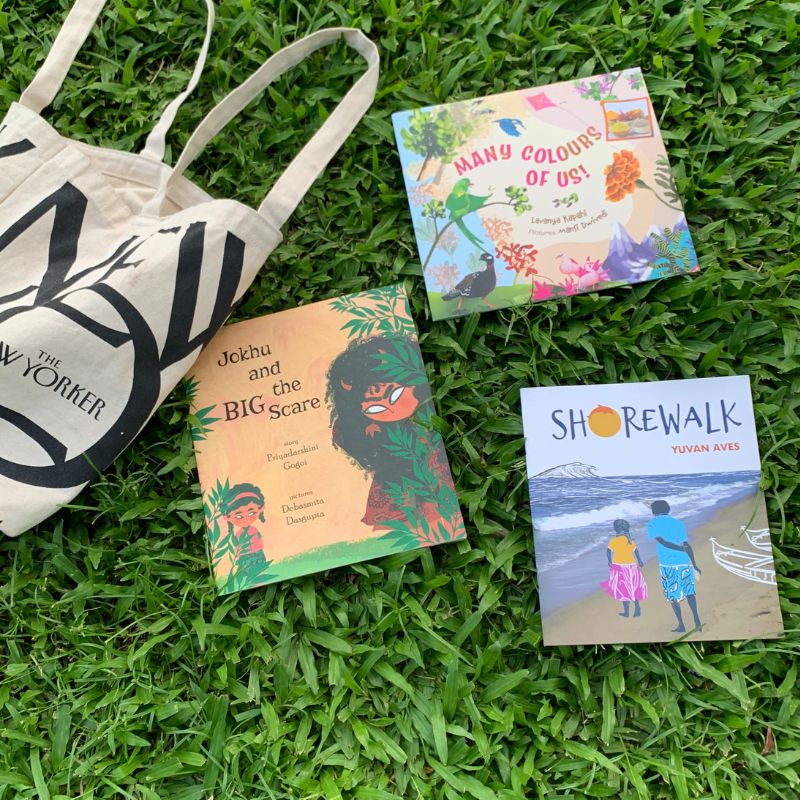 This month's top Indian children's books will regale you! There is a new book by Sudha Murty, two historical fiction YA novels set during the Chera and the Gupta period, a book about MS Subbulakshmi, brand new books from Tulika, and so much more! Feast your eyes on the best books we read in October!
1. She Sang for India by Suma Subramaniam, Illustrated by Shreya Gupta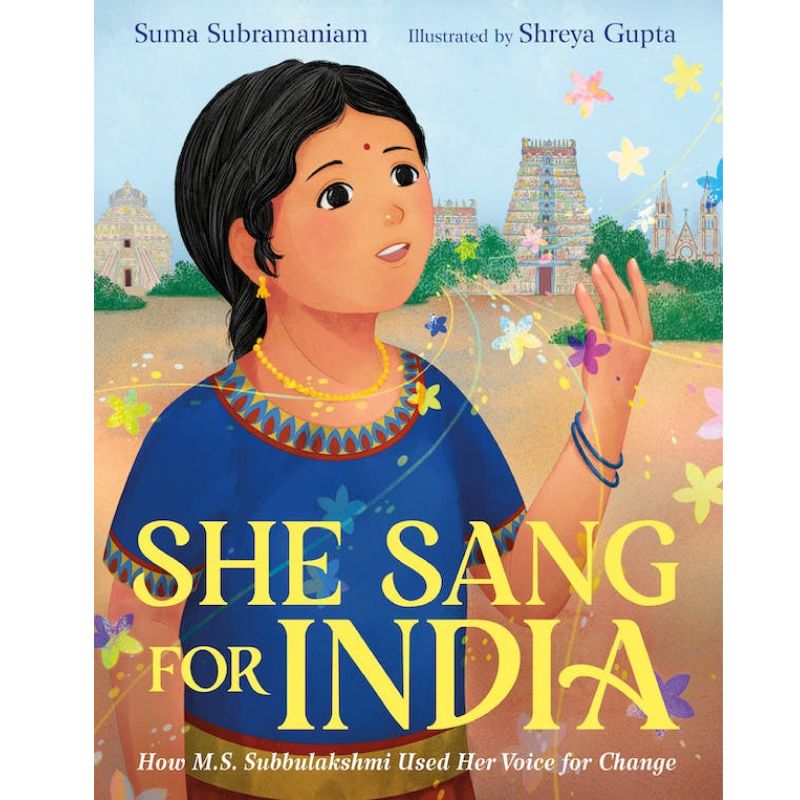 We finally have a picture book about MS Subbulakshmi! Suma Subramaniam's book, She Sang for India: How M.S. Subbulakshmi Used Her Voice for Change narrates the story of Kunjamma, as she was fondly called in her house. Kunjamma's voice wows people from her small town. In a time when girls were not admitted to public concerts in India, singing in a concert was next to impossible but this does not stop her. The book traces MS Subbulakshmi's struggle to be taken seriously as an artist, from a little workshop in the Music Academy to her famous concert in the United Nations. History and culture come alive in this beautiful book about one of India's greatest musicians and a treasure among South Indians. The illustrations by Shreya Gupta are mesmerizing, taking us back in the past and bringing Kunjamma's childhood and story to life.
2. How the Mango Got Its Magic by Sudha Murty, Illustrated by Priyanka Pachpande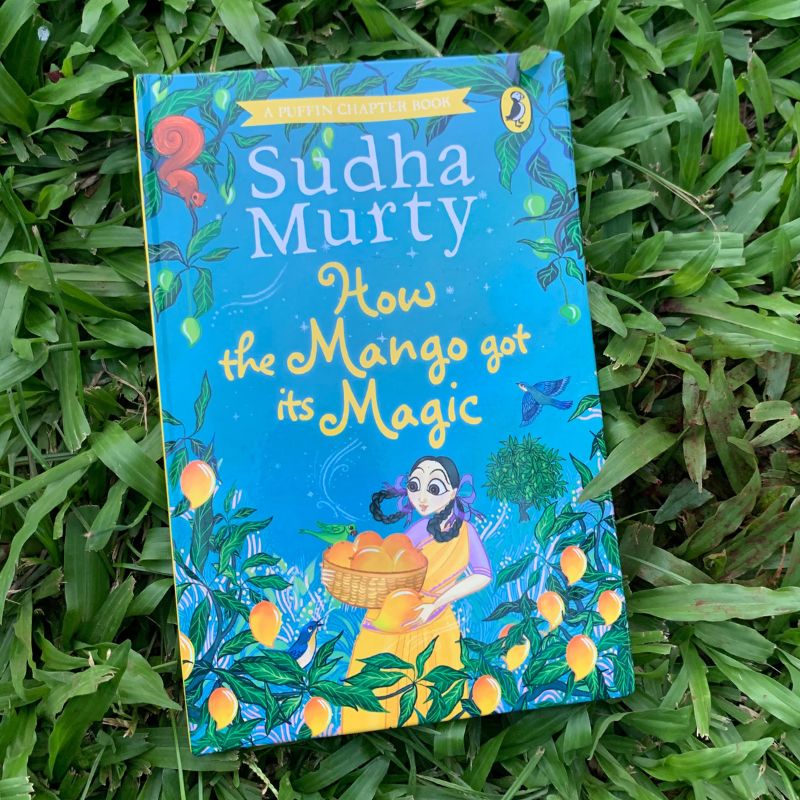 We have a new Sudha Murty book that's out and it is magical! We all love mango, the king of fruits, but how did these sweet and delicious fruits get their magical deliciousness? How did such sweetness come into existence? There used to be a time when mangos were not sweet at all but sour. Two men, Dinakar and Shyam, invite a hungry guest into their house, only to have the guest change their lives forever. The book weaves a story within a story about how the mango came to be sweet and magical during the summer, all thanks to the magic of the god of mangoes. Enchanting and engrossing with stunning illustrations with bursts of color and detail, your child will love this book!
Buy this book now!
3. Jokhu and the Big Scare by Priyadarshini Gogoi, Illustrated by Debasmita Dasgupta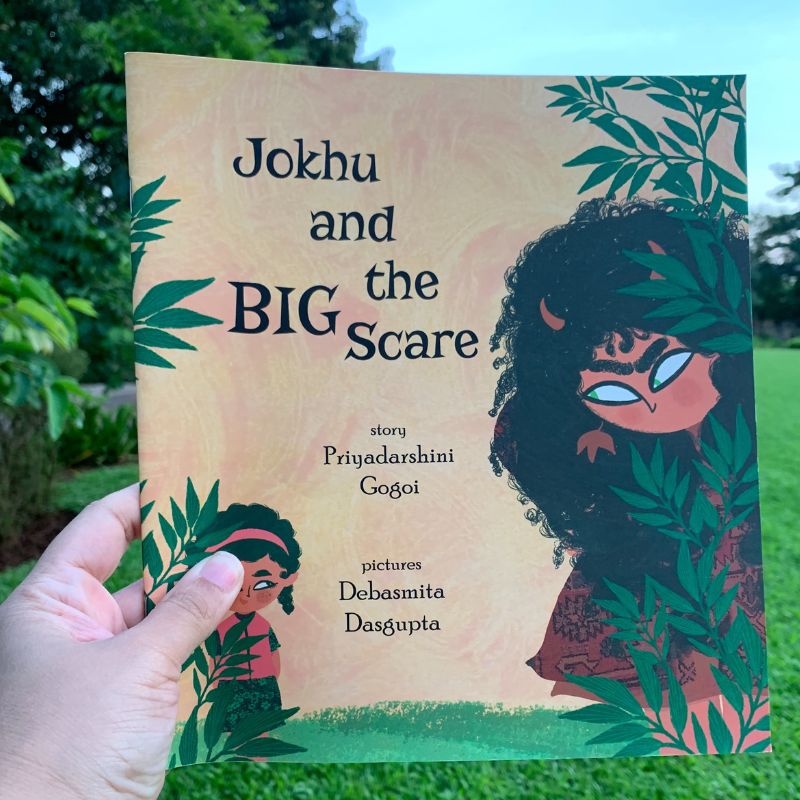 We love this beautiful tale of unexpected friendship beyond appearances. Jokhu is the scariest demon in the bamboo groove, and she loved to scare babies, village wrestlers, and even the other demons in the village. One day, Jokhu meets a girl and decides to scare her, but something unexpected happens. Your kids will enjoy this book with its many demons from Assamese folklore and a tale about a big, scary jokhini who found someone whom she simply cannot scare.
Buy this book now!
4. Many Colours of Us by Lavanya Kapahi, Illustrations by Mansi Dwivedi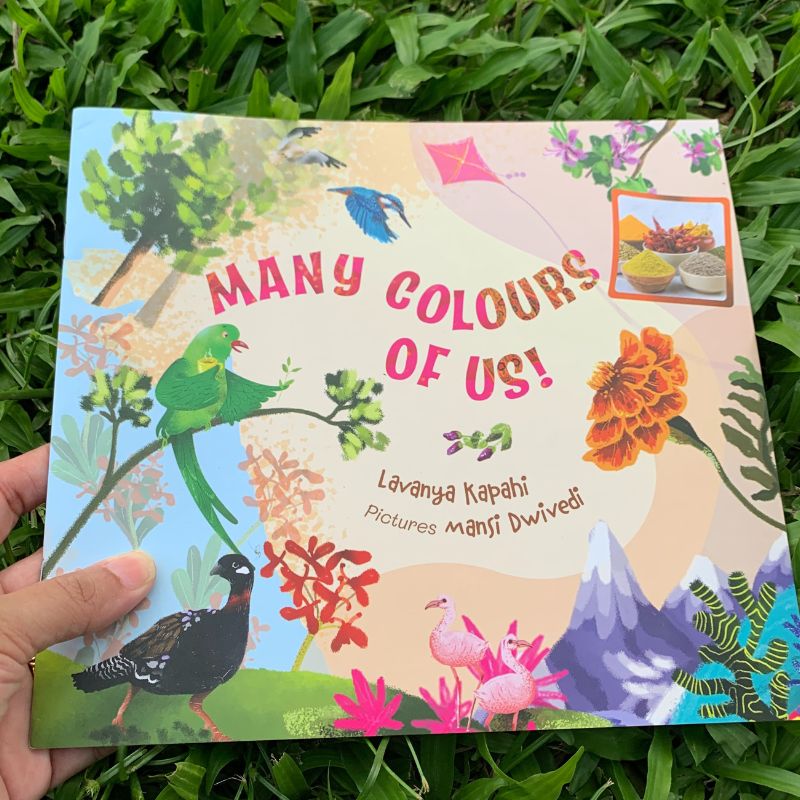 Introduce your children to colors through the lens of India! Most books on colors talk about landscapes and hues from other countries, be it the oranges of the Fall or a Christmas green. Instead, feast your eyes on a book that talks about orange like the Bengal tiger and the Nagpur mandarin, green like the tea buds on the slopes of the Nilgiris, or pink like the fascinating flamingos of Kutch! Written in an upbeat verse that fires a reader's senses, this book transports us to all parts of India and makes the country come alive through the senses. An absolute must-add to your child's library!

Buy this book now!
5. Shorewalk by Yuvan Aves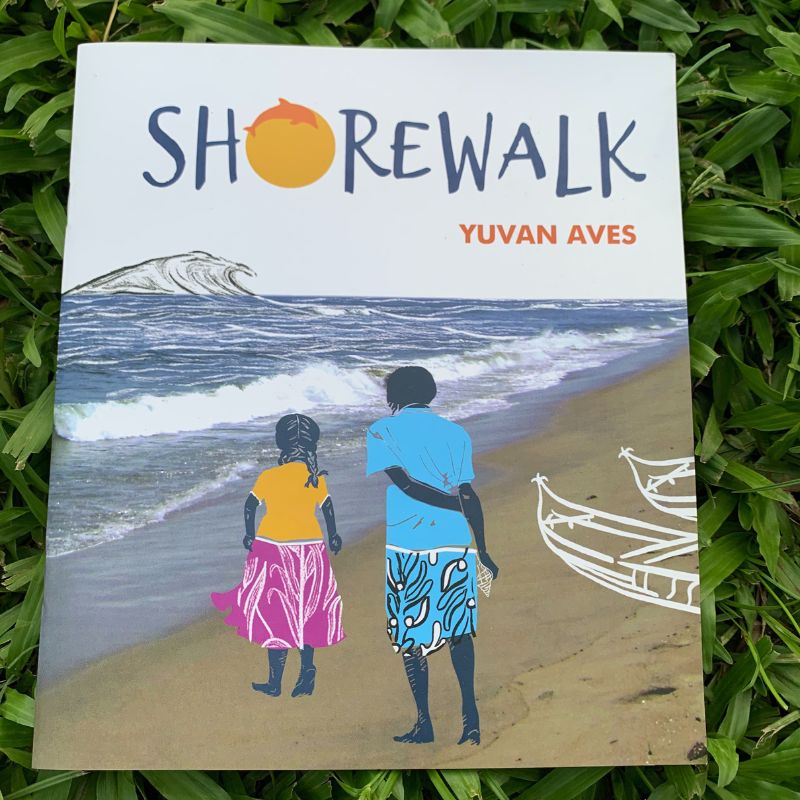 When you walk by the shore in India, the country's ecologies come alive and captivate our imagination. Many of us grew up near the sea, be it Mumbai or Chennai, and this book brings India's coasts to readers from around the world. Written by award-winning naturalist and writer Yuvan Aves, Shorewalk dives deep into coastal South India, from crabs, shanks, and humpback dolphins to oyster reefs and mangroves. The book also talks about the many people - marine biologists, oceanographers, geologists, environmental lawyers and activists, and most importantly, the local population and fishermen, who fight to protect oceans and coasts in many ways.
6. Paati's Rasam by Janaki Sabesh and Dhwani Sabesh, Illustrated by Pallavi Jain and Storyboard by Vaijayanthi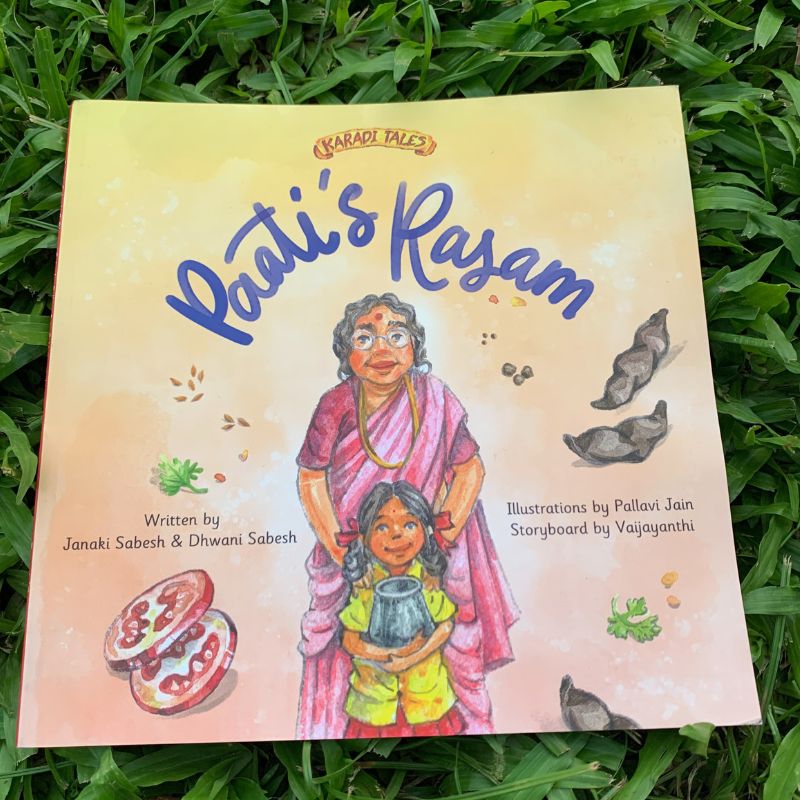 Who doesn't love a book about Rasam? The book is about Malli, who loves spending weekends with her Paati. She is especially fond of Paati's unbeatable rasam - piping hot, full of rich aromas, and with a taste that no one else can replicate. When the family loses Paati and Malli cannot see her anymore, she does not want to go to school and is especially not interested in writing an essay and talking about something or someone she loves - a school assignment that makes her miss Paati even more. Finally, she thinks about what she can take to school that best represents the wonder that was Paati. She wants to take Paati's complete rasam recipe but she and amma cannot find it anywhere. They try to make the rasam on their own and even boil it in Paati's eeyachombu but there are a few ingredients missing. Will they be able to find the recipe? A heart-warming and nostalgic tale about the ultimate comfort food from South India - the ever-reliable and soothing rasam, this book really made us long for our parents and grandparents, and of course, their cooking! This is a lovely book to read with your kids.
Buy this book now!


7. Kanji for Your Heart by Amy Jivani, illustrated by Anastasiya Kanavaliuk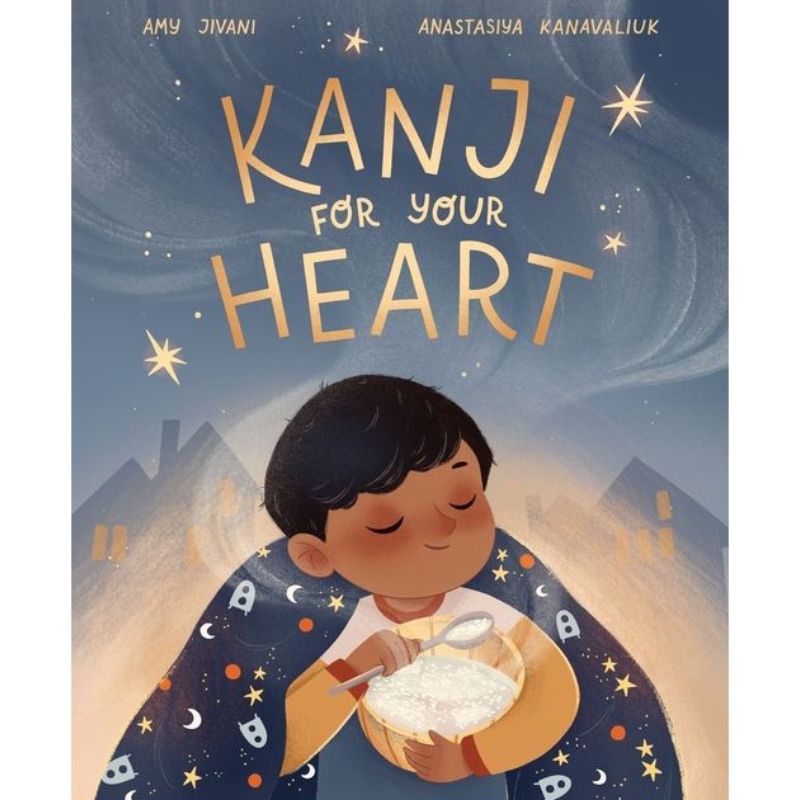 You will fall in love with Amy Jivani's soulful and magical book, Kanji for Your Heart. Two boys are down with a cold and their mother offers a magical antidote - a bowl of kanji, a hot and yummy rice water based dish or porridge, to "fill your bellies and warm your hearts." Amma takes out a big red bowl, scoops the little dry grains of rice into the bowl, and takes out a tall silver pot to boil the water and the wet rice. Amy Jivani's description of how amma makes the kanji - and simultaneously the illustrations - are just astounding. "Patience little one," amma says as she picks up the wooden spoon to watch the rice gains swell. The boys especially love the first, warm salty bite "that makes the heart tingle like there's a warm campfire inside." Ami Jivani is a magician with words, and the book ends with amma reminiscing about her own mother's kanji and two surprise visitors who ring the doorbell! Kanji for Your Heart is magical food trip to the past and an everlasting medicine for the weary soul. The illustrations are in dominant palettes of white and silver, mirroring the soothing and magical kanji.

Buy this book now!

8. Thammi's Gift by Himani Dalmia, Illustrated by Priya Kuriyan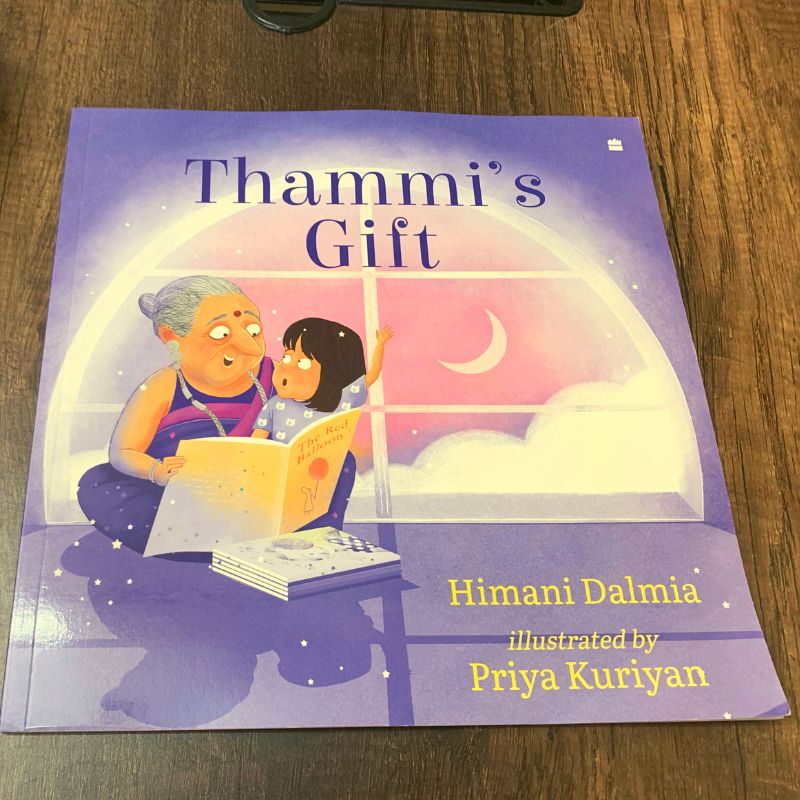 Devika's grandma, whom she calls Thammi, loves books so much that she created a library for Devika even before she was born! A famous and much-loved librarian, Thammi lights Devika's spark for books and reading at a very early age, with reading becoming a family activity and passion in their house. When Thammi "becomes a star," Devika feels her absence and misses her keenly. She is also worried about starting school and she wishes that Thammi would be with her to help her through this change. As the first day of school draws near, Devika witnesses something astounding - her own Thammi comes down to visit her as a star and sweeps her away to her library on the moon! Devika is full of imagination and curiosity, and her adventures with books helps her overcome her fears. The book is based Bandana Sen, a pioneer in the field of children's libraries and reading programs in India, who was also the author's mother-in-law. The book celebrates libraries in different ways - the home library and the school library that add so much joy to children's lives. The last library that Bandana Sen built and completed was for her granddaughters at their home. Don't miss this touching and magical read!



9. अ - ज्ञ तक अनेक भाव - Not just happy sad and angry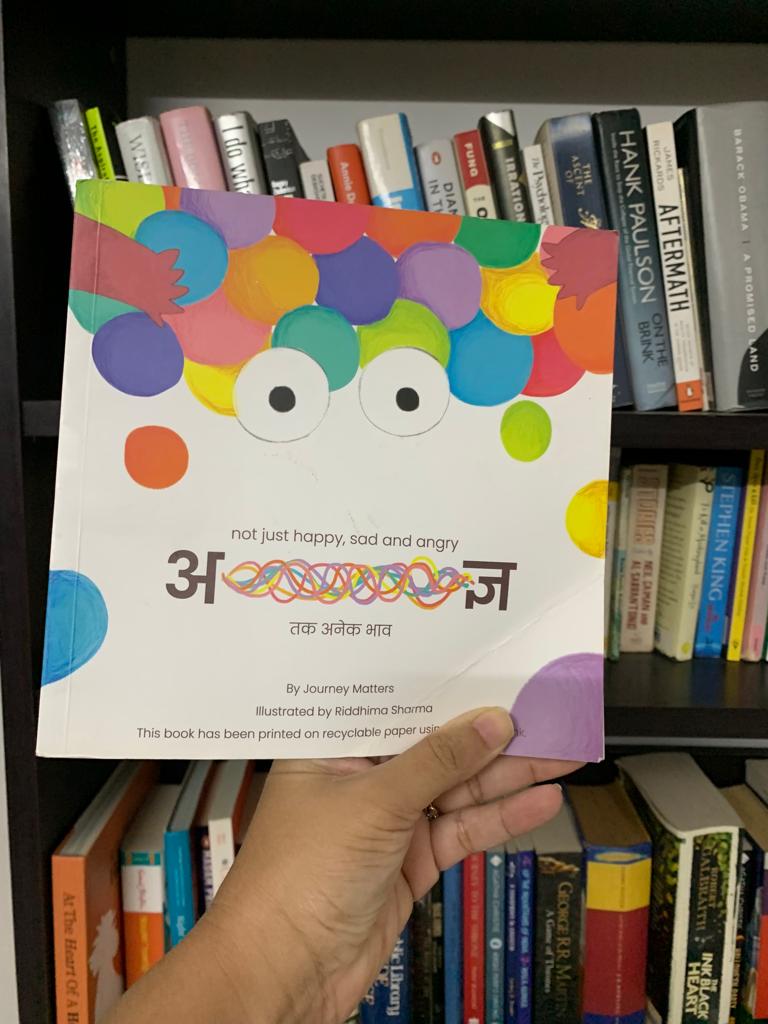 Created by Journey Matters and illustrated by Riddhima Sharma, we love how innovative this bilingual picture book is and how it weaves two languages together. A bilingual picture book of feelings, Not just happy sad and angry is written in the Devanagari script. The main word in the page is written in Hindi, transliterated in English, and the Hind word is combined with the sentence in English. Here's an example.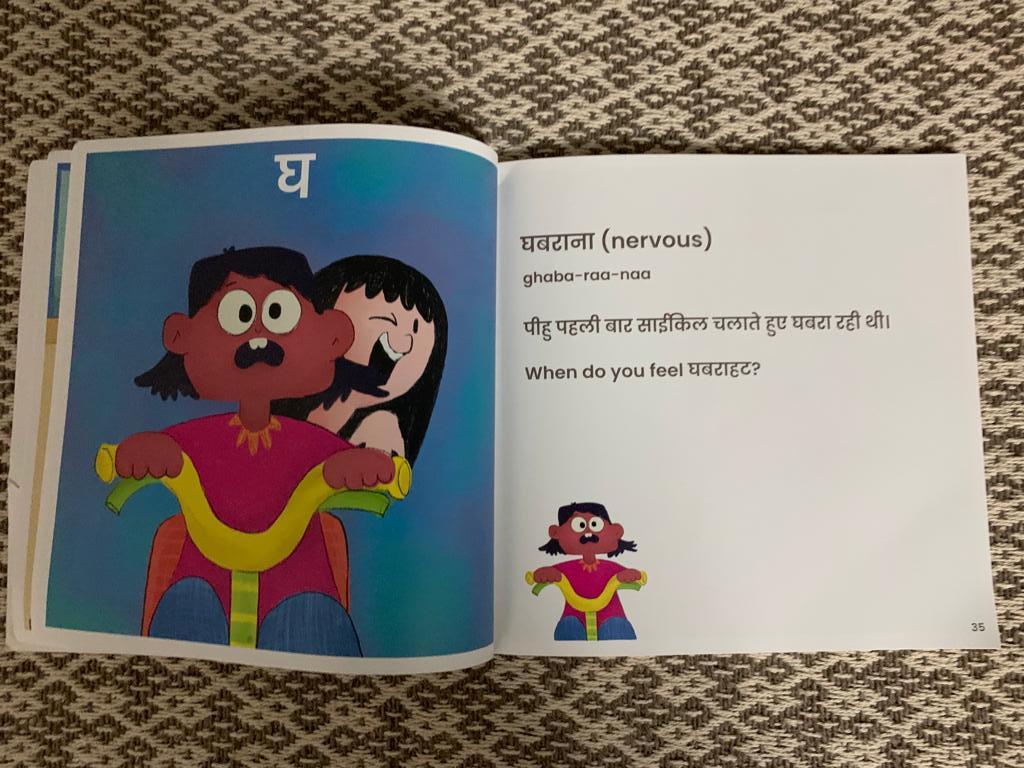 In the book, we see Pihu exploring 49 emotions through the 49 letters of the Hindi Varnamala, with each sentence talking about an emotion. Learning a language is an immersive experience. Growing up, I would use Tamil in English and after all, we all use a lot of English with regional languages or our mother tongues.

I read somewhere that there are certain emotions that are so intrinsic to certain languages that they cannot be adequately translated. Learning about emotions in our mother tongue can give us a strength and deep awareness of our roots and identities.
The Zayn and Zoey books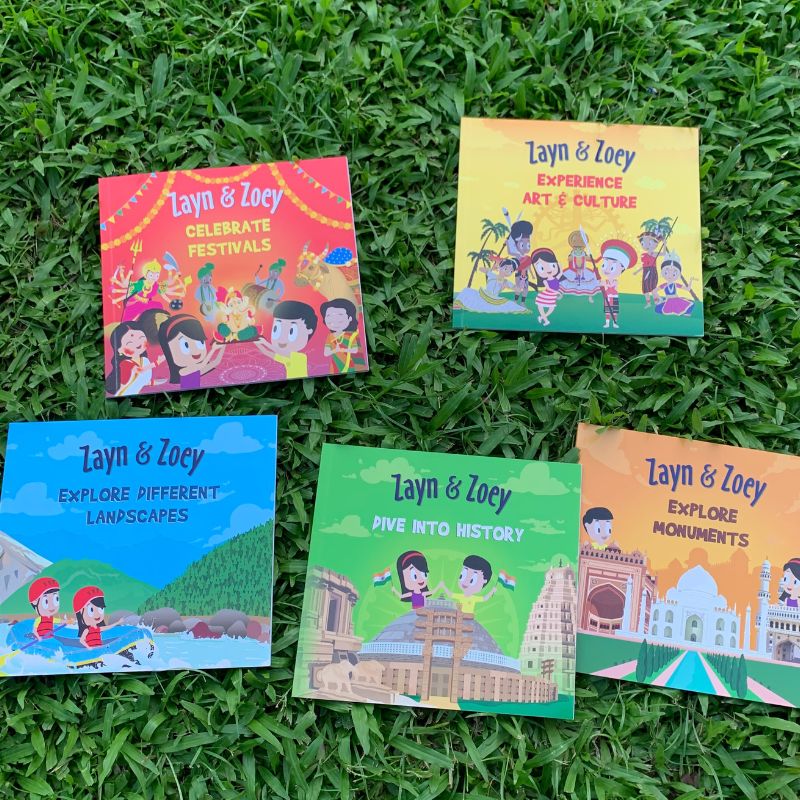 These books explore India's culture, heritage, religions, food, people, monuments, festivals, and landscapes with such color and vibrancy that you simply cannot take your eyes off the page and the narration!

Zayn and Zoey Experience Art and Culture: From exploring the sundial at the Konark Sun Temple and exploring the face masks and costumes of Kathakali dancers to learning about the Khasi, Jarawa and Bhutia people and discovering the hornbill in Nagaland, Zayn and Zoey explore the many facets of India and its cultures. The book has beautiful activities featuring Warli art, the Kathakali face mask, and more!

Zayn and Zoey Dive Into History: Zayn and Zoey learn about Ashoka the Great, discover the Vijayanagar Empire and explore India's Independence. It is glorious to see the marvels of Hampi through the eyes of the children, or learn about India's Freedom Struggle in such a visual and engaging manner.

Zayn and Zoey Explore Different Landscapes: In this book, the siblings explore India's remarkably diverse geography, from the forests and beaches to the deserts and plains. They trek in the Himalayas, travel to the Land of Rivers and marvel at the Rann of Kutch.

Zayn and Zoey Celebrate Festivals: Ever experienced Ganesh Chaturthi in Mumbai, Durga Puja in Kolkata, and Pongal in Madurai? We were delighted to spot Kanu Podi Kaaka Podi in the book, a ritual for brothers that we South Indians will truly remember.

Zayn and Zoey in a Festive Mood: Zayn and Zoey travel to celebrate Baisakhi with a local family in Punjab, Holi in Jaipur, and Dev Diwali in Varanasi.

Zayn and Zoey Explore Monuments: The siblings are back and they travel to the Taj Mahal, visit the Golconda Fort in Hyderabad, travel to the Qutb Shahi tombs in Ibrahim Bagh, and discover all the forts of India, including Shaniwar Wada, which was built by the Peshwas.
10. சாராவின் மணி எங்கே? Saravin Mani Enge?/Where is Sara's Mani?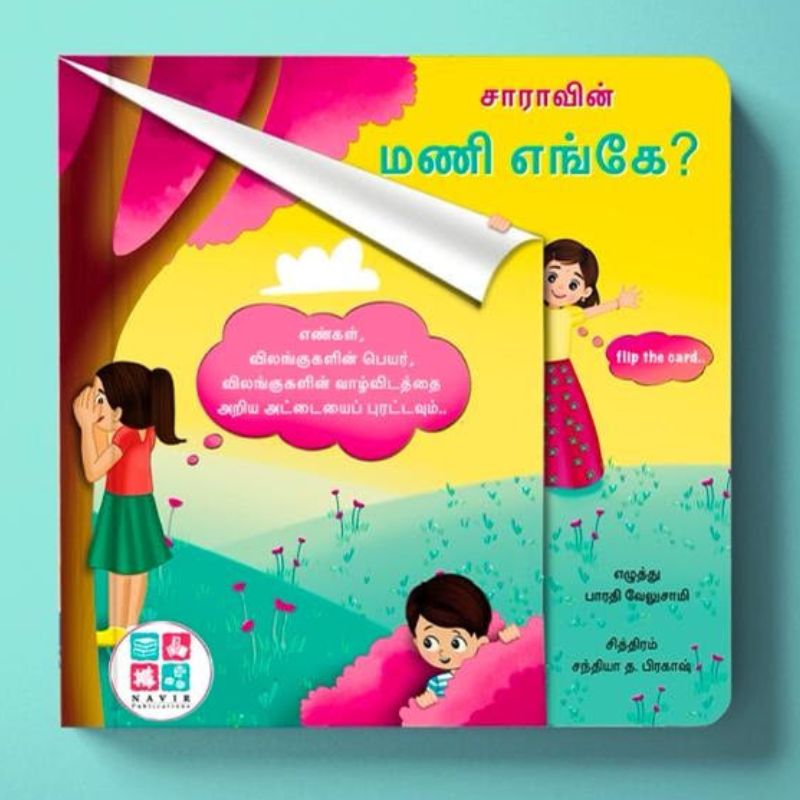 Sara is playing hide and seek or kannaampoochi, when her pet Mani goes missing. The book invites the young reader to come look for Mani. Is he in the house? In the horse stable? In the cow shed? The story is all about Sara's adventure in finding her pet. The book introduces concepts like numbers, animals, animal habitats and number names, all in Tamil and in a fun format. The book has flaps that you can lift to reveal the answer - lift the flap and find out if Mani is in the cowshed! This book improves a child's fine motor skills and kinaesthetic learning.
11. Journey to the Throne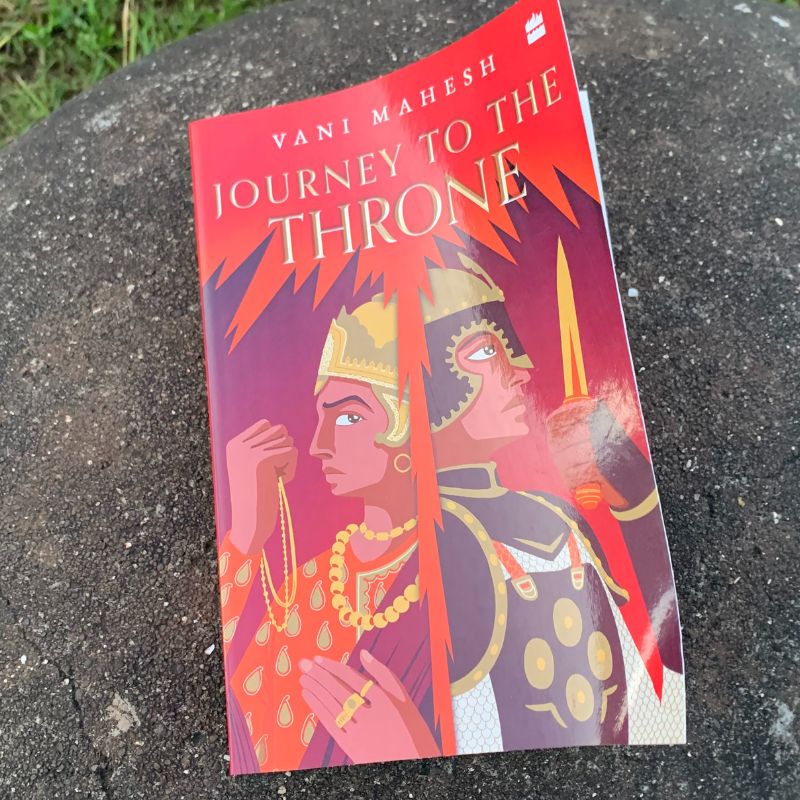 If you were mesmerized by the wonder of Ponniyin Selvan on the big screen, then you will love this book! This book of historical fiction narrates the story of Emperor Samudragupta, one of the greatest rulers of ancient dynasty and the second emperor fo the Gupta Empire during the fourth century. The book gives you an inside view into the dynasty's politics, military power, and all the intrigues of a life in a royal court. The story is about Samudragupta's two sons, Chandragupta and Ramagupta. Chandra is a tremendous royal, dutiful and hardworking, while Rama loves a life of pleasure. The book delves into their rivalry and their attempts to kill each other. The race to the throne is intriguing and full of adventures. This is a gripping tale from start to finish!


12. A Chera Adventure by Preetha Leela Chockalingam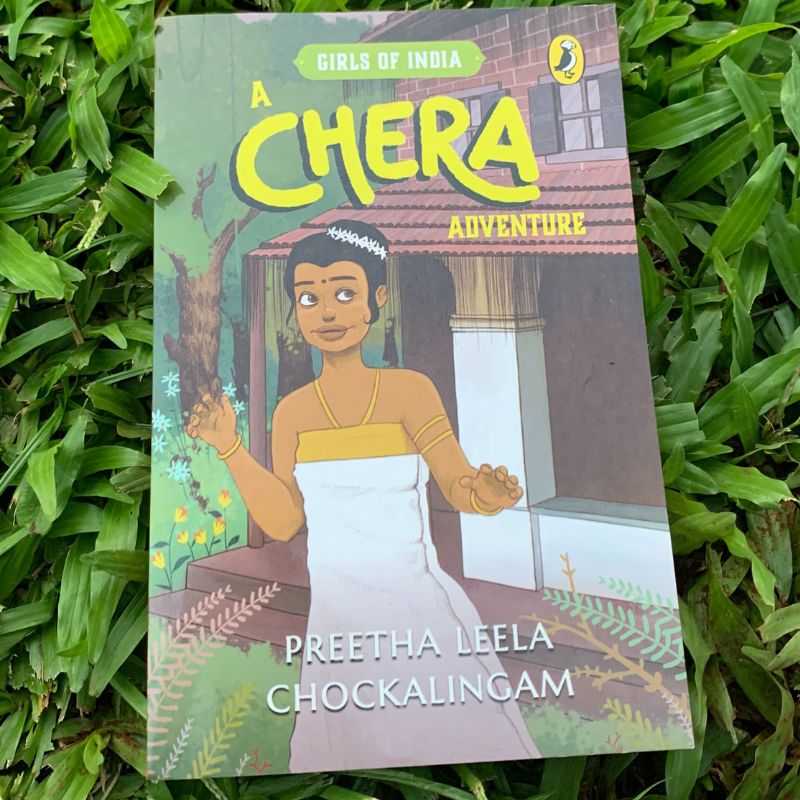 It is raining historical fiction novels in Toka Box and another magical addition to this list is A Chera Adventure by Preetha Leela Chockalingam. The book narrates the story of Sharadha, who lives in Marayur in the Chera kingdom. Sharadha has an interesting vantage point of history and the kingdom because her grandmother, Devaki Amma, is a healer for the King. Sharadha wants to travel out of her small town and she travels all the way to Mahodayapuram with its melting pot of cultures and the seat of the Cheraman Perumal Empire. Sharadha is enraptured by the city and its politics, adventure, and intrigue, and she suddenly misses home. The Chola invasion looms large in the background and the book narrates the story of a brave girl who wants to be a healer too. You will love the history explored in the book, from the Kalaraipaatu and martial arts to practices and cultures in Kerala during the eleventh century BCE.


13. Namaste is a Greeting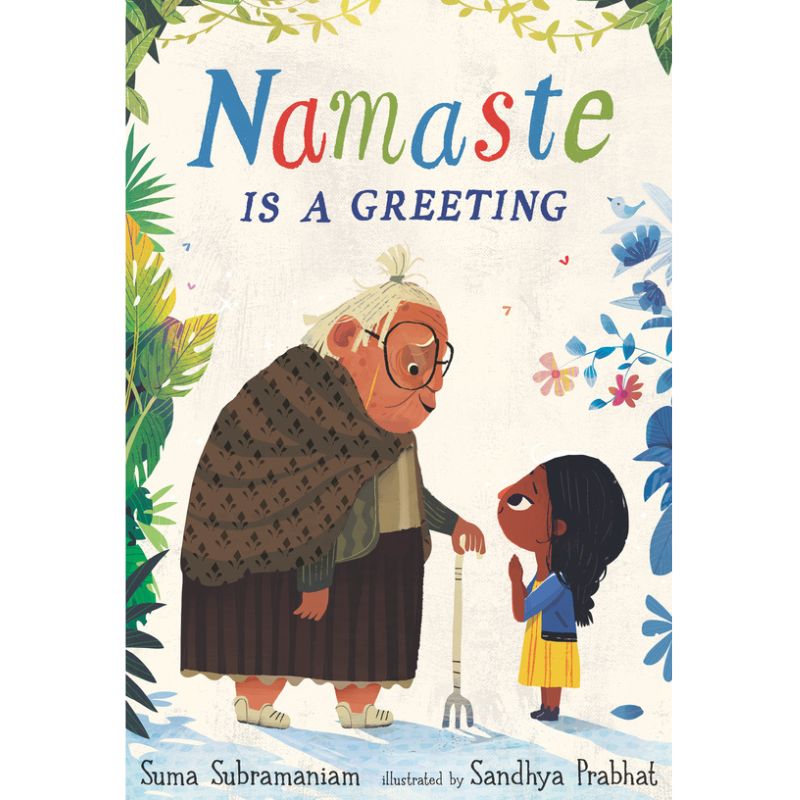 In this book, the simple greeting of
Namaste
takes a life of its own- from a simple hello to a symbol of peace to the current yogic interpretation of "The Divine in me, bows to the divine in you" - an interpretation I only learned about when I moved to the USA. It wasn't commonly interpreted that way in India. Also to be noted is that
Namaste
is not a common greeting across India- as we all know India is more diverse than is acknowledged these days in a lot of children's literature coming out in the US.
Namaste
is commonly used to greet elders and hands folded is one of the many ways to pray.
In the post pandemic world, a simple greeting of strangers brings back the connections we all missed - connections with neighbors and friends.
Namaste
is a Greeting brings back our ability to connect with fellow humans with just a simple Hello which is all really what
Namaste
is.
14. My Diwali Light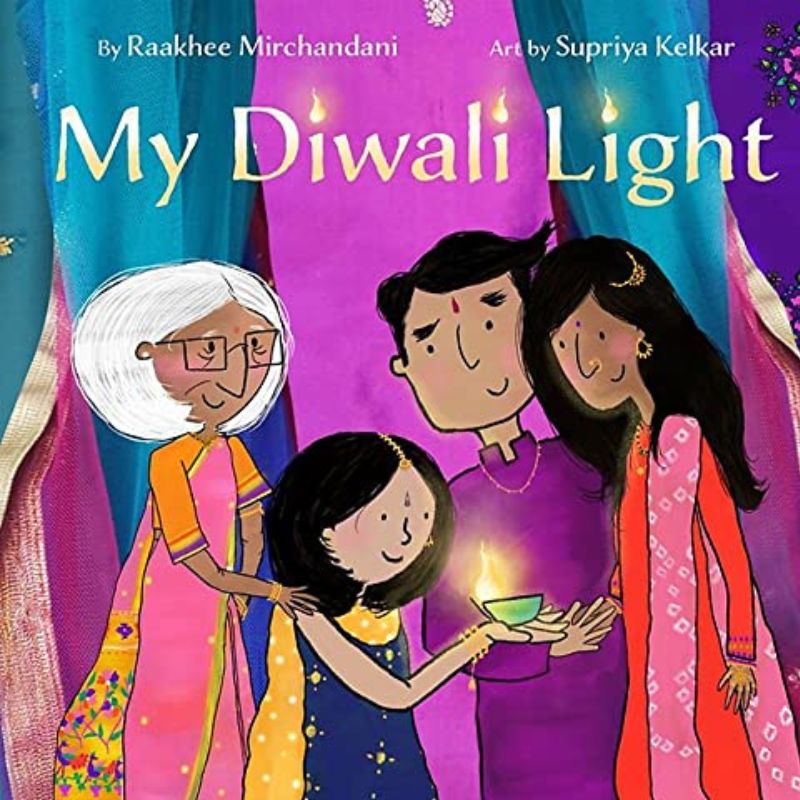 My Diwali Light has the entire South Asian American Diaspora experience in a nutshell - Mithais and Macaroons, Bollywood and Bindis, sparklers and samosas and getting together with friends and family. A Diwali book to add to a growing list of Diwali books for children out there!