Top 7 Children's Books on Navratri and Dussehra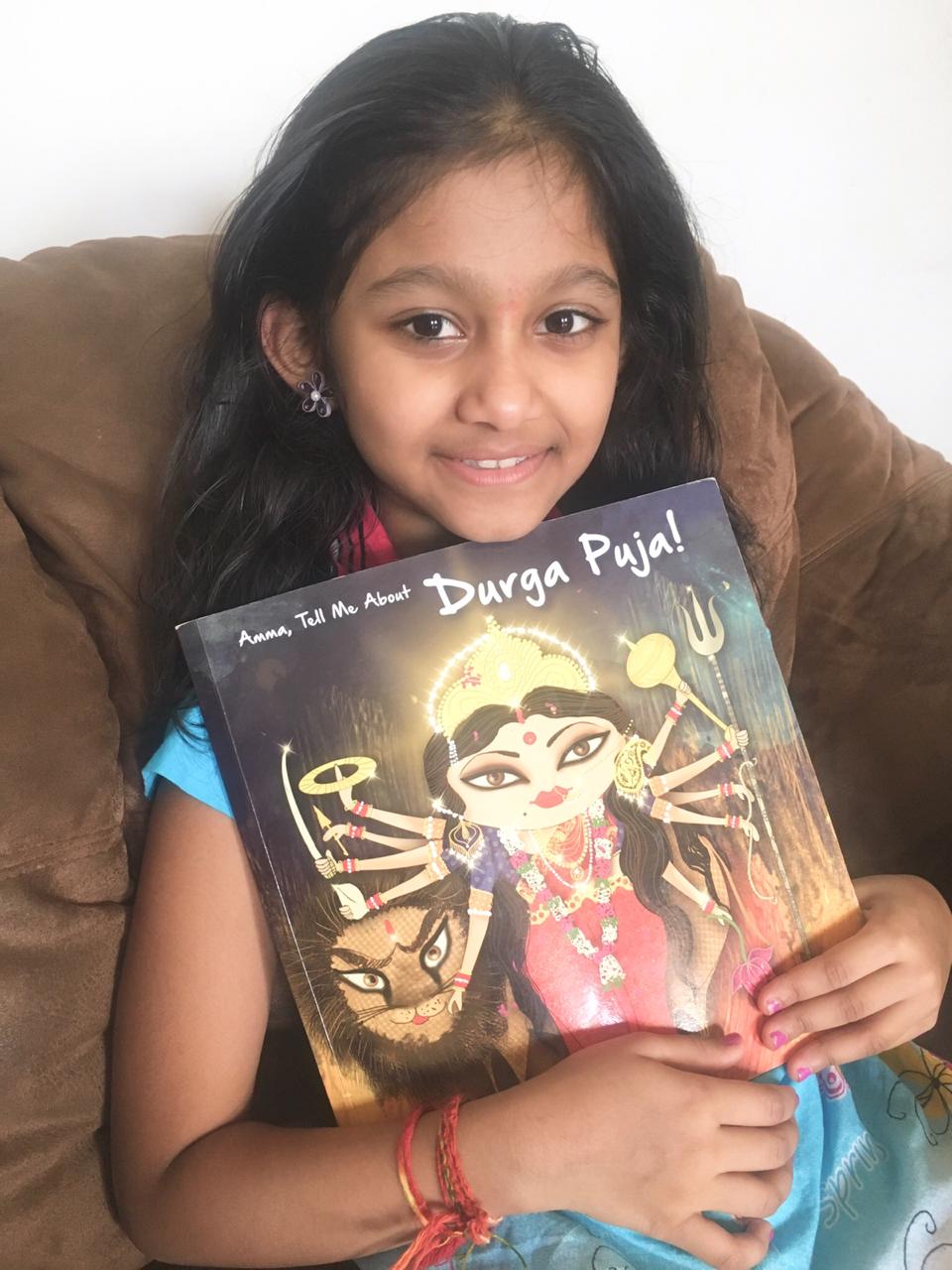 Indian festivals are here! Don't miss these 7 Top Children's Books on Navratri and Dussehra!
1. Celebrate Durga Puja With Me by Shoumi Sen

Age: 3 to 5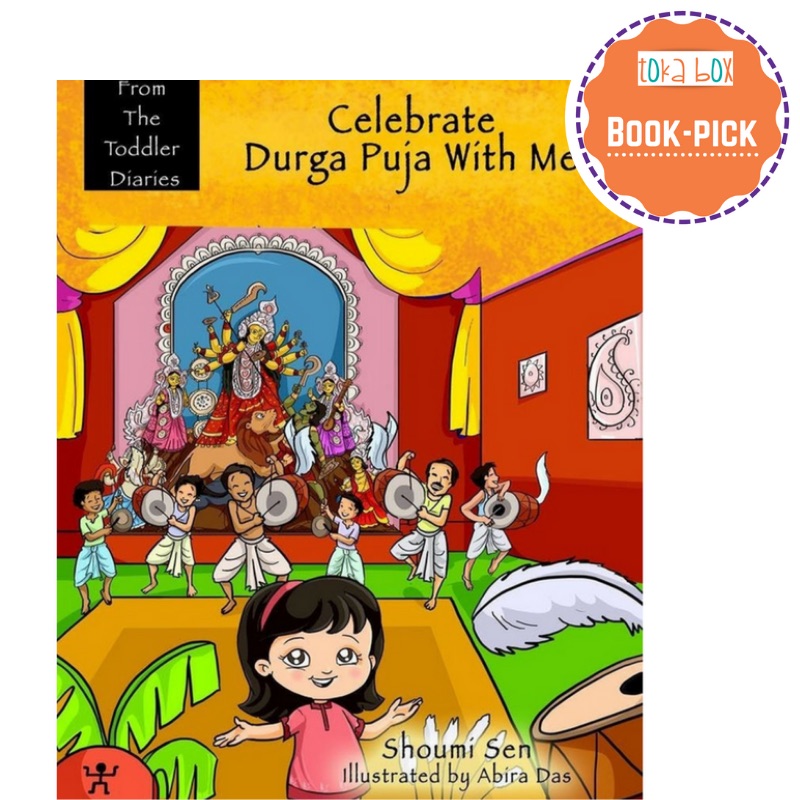 What it's about: The book is about a little girl, Riya, who asks us to accompany her as she celebrates Durga Pujo. Written in a poetic style, the book takes us through all the Pujo rituals. It starts with Shashti (the sixth day) to Dashami (the tenth day). The book uses vibrant illustrations and simple yet poetic words. Shoumi does a wonderful job of explaining the rituals and what exactly is done on what day without going overboard. There are just adequate details for us to know how exactly the Pujos are celebrated in Bengal and why they hold a special place in every Bengali's heart. Definitely one of our Top 5 Children's Books on Navratri and Dussehra.
Why we love it: Durga Pujo is a special time for Bengalis, which is why Shoumi Sen's Celebrate Durga Pujo With Me brings back all the memories! This book is a wonderful way to teach children about Durga Puja without making it an overly religious topic. Fun, devotion, and love are what the book brings out in each page. Every child will relate to Riya's journey of the five days of celebrations. Definitely recommended, for children to learn about the Indian festival of Pujo!
2. Mata, Mama and Me by Swamini Supriyananda

Age: 3 to 5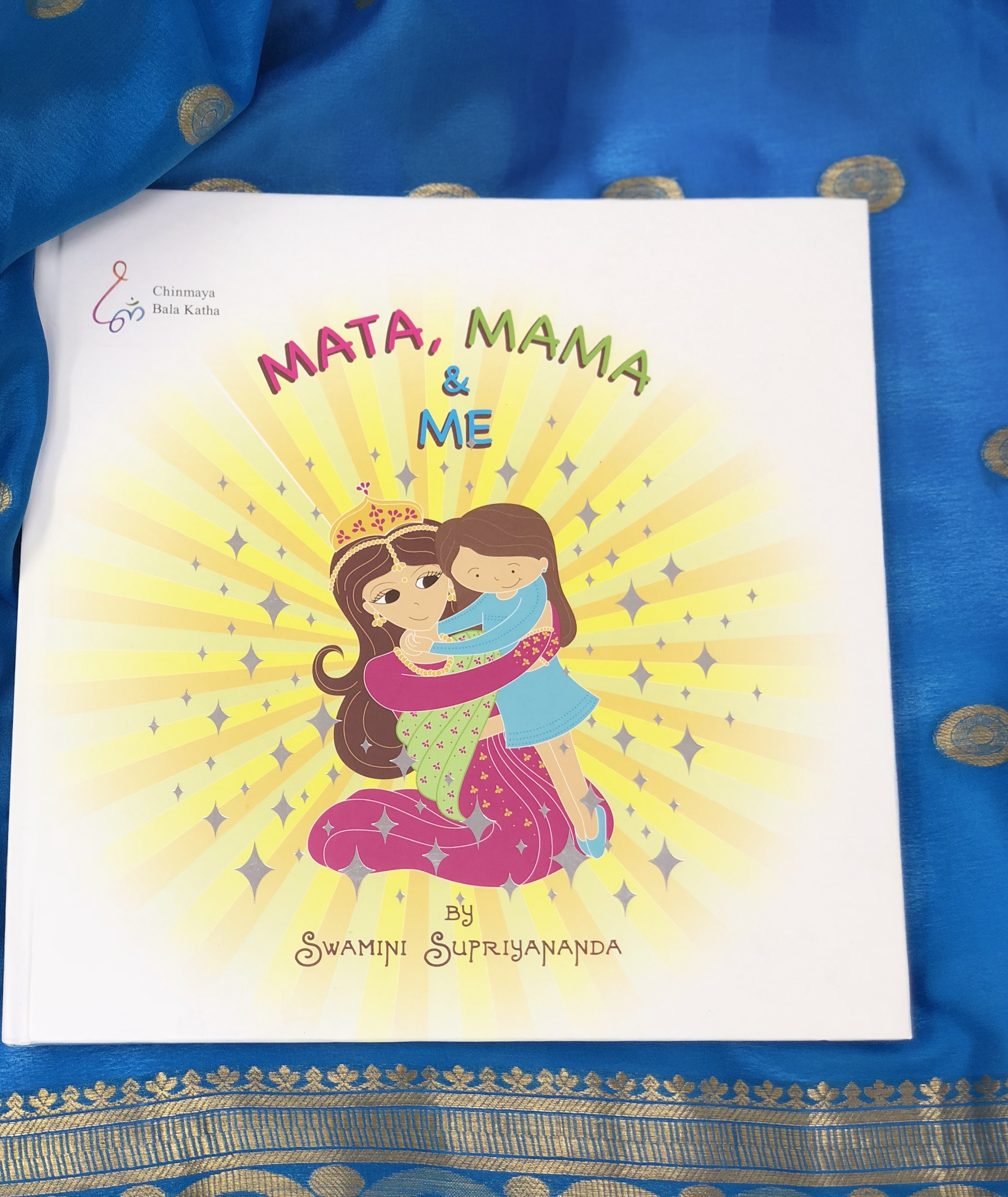 What it's about: Mata, Mama and Me is part of the Chinmaya Bala Katha series that introduces the principles of Vedanta and bhakti in the early years of childhood so as to instill in the readers a strong foundation of virtues and values that will enable them to thrive later in life. This book celebrates the feminine and maternal qualities of divinity in the form of Devi. Mata is nurturing, wise and strong. She possesses a love that knows no bounds, much like our own mama. It depicts the purity of a mother`s love in a way that little ones can understand and relate to.
"Devi Mata Made the sun. My mama wakes me up.

Devi Mata made the water. My Mama gives me a bath,"

Why we love it: Swamini Supriyananda had scripted a concept that is hard to comprehend in a text that appeals even to very small kids. Illustrations by Anastasia Damani recreate everyday scenes in the life of a child that he/she shares with a mom. I loved that every scene had Devi detailed but the facial features of the mom are left to the imagination of the child. It ultimately guided kids to visualize Devi Mata as Mama and helps them to easily understand the intended connection between Goddess Devi and a mother. It is a great book to introduce the concept of God, religion, and spirituality to a young kid.
3. Amma Tell Me About Durga Puja
Age: 3 to 5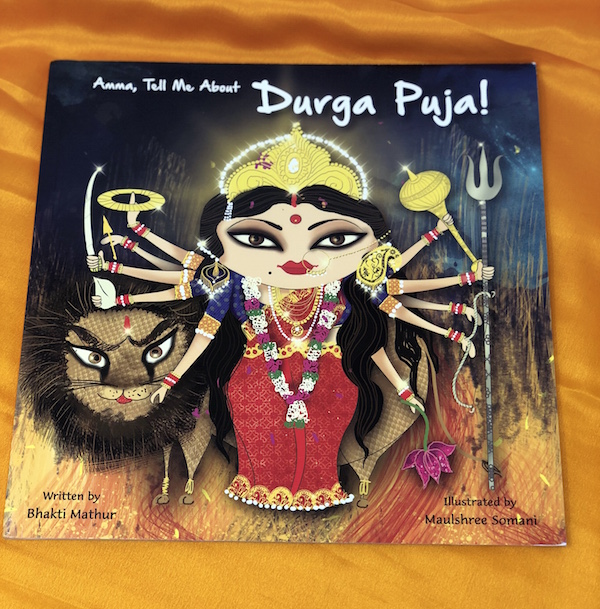 What it's about: Bhakti Mathur's classic picture book on Durga Puja is an absolute must-read for its narration of the story behind Dussehra. Bhakti Mathur's much-loved Amma Tell Me series are hugely popular with children. The book begins with the celebration of Durga Puja and then shifts to the story of Ma Durga killing Mahishasura.

Why we love it: The entire book is written beautifully in rhyme. It is wonderful and fun to narrate and read it out loud.

Why we love it: The city is abuzz with fanfare and fervour,
Giant idols under wraps, ready to be unfurled,
Colourful pandaals receive finishing touches
To host the biggest outdoor festival in the world!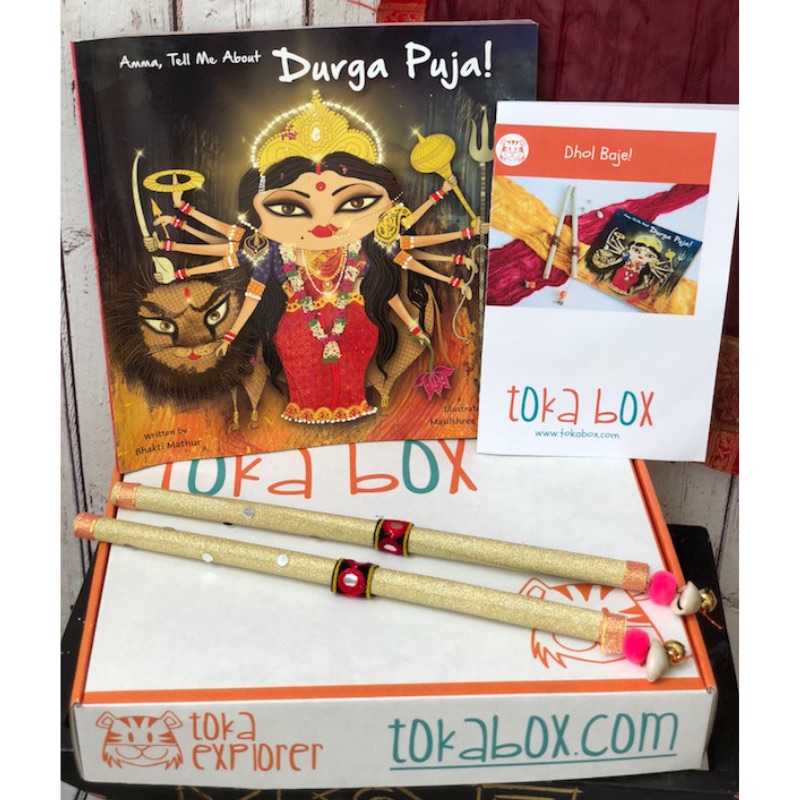 4. The Jai Jais: The Goddesses 4 Book Set by Sunitha Shah
Age: 3 to 5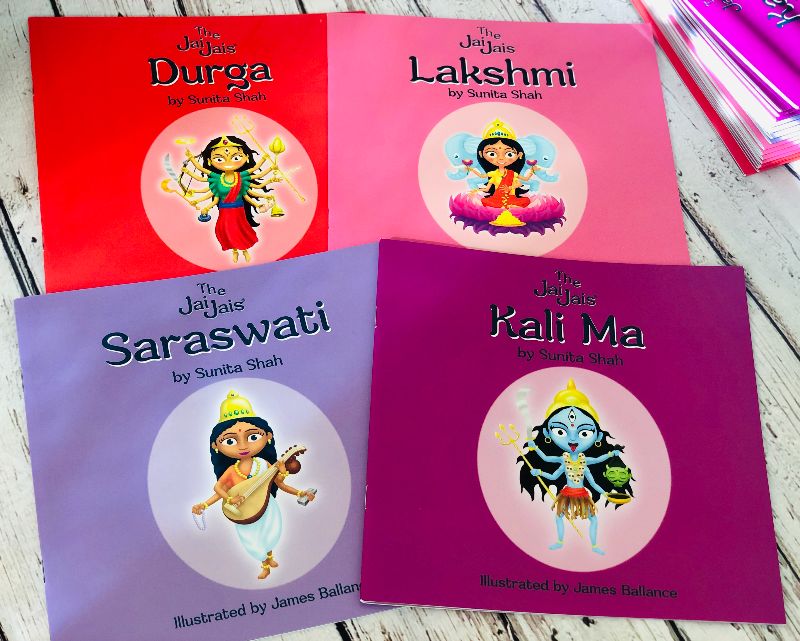 What it's about: Embrace the Goddess within, with this beautiful set of books containing, the beautiful Goddess Lakshmi, the powerful warrior Goddess Durga, the clever Goddesses Saraswati and the mighty Goddess Kali. This is a wonderful introductory set from the Jai Jais range.

Why we love it: We love the stories of powerful and wonderful goddesses, especially Durga maa, the warrior goddess who is strong and powerful. The simple story introduces children to how she was made and who is her family and the amazing things she does, and why she has so many weapons! The books also tell us about Kali Ma, the Hindu goddess of time and change and is a very caring motherly goddess. She is the destroyer of evil and protector of good. In this book set, children learn her origins.
5. The Doll That Bommakka Made
What it's about: This charming cumulative tale celebrates the tradition of hand-crafted dolls, inspired by the South Indian Thanjavur Thalai Atti Bommai.

Why we love it: It is about Golu dolls and passing on traditions and Navratri bommais. Starting with a little ball of clay, we see the fine dancing doll grow before our eyes. A perfect book pick for Navratri.
6. Nava Durga by Nalini Ramchandran
Age: 6 to 8 years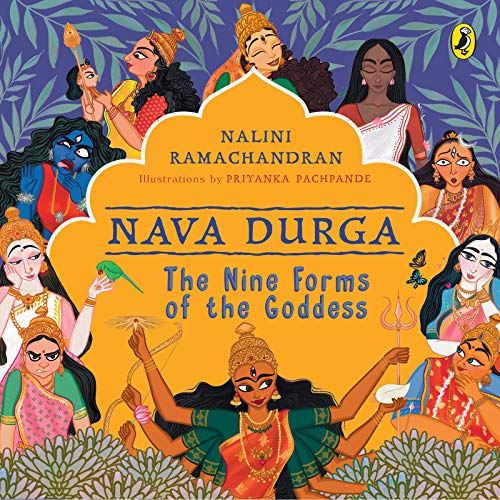 What it's about: Prepare to be stunned and mesmerized by Nava Durga, a beautiful picture book about the powerful warrior-goddess known as Durga. The book explores her nine special forms, each with a unique power - Shailaputri, Brahmacharini, Chandraghanta, Kushmanda, Skandamata, Katyayani, Kaalratri, Maha Gauri and Siddhidatri. They are the Nava Durga, worshipped during Navaratri, the festival of nine nights and nine days that is celebrated in India and across the world.

Why we love it: Narrated with power and flair, the illustrations in the book will astonish you. A must-read for children!
7. Ved and Friends Celebrate Dussehra and Diwali!
Age: 3 to 5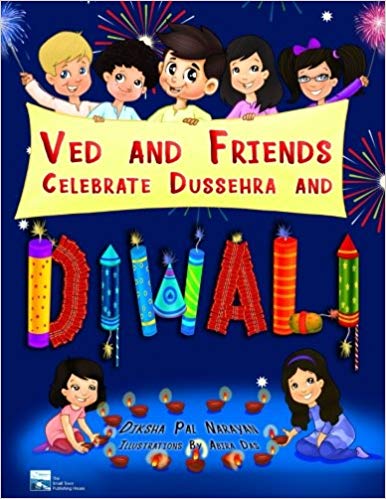 Dussehra and Diwali will be here soon and we were really excited to receive this book- Ved and Friends Celebrate Dussehra and Diwali from author Diksha Pal Narayan. The book traces the celebrations and stories of Dussehra and Diwali for kids growing up outside of India. The author is based in Canada and she tries to make these festivals relevant and relatable for kids whether they are growing up in Canada and USA or anywhere in the world.

The book is divided into 3 parts. Part 1 is about how Dussehra and Diwali is celebrated. Part 2 retells the stories behind the festivals and Part 3 includes activities, printables, and recipes to celebrate the festivals whether at home or with your child's class at school.
Part 2 is a comprehensive section with all the legends and stories behind Dussehra and Diwali. It not only talks about why Hindus celebrate Diwali but also why Jains, Sikhs, and Buddhists celebrate the festival and the stories behind it too! A lot of these stories were new to me and it is also a lot of information for kids and therefore best read in parts.
The attempt to make the celebrations relatable by creating customs that fit the lifestyle outside of India. Like the Ravan Dahan using a campfire/barbeque pit :) The author also provides a step-by-step in Part 3 of the book, on how to make your own little Ravan effigy. To sum it up - A "complete package" to celebrate these Indian festivals!