THE BOOK FOR A BOX PROGRAM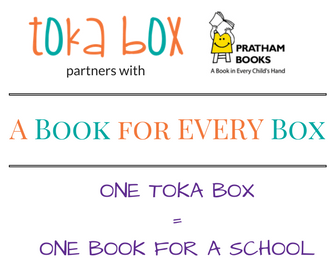 Education is the most powerful weapon which you can use to change the world.
- Nelson Mandela
Toka Box teams up with Pratham Books and Youth for Seva to send a box of 100 books to a school library in India, for every 100 boxes shipped! Your subscription now has a added benefit of making a difference in a child's life!
Packing the boxes and shipping out to kids to enjoy got us thinking, why don't we extend the same joy and love for books that we experience by sending out well-made books to schools that need them? So started our A Book For Every Box mission in partnership with Pratham Books. For every Toka Box we ship, we will set aside one book from Pratham Books' vast collection of great books in English as well regional Indian languages to be shipped out to a school we identify.
When you subscribe to Toka Box, you can be assured that every box that your child enjoys, there will be a book that a child in India will open to experience a brand new world!