Toka Peanut Boxes and Themes
SKILL
SHARING STORIES
Sharing stories with your child is fun and a powerful way to develop language, imagination and creativity. Children who are told stories at home are successful learners as they grow and they grasp abstract concepts better! We all grew up with these tales of Gods and Goddesses, told to us by parents and grandparents. This month's Toka Peanut box offers a lovely combination of a board book and Ganesha doll to pass these stories on to your child!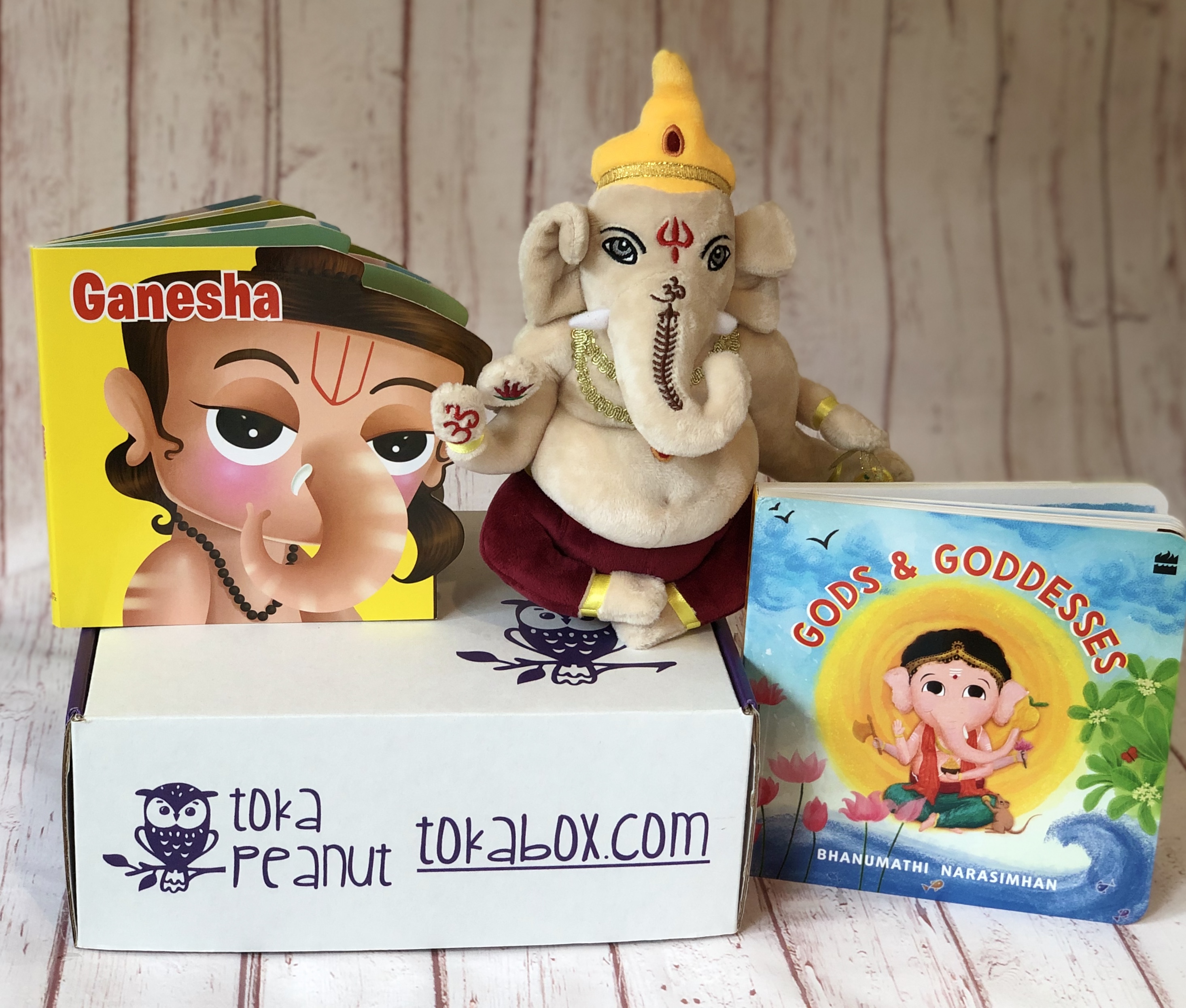 Book: Ganesha

A simple introduction to beloved Ganesha in time for Ganesh Chathurthi!
Play Kit: Ganesha Plush Doll
Accompany the stories with a well-made, child-safe Ganesha plush doll!
SKILL
PRETEND PLAY
We have all cooked pretend food for our parents and grandparents. It is perhaps one of the earliest games that babies and toddlers play as they emulate us feeding them! Felt fruits and vegetables in vivid colors will engage kids as they develop their motor skills, language skills and creativity through this age-old pretend play!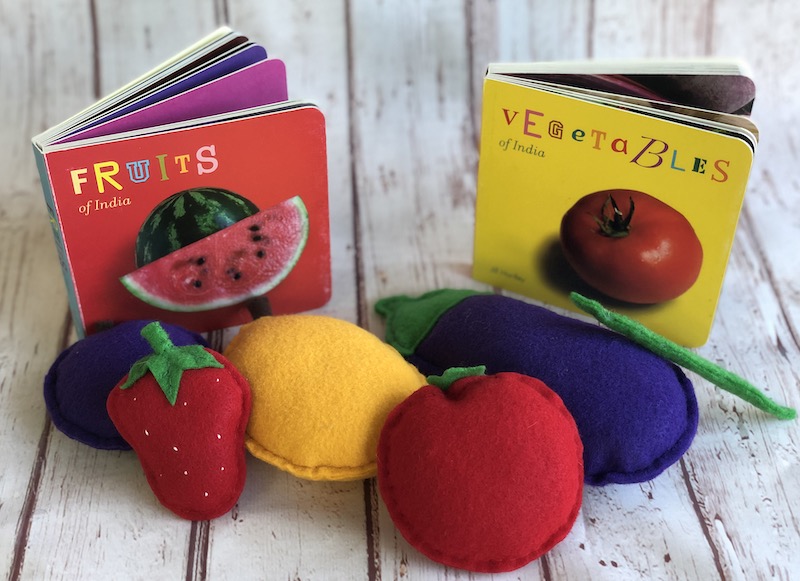 Book: Fruits of India and Vegetables of India

Author and Illustrator: Jill Hartley
India is home to a rich variety of fruits and vegetables: some are local to the region, while others travelled thousands of miles and have since found a home here. These full-colour board books introduce both rare and common Indian fruits and vegetables to the very young. Each book comes with a list of each topic's words in English, with space to add words in your own language. This series takes children on a visual journey that is at once exotic and familiar.
Read a Full Review of the books
Play Kit: Felt Fruits and Vegetables
Custom hand-made felt fruits and vegetables with an Indian flavor in vivid colors and lovely textures that encourage cooking pretend food and playing pretend farmer's market!
SKILL
EDIBLE SENSORY PLAY
Did you know? Sensory play builds nerve connections in the brain's pathway.
Babies and toddlers explore the world through their senses! Sensory play is the biggest teacher during the first few years. The brain develops when the sense are activated. They will use these senses as building blocks for learning in the later years.
Edible sensory play activities make this exploration safe and fun! They also help the baby grasp language, build their brain, and strengthen their fingers. They also learn – yes! – problem solving skills. Ever watched baby trying to climb out of that crib or find a way to get something they don't want? They are determined little people. Sensory play helps them navigate the world and is great to prepare them for social interactions.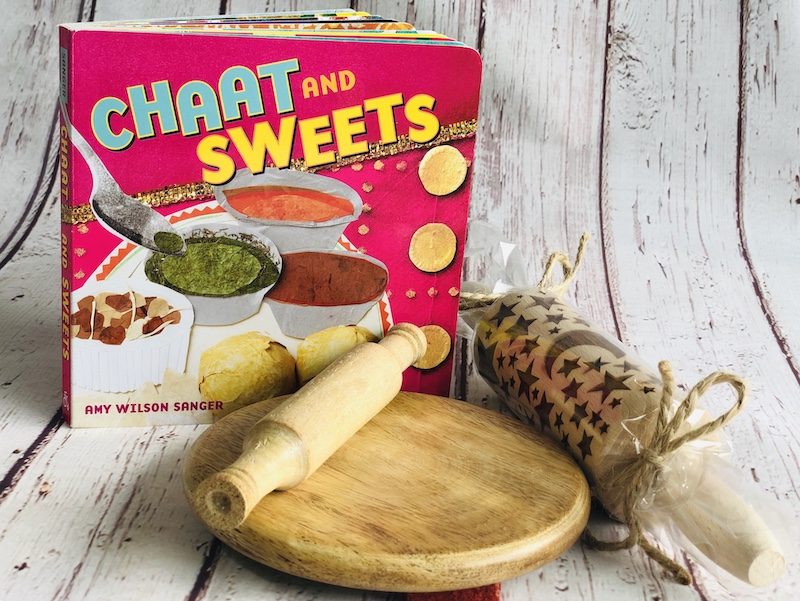 Book: Chaat and Sweets

Author and Illustrator: Amy Wilson Sanger
Scrumptious collage art meets yummy text in this beautiful book exploring chaat! This board book is a complete sensory experience! It's perfect for your little one exploring all the flavors and textures in South Asian food. After all, food is social history. We explore our senses through our food and our culture.
Play Kit: Wooden Roti Maker
Babies and toddlers do as we do! And every little one who has ever watched their parents or grandparents make roti, wants in on the fun. Why not have their own food grade wooden roti maker with which to play along? This box is powerful because sensory, cognitive, physical and emotional skills are built simultaneously.
SKILL
VISUAL CLOSURE
Visual closure is the ability to perceive the whole image when only part of the image is available. Visual closure builds several important skills later in life -- math, and reading, among others. The Play Kit builds on this ability when the pegs in the Play Kit seem to 'disappear' in the forms, the child realizes that the centre hole in the forms disappears too and the shape becomes a whole.
Book: Pooni, Pooni, Where Are You?

Author and Illustrator: Manjula Padmanabhan
Minnie is missing her little cat! Where can Pooni, the cat be? A delightful book as the child follows along on a hide-and-go-seek game.
Play Kit: Channapatna Forms on Pegs
Forms on pegs is a montessori recommended activity. It is made in the channapatna style with the base wood made of neem wood while the coloured forms are made of wrightia tinctoria or 'aale mara' both of which are medicinal plants and hence completely safe for kids.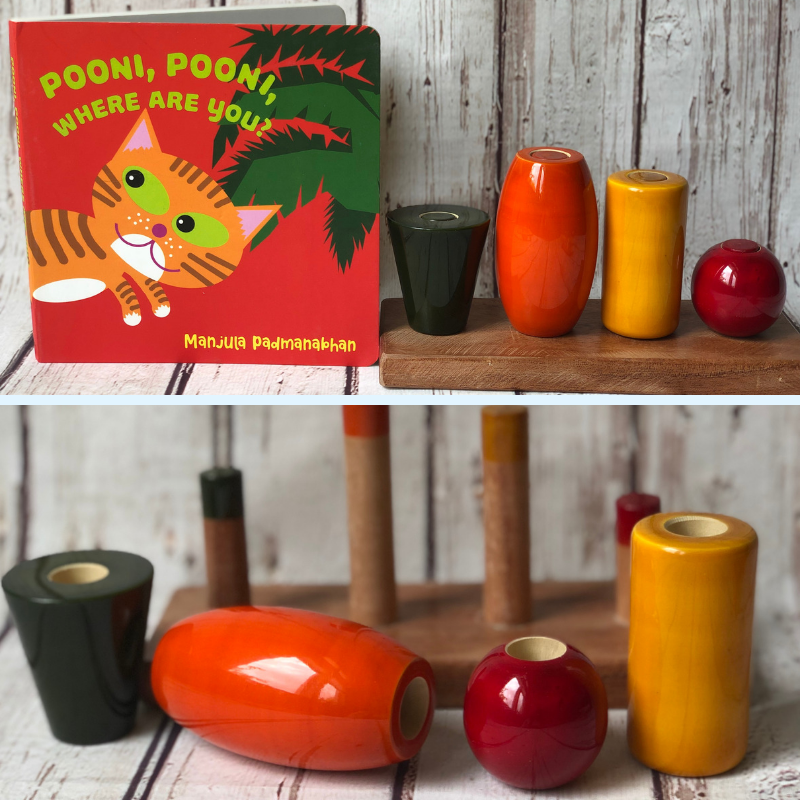 SKILL
PROBLEM SOLVING
Puzzles challenge a child's motor skills, cognitive problem solving, understanding of the environment, and emotional development.
Book: Mama, Do You Love Me?

Author: Barbara M. Joosse, Illustrator: Barbara Lavallee
A little girl wants to know how much her mother loves her by imagining different situations that will test her mother.
Read a Full Review of the book
Play Kit: Wooden Mom and Baby Elephant Montessori Puzzle
The adorable elephant family puzzle is made from cherry wood finished with organic jojoba oil. It has large, easy to hold on to puzzle pieces for young children and toddlers.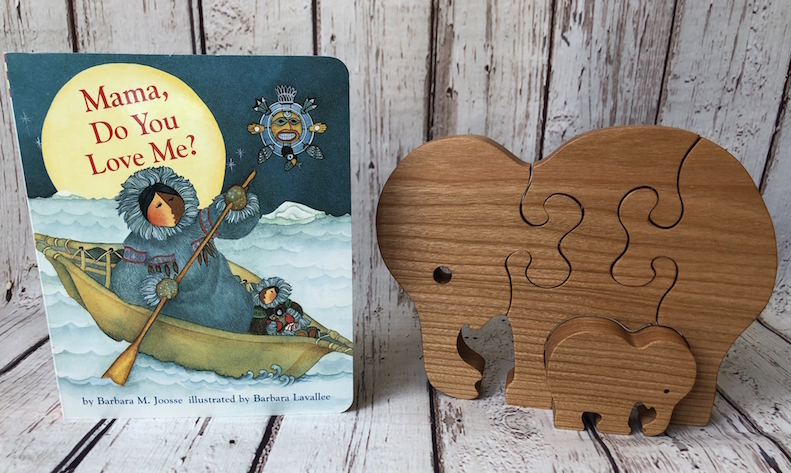 Skill of the Month
SPATIAL AWARENESS
Stacking blocks are part of every child's toy chest. The hand-made blocks in this box have no sharp edges and help with hand-eye coordination, spatial awareness, motor skills, enhances logical thinking and teaches kid's cause and effect.
Book: Shubh Raatri Dost

Author and Illustrator: Nidhi Chanani
A sweet bedtime book as we bid goodnight to animal friends and all that a warm spring evening brings, with beautiful illustrations in calming colors.
Play Kit: Mango Wood Stacking Blocks
A modern take on the classic stacking blocks made with mango wood. These blocks conform to safety standards and are fair-trade, sustainable and hand-made by artisanal communities in North Central India.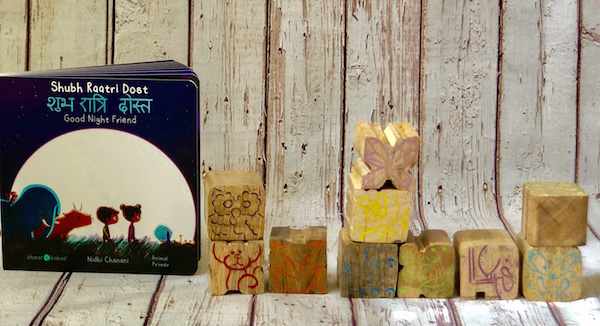 SKILL
MOTOR SKILLS
Develop Fine Motor Skills and Language skills with this box. The book has flaps and tabs to open and pull, while the classic toy made by a traditional Channapatna artisan with natural dyes is ideal to develop not only motor skills, but visual and spatial perception along with language skills when talking about numbers,colors and indulging in creative play.
Book:
Das Din
Play Kit: Non-Toxic Traditional Channapatna Ring Stacker