A Peek into Past Boxes
June 2019
Skill of the Month
VISUAL CLOSURE
Visual closure is the ability to perceive the whole image when only part of the image is available. Visual closure builds several important skills later in life -- math, and reading, among others. The Play Kit builds on this ability when the pegs in the Play Kit seem to 'disappear' in the forms, the child realizes that the centre hole in the forms disappears too and the shape becomes a whole.
Book: Pooni, Pooni, Where Are You?

Author and Illustrator: Manjula Padmanabhan
Minnie is missing her little cat! Where can Pooni, the cat be? A delightful book as the child follows along on a hide-and-go-seek game.
Play Kit: Channapatna Forms on Pegs
Forms on pegs is a montessori recommended activity. It is made in the channapatna style with the base wood made of neem wood while the coloured forms are made of wrightia tinctoria or 'aale mara' both of which are medicinal plants and hence completely safe for kids.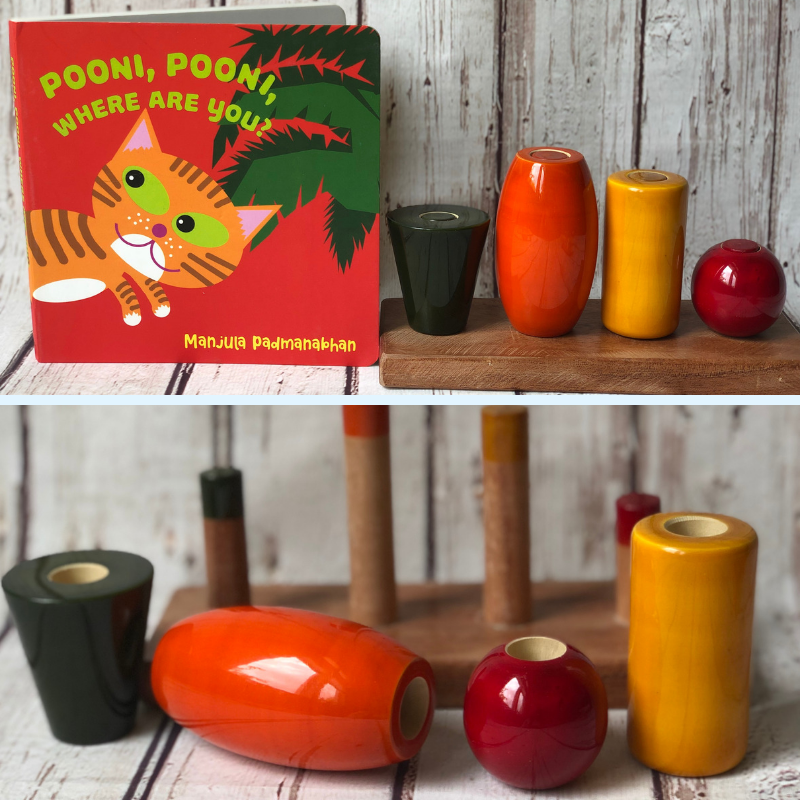 May 2019
Skill of the Month
PROBLEM SOLVING
Puzzles challenge a child's motor skills, cognitive problem solving, understanding of the environment, and emotional development.
Book: Mama, Do You Love Me?

Author: Barbara M. Joosse, Illustrator: Barbara Lavallee
A little girl wants to know how much her mother loves her by imagining different situations that will test her mother.
Read a Full Review of the book
Play Kit: Wooden Mom and Baby Elephant Montessori Puzzle
The adorable elephant family puzzle is made from cherry wood finished with organic jojoba oil. It has large, easy to hold on to puzzle pieces for young children and toddlers.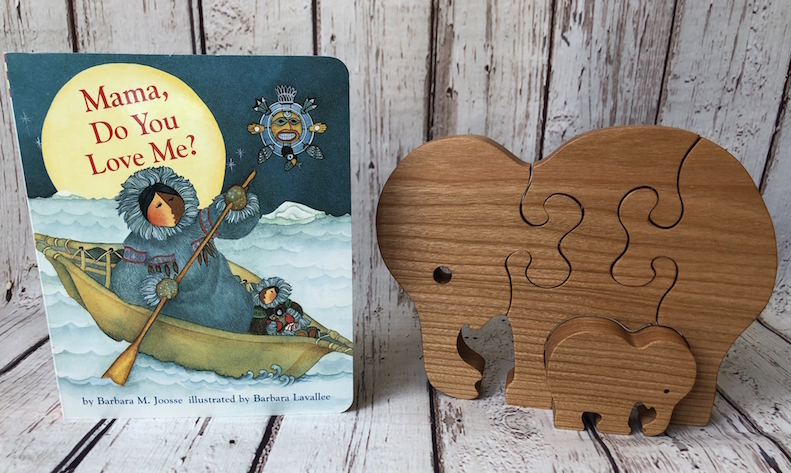 April 2019
Skill of the Month
SPATIAL AWARENESS
Stacking blocks are part of every child's toy chest. The hand-made blocks in this box have no sharp edges and help with hand-eye coordination, spatial awareness, motor skills, enhances logical thinking and teaches kid's cause and effect.
Book: Shubh Raatri Dost

Author and Illustrator: Nidhi Chanani
A sweet bedtime book as we bid goodnight to animal friends and all that a warm spring evening brings, with beautiful illustrations in calming colors.
Play Kit: Mango Wood Stacking Blocks
A modern take on the classic stacking blocks made with mango wood. These blocks conform to safety standards and are fair-trade, sustainable and hand-made by artisanal communities in North Central India.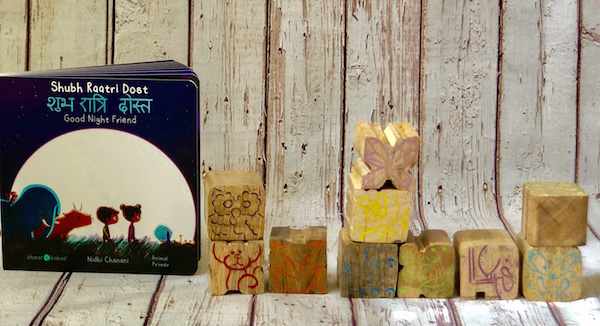 March 2019
Skill of the Month
MOTOR SKILLS
Develop Fine Motor Skills and Language skills with this box. The book has flaps and tabs to open and pull, while the classic toy made by a traditional Channapatna artisan with natural dyes is ideal to develop not only motor skills, but visual and spatial perception along with language skills when talking about numbers,colors and indulging in creative play.
Book:
Das Din
Play Kit: Non-Toxic Traditional Channapatna Ring Stacker