Our Chapter Book Pick for December: The Grand Chapati Contest by Asha Nehemiah
posted by Shweta Sharan, December 08, 2020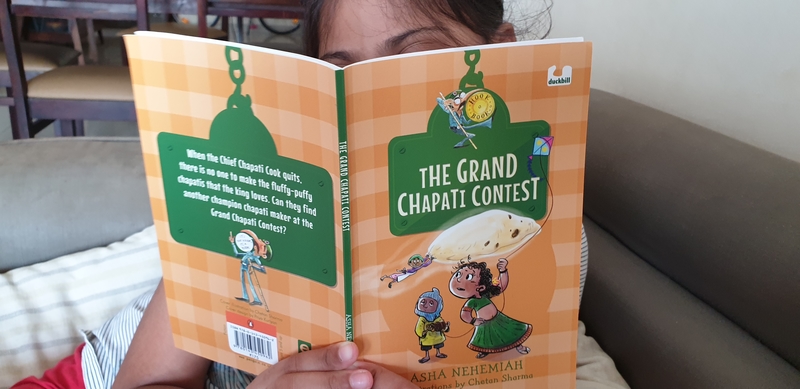 A fun and heart-warming read, your kids will love snapping up The Grand Chapati Contest by Asha Nehemiah!

In The Grand Chapati Contest, the king of a faraway land is a benevolent and easygoing sort who loves his chapatis, prepared by the chief chapati cook. One day, the cook leaves to become a holy man, causing the king to become extremely unhappy. The palace tries to find a new cook but no one can live up to the Chief Chapati Cook or can make wonderful chapatis the way he did. The queen, who is too busy repairing clocks or designing fountains to cook, comes up with an idea - hold a contest!

The palace holds the Grand Chapati Contest, promising the winner a grand prize and a position as the Chief Chapati Cook. Many famous cooks come to participate in this contest. Who will win? You will be surprised!
We absolutely love this book and all its delightful elements. We love that the queen is a designer and a problem solver. We also love the different kinds of chapati makers, including the elephant! The illustrations by Chetan Sharma are delightful. Above all, my daughter totally got the importance given to soft, fluffy chappatis.

As parents, we want our children to embrace values through the stories they read but in subtle, meaningful ways. A fun and memorable story is a great way to do it! As a mum, I loved who won the chapati contest because of their talent, simplicity, and hard work.
This is a 'Hook Book' from Penguin India. It is designed as the perfect book to introduce a child to chapter books because it has illustrations and is longer than a picture book but it isn't a full-fledged chapter book.

Here's what Sayoni Basu, editor of Hook Books, says about these books:
"It is an accepted fact that every child reads at a different pace. Reading levels and grade targets and Lexile levels work up to a point, but children's actual reading abilities vary widely within these levels and frequently fall outside them on either side. The challenge for authors and publishers is to therefore create books which can work for wide age groups. Books which are both simple and complex: with a vocabulary that works for kids of five and six, who are graduating from picture books to books with more words, yet with a story that would interest a reader who may be a lot older."
Buy this book now!