5 Books for Onam and a Recipe!
posted by Toka Box Editorial Team , August 26, 2020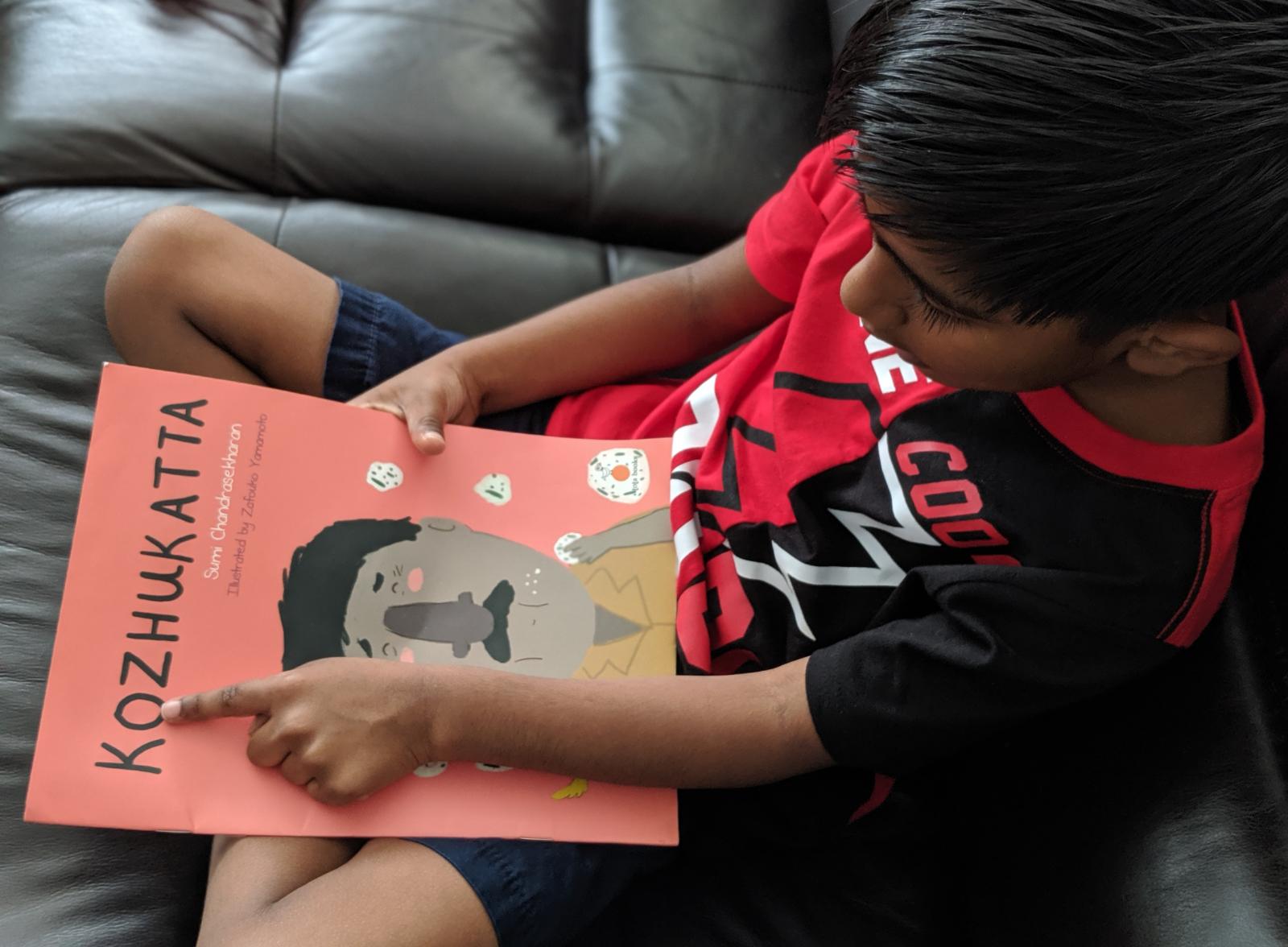 1. Kozhukuta by Sumi Chandrasekharan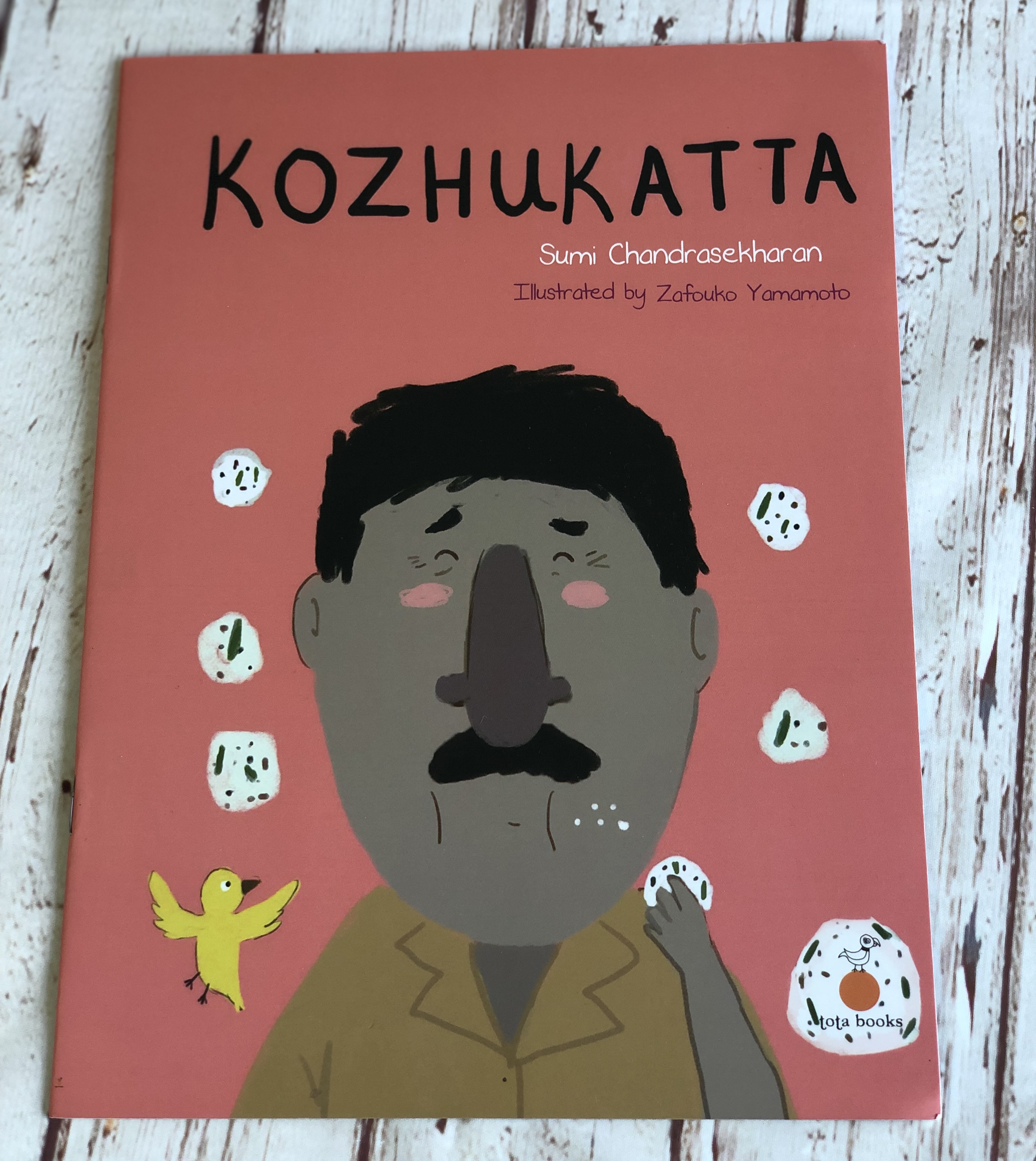 In this masterful and hilarious picture book, Sumi Chandrasekharan writes about an absent-minded foodie in Kerala who just can't remember the name of a food item that is soft and white but oh my, it is so yummy!


Ponnu, the protagonist of the book 'Kozhukatta' is an absent-minded foodie who lives in Kerala- 'God's own country'. He loves to eat all varieties of indigenous delicacies. He finds a new favorite at his friend's house and tries hard to remember the name to share it with his wife at home. Do his creative ways help him remember the name? Read more to find out.
The amusing way of describing a person who could remember nothing at all is sure to give your kids many belly laughs! It is a great introduction to the food and culture of Kerala. Zafouko Yamamoto brings out Kerala through pictures in all ways possible. We see houses, boats, autos, buses, coconut trees, bananas, dhotis, and sarees. We loved the human letters of the alphabet (humans posing to form letters) and juggling images.
If you are a Keralite living abroad and love to introduce your child to your hometown, I cannot think of a more perfect and fun way to do it, than reading this book to/with them. I'm not a Keralite but my son and I enjoyed it a lot.

This book was our pick for the Junior Toka Box in August 2019! We paired it with a fun kitchen science experiment.

Buy this book now!
2. Ammachi's Glasses by Priya Kuriyan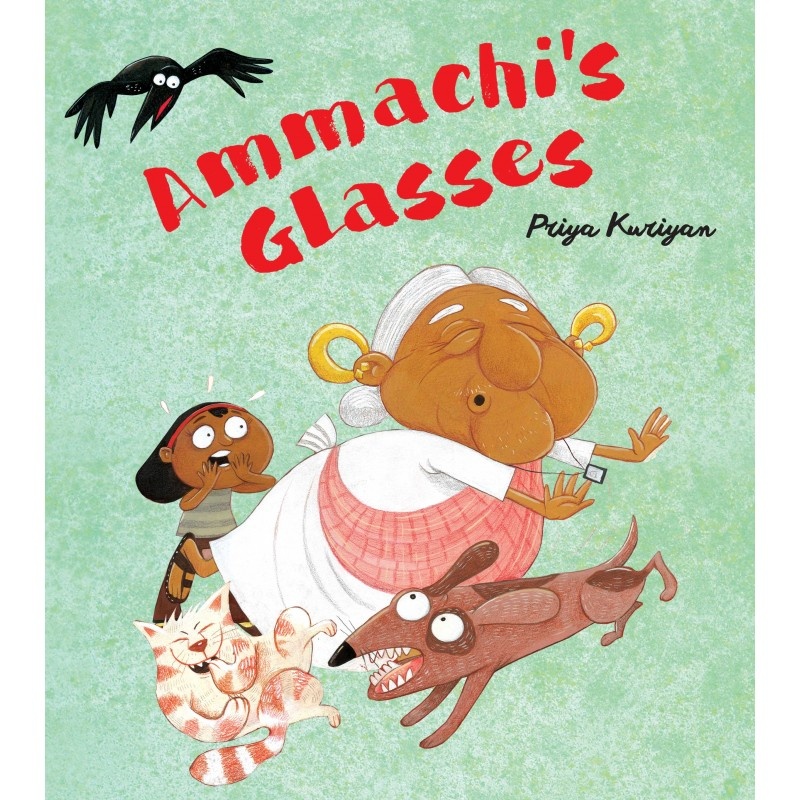 Ammachi's Glasses is about a Malayali grandmother who can't find her glasses one morning and everything goes topsy-turvy! She starts doing some strange things - washing and drying out a cat, cooking a sipper and wearing her granddaughter's dress. Every page in this book will make you laugh -- right from the father reading a newspaper titled 'Hindoo' to the ambiance of Kerala in the sights and sounds about the house - kappa puzhukku and fish, for instance. We also love how Ammachi reads Franz Kafka's short stories.

But hey what's the mystery of Ammachi doing such strange things? You must read till the end to find out! There are many wordless books but this one will surely make you and the kids talk and laugh out loud!
Buy this book now!



3. Lai Lai the Baby Elephant by Shekar Dattatri

Lai Lai The Baby Elephant
from Tulika Books is penned by Shekar Dattatri. Shekar Dattatri is a wildlife filmmaker with a special fondness for elephants. He has spent a lot of time observing and filming them in the jungle.
A beautiful English-Hindi bilingual book that explores the world of wild elephants through stunning photographs and informative text in English and in Hindi, with lovable elephant cartoons.
Like a time machine, this book takes us to view the life of Lai Lai from Day 1 to when he is more than 7 yrs of age. Lai Lai, the cheerful little elephant wanders forests of Kerala in India, with his mother and aunts, who protect and guide him.

4. Thakitta Tharikitta Bouncing Ball by Jacob Samson Muttada, Illustrated by Ashok Rajagopalan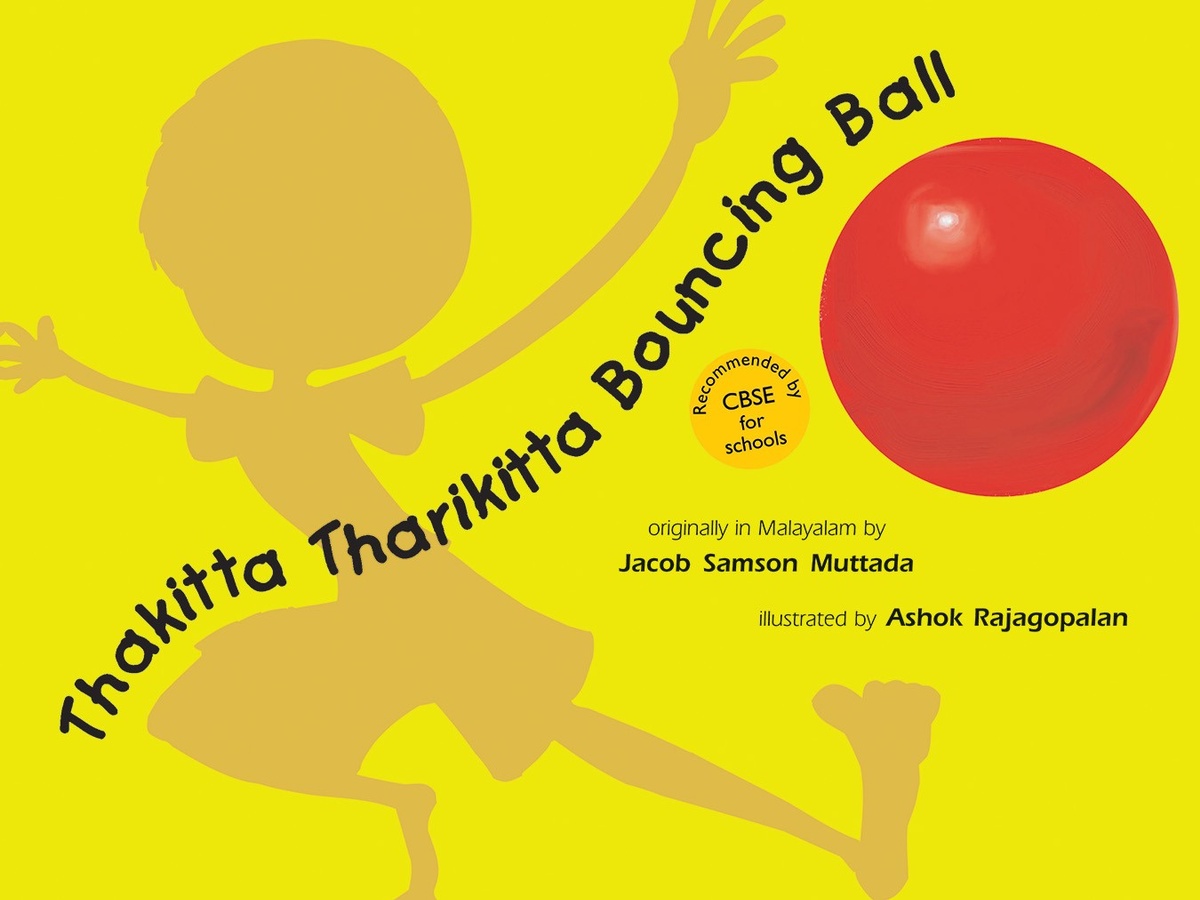 The pages of this book resound with the rhythm of dance as Abu's big red ball bounces in tune with the delightful illustrations. The book captures some of the rhythms of Indian dance. The book pulsates with the rhythm of Bharatanatyam. Abu is playing with his ball, but the ball rolls away, bouncing farther and farther away. Abu chases it all over his village. He chases it up down the hills, through the market and the lanes in his village. As the ball bounces, we hear the sounds of Bharatanatyam -- Thom, Deem, Thindanam thakitha thariiktta tha!
Buy this book now!

5. Eecha Poocha by Kala Sashikumar, Illustrated by Ashok Rajagopalan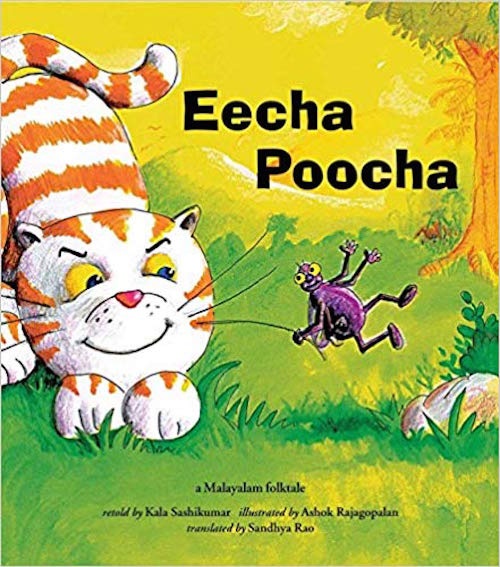 Eecha Poocha is a cumulative tale from Kerala about Eecha the fly and Poocha the cat who make some delicious rice soup. While Eecha flies off to fetch a jackfruit leaf with which to spoon out the soup, Poocha watches over the pot. But Poocha is hungry, so hungry...! Children will love the lilting cadence of the text. The illustrations take on the quality of moving pictures.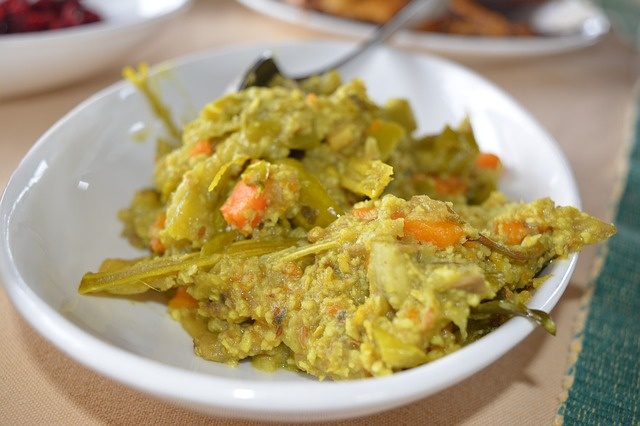 Photo courtesy: Pixabay
Avial is a popular dish from Kerala and it is one of the must-have dishes on the Onam Sadya/feast. It is a rich and creamy recipe loaded with coconut and coconut oil and loads of vegetables. Sounds complicated? Nahhh!!! It is one of the easiest recipes to prepare, even on a weekday. I swear! It's just a three-step process.
Chop and boil the vegetables.
Grind coconut and green chilies and mix it with curd.
Now mix the ground masala and vegetables and simmer.
Boom you are done! If you notice, the first step is the time-consuming part here. Traditionally for avial, loads of vegetables like drumstick, raw banana/plantain, carrots, potatoes, ash gourd, peas, brinjals, and much more are added. But on a busy day when we don't have sufficient time, how about just using carrots and zucchini. Both are easy to cook and chop. :-)
Here is the recipe,
Ingredients:
Green Zucchini - 2
Carrot - 2
Grated Coconut - 1/3 cup
Green Chillies - 2
Yogurt / Curd - 1 cup ( I used Greek yogurt for this recipe)
Turmeric powder - a pinch
Water - 3 to 4 tbsps + 1.5 cups
Salt - 2 tsp
Curry leaves - few
Coconut Oil - 2 tsp
Steps:
Peel the zucchini and carrot, skin and chop them into cubes.
In a kadai or heavy-bottomed vessel, add the 1.5 cups of water, a pinch of turmeric, and the chopped vegetables and let it simmer.
We need to cook until the vegetables are tender.
Meanwhile, grind the grated coconut and green chilies together by adding 3 to 4 tbsps of water.
Mix the ground masala, curd, and salt together.
When the vegetables are tender, add the coconut curd mixture and mix well.
Let it simmer in low heat. We don't want to bring it to a boil as curd might curdle.
When the froth starts to form, turn off the heat.
Add the curry leaves and the coconut oil and mix well.
That's it. Yummy and easy avial is ready. Serve hot with rice.
Notes:
Adjust the salt and green chilies according to your preference.
We prefer milk and un-sour curd for this avial.
Adding curry leaves and coconut oil towards the end enhances the flavor and adds freshness to the recipe. It can be added when boiling the vegetables too.
Add vegetables of your choice.
Happy Onam to you and your family! For books and boxes about Festivals, do check out these great options!